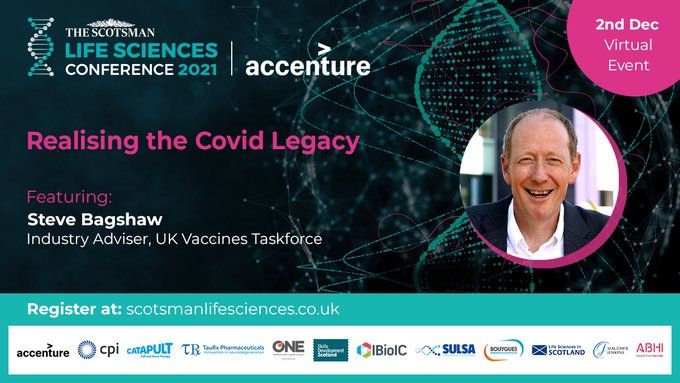 SCOTSMAN LIFE SCIENCES CONFERENCE 2021
Date and Time
2nd Dec 2021 | 09:30 - 17:00
The biggest event of the year, attracting over 400 professionals from industry, academia and the NHS – this virtual conference will be held on December 2nd and is free to attend.   
Get insight from the people at the heart of the UK's Covid19 Legacy work, NHS Innovation, Cell & Gene Therapies, Digital Health, Data & Health Informatics and Skills on how the industry will change after the Covid19 experience.
This is a critical time for the life sciences sector: will the Covid experience be turned into positives for the future of health, the economy and society as a whole? Or will things just fall back to the way they were two years ago?
Can we realise the true potential of digital health innovation?
Can we harness the untapped power of Scotland's healthcare data?
What skills should we be investing in today to enable all of this?
Can the positive, new ways of working be secured for the benefit of NHS waiting lists, future healthcare challenges and the global climate challenge?
Join hundreds of like-minded professionals and sector experts at the annual Scotsman Life Sciences Conference on December 2nd – a milestone event that will analyse the opportunities for Realising the Covid19 Legacy. 
Steve Bagshaw CBE, The UK Vaccines Task Force
Dave Tudor, Industry Chair of Scotland's Life Sciences Industry Leadership Group
Ivan McKee MSP, Minister for Business, Trade, Tourism and Enterprise
Steve Bates OBE, CEO of the Bioindustry Association
Jann Gardner, leader of the Accelerated National Innovation Adoption Programme and CEO Golden Jubilee Hospital 
Jacqueline Barry, Cell & Gene Therapy Catapult
Giles Hamilton, CEO ODx Innonvations
Prof David Lowe, Clinical Director Scottish Health Industry Partnership (SHIP)
Prof Emily Jefferson, Head of the Health Informatics Centre, University of Dundee
Harper van Steenhouse, President BioClavis
Steph Wright, Director of Healthcare & Wellbeing, The Data Lab and Head of the Scottish AI Alliance
Prof Bjorn Schelter, CEO GT Diagnostics in collaboration with TauRx
Euan Cameron, CEO Cohesion Medical
Andrew Davies, Digital Health Lead, Association of British Health Tech Industries (ABHI)
Fiona Kellas, Maucher Jenkins
Adeel Aslam, Bouygues E&S UK Limited
John Arthur, Medicines Manufacturing Innovation Centre
Nathan Barnett, Advanced Therapies Skills & Training Network (ATSTN) at Roslin CT
Claire Gillespie, Digital Technologies Skills Manager, Skills Development Scotland
Miguel Bernabeu, The Bayes Centre, University of Edinburgh
John Waller, Chief Operating Officer Oracle Bio