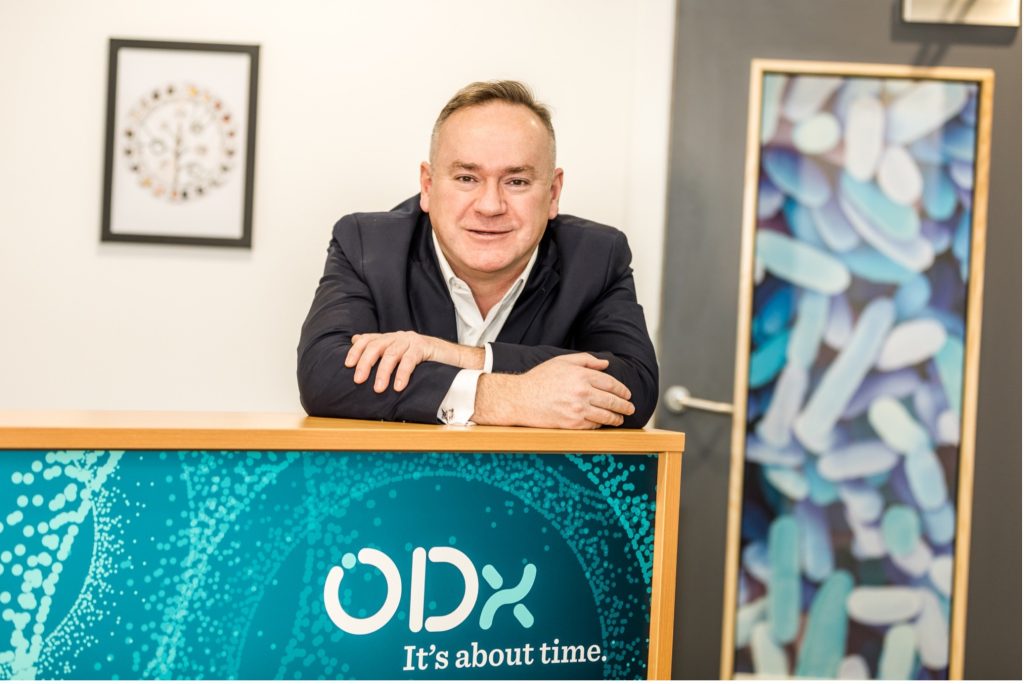 Rising Star – Giles Hamilton
SPECIALISM
ODx has a bold vision – to transform standards for care for people suffering from UTIs and reduce antimicrobial resistance – globally.
To achieve this vision, ODx is developing and commercialising a test to help GPs and medical professionals detect the ability of UTIs to resist antibiotics. The rapid and cost effective ODx point of care test will ensure that patients get faster diagnosis and the most appropriate treatment and will save NHS costs on hospital admissions and lab time, while also helping to reduce the number of antibiotic prescriptions.
TESTIMONIAL
"Giles Hamilton has shown extraordinary determination and resilience in creating ODx, and establishing and managing all of its key stakeholder relationships – most notably to secure significant investment and the backing of a big global partner. The success of this exciting business in 2019 is a tribute to Giles' considerable leadership and team building skills."
"From its base in Solasta House, the flagship life science building on Inverness Campus, ODx is ideally positioned for further growth and success."

Sandy Finlayson, Chair of Converge Challenge
SUCCESS
In 2017, Giles Hamilton, CEO at ODx, moved to the Bay Area, California, to be nearer to the most likely sources of investment for ODx. In January 2019, after more than two years of negotiation, Giles secured a $15m equity investment from a leading global company in the field of infectious disease and lab equipment – plus a further £3.95 million in grant support in the UK.
In September 2019, after a search for the ideal location in US/EU & UK, ODx moved into 10,000 sq ft of bespoke laboratory and office accommodation on Inverness Campus. An onsite clinical study centre was established, as were clinical collaborations with NHS Highland and local GP surgeries. 
During 2020 and early 2021, challenges faced by the NHS put clinical studies at risk. Despite thousands of studies being paused during the pandemic, recognition of the importance of ODx's life saving technology allowed them to pivot to alternative clinical sites and saw the team safely test almost a thousand samples. 
ODx were awarded a Discovery Award by the Longitude Prize to begin their research in 2017. They have since been recognised at the Scottish Life Science Awards winning the highly coveted Innovation Award in 2017. In addition, Giles Hamilton was nominated in the Business Leadership Award and his work with ODx was recognized with the Rising Stars: Extraordinary Talent award & Insider publications/Ernst & Young Rising Star awards in Q1 2021.  
ORGANISATION AND TEAM
Giles Hamilton serves as CEO and Chairman of ODx. He is driven by a desire to help improve standards of care in medicine, through useful medical device development and enabling teams & companies to achieve their potential.
From a standing start, Giles has continued to grow the business. Since 2019 ODx have scaled up from 2 to 50+ staff including six highly experienced executives in key Director roles, and another 100+ advisers and experts have collaborated on this project.
By working with strategic investors and contacts in some of the largest medical device companies in the world ODx have a firm understanding of the marketplace and their technology has been designed with the benefit of insight from a wide range of technology, medical and business experts.