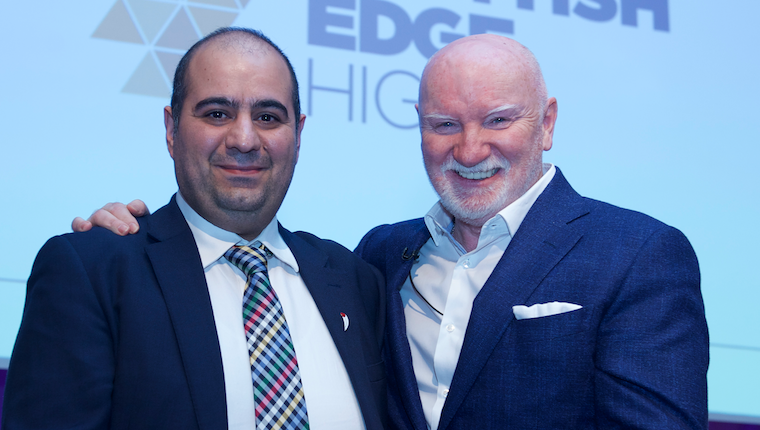 Rising Star – Dr. Elijah Nazarzadeh
Specialism
Dr. Elijah Nazarzadeh has developed a novel nebuliser platform at The University of Glasgow and led formation of a spinout company, Nebu-Flow, to disrupt the respiratory drug delivery market. Respiratory disorders are the main cause of death and disability in the world with an estimated cost of €400bn to society. These diseases, such as asthma and cystic fibrosis, are treated by the inhalation of drugs to the lungs. The efficiency of the treatment crucially depends on the drug particle size to be able to reach the right area of the lungs, between 1 and 5 micrometres. Nebu-Flow's technology employs acoustic waves to disperse liquids in the form of an aerosol. Coupling these waves into micro-structured arrays enables to control the aerosol droplet size within this clinically proven effective range. In addition to better drug delivery efficiency, Nebu-Flow's patented technology enables the delivery of hard-to-nebulise drugs including fragile biologics and personalised medicine (for example, gene therapy) as a unique selling point. These are potentially life changing drugs with the potential to become cures for intractable diseases such as cystic fibrosis. Nebu-Flow aims to provide a new delivery technology for chronic obstructive pulmonary disorders (COPD) and cystic fibrosis drugs with an estimated market value of $15.2bn. As the enabling technology, Nebu-Flow can be the leader of the $5bn biologics market.
Testimonial
Elijah's hard work and exceptional resilience helped him to learn from his unsuccessful applications (e.g. the final round of the Converge Challenge 2019) and build a stronger proposition. While many come out of such rejection/failure with a dampened outlook, Elijah bounces back to a new opportunity very quickly with lessons learnt directly integrated. He always works to the tight deadlines required and manages to gather all the expertise he requires behind the project, never letting an opportunity go unaddressed to drive the project further towards a successful commercial product. All these qualities put him in a great position to become a highly successful entrepreneur.
Success
Elijah has led the development of the technology since 2015. He recognised its potential impact in respiratory drug delivery, a new area for his research group, early in the project and set objectives for his post-doctoral work to demonstrate this. He pushed the scientific developments towards extensive validation of the technology within the laboratory of Professor Jon Cooper (publication in leading journal Physics of Fluids). He also initiated collaborations with and visited international research institutes (e.g. University of Tours, France; McGill in Canada, results published in conference proceedings, e.g. DDL2018) and leading companies in pulmonary drug delivery. From his traditional scientific research work, Elijah transformed into a leading entrepreneurial fellow, while still generating invaluable data at the bench, in the laboratory. He secured an Innovate UK "Innovation to Commercialisation of University Research" fellowship in 2018 to evaluate the commercial pot ential of the technology. This allowed him to conduct extensive international market research through three months of nearly constant travelling round the world to attend events, meeting new people and building his network. He conducted interviews with more than 135 clinicians, industrial experts and key opinion leaders in the field, establishing the market potential of the technology and refining its unique selling point. He successfully completed the programme with a recommendation to form a spinout company from the review panel and he received three months funding to de-risk the opportunity further. During this time, he has also identified other opportunities around the technology in healthcare (for example in applications for ventilators), testament to his entrepreneurial skills and flexibility, which he currently pursues in parallel. Elijah continued to show a great passion to commercialise the technology, with a "can do" attitude and leadership skills, which saw him receiv e many accolades, such as being selected in the BioCity Accelerator programme (where he developed skills in lean business planning), reaching the top 8 at the Converge Challenge in 2019 and being awarded both a competitive EPSRC IAA and an MRC Confidence in Concept grant toward the translation of the technology. He was also awarded a Royal Society of Edinburgh Unlocking Ambition fellowship, a flagship scheme supported by Scottish Government for the best 20 entrepreneurs in Scotland. During his Fellowship, Elijah successfully evaluated the technology with leading companies in the respiratory drug delivery market and engaged with them in co-development discussions. This has led to the creation of the start-up company Nebu-Flow in April 2019. His active engagement with industry and stakeholders enabled Elijah to build a strong network in the field and assemble an out-standing team of advisors. These helped him to flesh-out the business plan and develop a strong proposition, leading to Nebu-Flow being awarded the £125k Higgs EDGE award.
Organisation and Team
Nebu-Flow develops a novel acoustic nebuliser technology for delivery of medicines, including marketed formulations as well as novel high value therapeutics including biologics, nanomedicines and vaccines. Many of these latter drugs have no method for direct delivery to the lung and therefore currently have greatly reduced clinical utility. This significantly impacts the likelihood of finding cures for intractable diseases such as asthma, chronic obstructive pulmonary disease (COPD) and cystic fibrosis. Nebu-Flow has an experienced team of passionate technologists and key-opinion leaders in respiratory drug delivery. Professors Steve Beaumont and Jon Cooper are the founding Board of Directors, with a strong track record in leading spinout companies. Beyond Elijah, the core team includes Dr. Xi King, who worked on the technology for the last 4 years, and Dr. Julien Reboud, a co-inventor of the technology.
Throughout his journey to translate his research into a business proposition, Elijah demonstrated a great passion with a "can do" attitude and excellent leadership skills. This energy is welcomed and encouraged in the Life Sciences industry and the impact of his work will not go un-noticed! Well done Elijah!