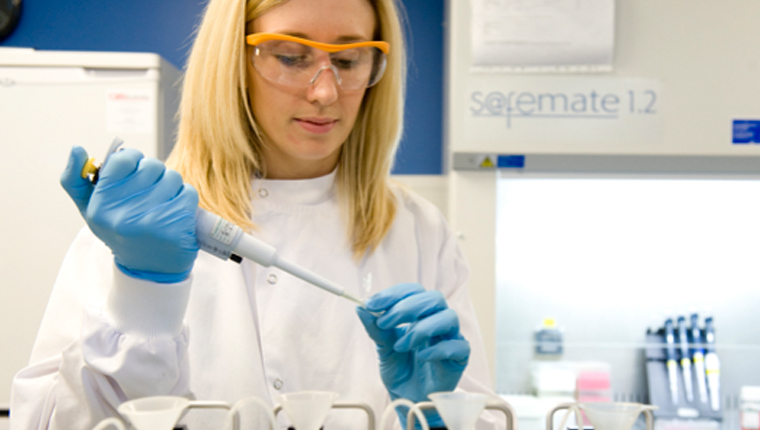 Improving the prediction of clinical trial success using human tissues
Providing specialist services for the improved prediction of drug safety and efficacy using human tissue based models of drug activity.
REPROCELL's Centre for Predictive Drug Discovery was officially opened by the First Minister, Nicola Sturgeon MSP on 9th August 2017. The Centre's work continues over 15 years of successful delivery of preclinical contract research services by Biopta Ltd, a Glasgow company founded in 2002 and acquired by REPROCELL Inc. in 2015.
Biopta was created to address a major problem in the development of new medicines: over 90% drugs fail during clinical trials with lack of efficacy or safety concerns being the two biggest causes of withdrawal.
The founders of Biopta set out to provide a human-based approach by blending technology spun out of Glasgow Caledonian University, close collaborations with the NHS to access surgical residual human tissues and recruitment of skilled staff from the pharma services sector in Scotland, to provide a new approach to preclinical drug discovery.
The success of the contract services business led to successive rounds of support from the Scottish business angel network, with match funding from the Scottish Co-investment Fund, and a high level of repeat business and brand recognition was generated with Pharma.
Dr David Bunton, co-founder of Biopta and now CEO at REPROCELL Europe said, "At Biopta we recognised that despite high clinical failure rates, not enough was being done to try and properly characterise human responses to new drugs at an early stage. Almost all human tissue work was being done in fixed or frozen tissues, which are useful to look for the presence of a drug target but say nothing about the pharmacology we might expect to see in patients; for that, living tissue is needed. We set out to make testing in living tissue samples a must-have part of the drug discovery process".
REPROCELL Europe now counts 19 of the top 20 big Pharma companies as clients and generates over 90% of its sales outwith the UK.
Investing in Scotland
In 2015, as Biopta's management developed its strategy to expand its range of services, it commenced discussions with REPROCELL Inc, Yokohama, a company known as the first to offer commercially-available iPSCs and as the creator of cell culture media used in the generation of iPSCs from skin fibroblasts. REPROCELL's value proposition is very like Biopta's, providing clinically relevant services and products to develop better therapeutics; a common theme is the creation of human data and the improved prediction of drug efficacy and safety.
REPROCELL acquired Biopta in Dec 2015, adding it to a group of companies focused on stem cells and human tissues. The merger in June 2016 of the leading 3D tissue model company Reinnervate Ltd, founded by Professor Stefan Przyborski, and Biopta (both owned by REPROCELL), created a European hub for stem cells, 3D human tissues and human fresh tissue research. The new "Centre for Predictive Drug Discovery", based at the West of Scotland Science Park, aims to become an internationally recognised centre for the creation of human-relevant test systems.
Innovation in Stem Cell Research
Scotland's track record in stem cell sciences was key to REPROCELL's investment; it selected Glasgow as the location to launch its RNA-reprogramming technology as a service for the creation of patient-derived inducible pluripotent stem cells (iPSCs).
Reprocell's StemRNA- 3rd Generation Reprogramming Technology, is a major focus of the new services. As the most clinically-relevant and cost-efficient technology for the creation of iPSCs for drug discovery and therapeutic use, Reprocell will combine the technology with the supply of its market -leading Stemgent reagents and media.
Developing precision medicines
A further major benefit to REPROCELL of locating in Scotland is the close relationships that exist between industry,
the NHS and academia, both through the biorepository networks and the "Precision Medicine Ecosystem", which is being driven through the Stratified Medicines Scotland Innovation Centre. REPROCELL led one of the Centre's exemplar projects, which has already generated industry articles highlighting the unique interactions possible within in the Precision Medicine Ecosystem.
The precision medicine ecosystem, collaborations with NHS and the availability of a skilled pool of scientists ensures that REPROCELL's growth ambitions can be met and the company looks forward to a long and fruitful commitment to Scotland.