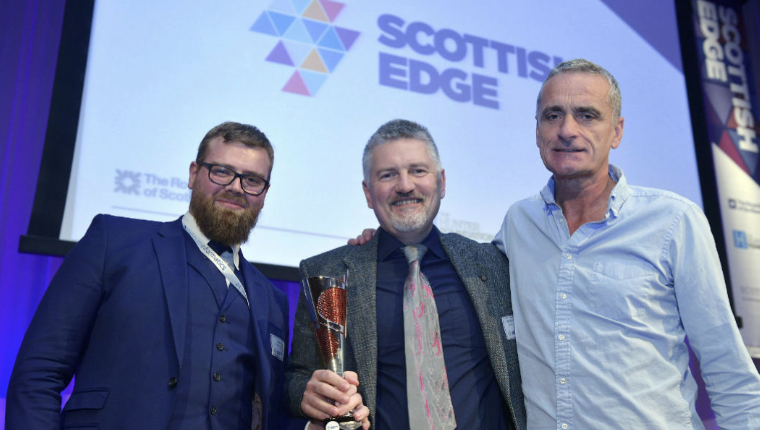 Scottish Edge win gives £100k boost to Platinum Informatics
Platinum Informatics, a spin-out company from the University of Dundee, was one of the big winners at the Scottish EDGE Awards last night (December 6), receiving £100,000.
Platinum Informatics provides state of the art software solutions for the management, visualisation and analysis of large and complex data sets in a wide range of laboratory and industrial environments. The company is commercialising software developed for more than ten years within the University of Dundee by Professor Angus Lamond's team in the School of Life Sciences.
Platinum Informatics has built upon software created for the analysis of biological big data, generated in Professor Lamond's world-leading Laboratory for Quantitative Proteomics. The software was originally created, with funding provided by the Wellcome Trust, to support the analysis of human disease mechanisms.
The Scottish EDGE Awards gave out almost £2million in funding to winners, a sum boosted by additional funding of £1million from Scottish Enterprise.
The winning businesses came from 39 Scottish EDGE finalists who pitched their business ideas to an expert panel of judges, chaired by Simon Hannah of Filshill and Kerry Sharp of the Scottish Investment Bank, live at The Royal Bank of Scotland Conference Centre over a two-day period to accommodate the increased number of finalists.
The £100,000 given to Platinum Informatics was the maximum amount in the Scottish EDGE category.
Professor Lamond said, "We are delighted to have won the Scottish Edge competition. This will greatly help us deliver our innovative, Smart Laboratory Notebook and shows the potential for research at the University of Dundee to deliver impact and create new jobs."
Rob Kent, Platinum Informatics Head of Software Engineering said, "We are very pleased and proud to have won at Scottish EDGE. The competition has been a fantastic and rewarding experience for us and we are very grateful for this opportunity to expand our fantastic team of software developers and continue our drive to build a company of scale right here in Dundee."
As the UK's largest business funding competition, Scottish EDGE has awarded over £11 million thus far with prizes given as a 40% grant and a 60% loan and a maximum award of up to £150,000. The loan is paid back to help fellow entrepreneurs on their pathway to success.
Evelyn McDonald, Scottish EDGE CEO, said, "The past two-days have been the perfect end to an exceptional round for Scottish EDGE. As an organization collaborating with others to make Scotland the best place for business, finding ourselves in the position to support so many inspiring entrepreneurs is an incredible outcome.
"Congratulations to the inspirational winners and also to our runners up who worked exceptionally hard to get this far, our judges had a challenging task narrowing down the 39 remarkable businesses who pitched down to just 24. We welcome the entrepreneurs awarded tonight to our high achieving alumni of 313 previous Scottish EDGE winners who thus far have generated an additional £131.29 million in turnover, secured £108.33 million in additional investment and created 1,652 jobs."
Sir Tom Hunter, renowned Scottish entrepreneur and supporter of Scottish EDGE, said, "Scotland has a proud heritage of innovation and through EDGE we're seeing a renewed spirit of entrepreneurship developing. I'm continually encouraged by the ambition and ingenuity that we see presented on the EDGE stage in a day and age where an original idea is increasingly difficult to come by.
"We are resolute in supporting Scotland's future leaders of business and that's why this is never just about money, all entrants, win or lose, receive vital support packages to help them on their way and come back again to EDGE when they are ready to do so.
"To further that support, I'm delighted to say The Hunter Foundation will be offering every EDGE winner a leadership development programme from Spring 2019 onwards."
Gordon Merrylees, Head of Entrepreneurship for Royal Bank of Scotland, said, "We are both delighted and extremely proud as a bank to have been a founding supporter of Scottish EDGE since its inception in 2014 and a key funder for almost four years as part of our overall desire to help Scottish entrepreneurs start, scale and succeed.
"Congratulations to all of the 39 finalists for making it through to the last stage of the competition, which in itself is a tremendous achievement. These finalists showed that the calibre of Scottish entrepreneurs continues to flourish and the winners announced tonight are a wonderful endorsement of the exceptional entrepreneurial talent and spirit being cultivated within the Scottish ecosystem."
Find out more about Scotland's access to world leading research, here.