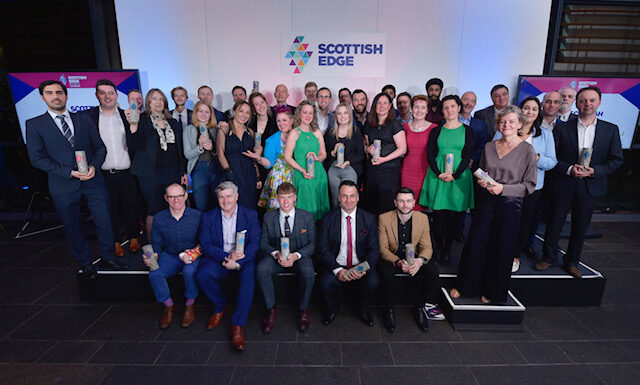 Scottish EDGE Round 14 awards over £1 million to ground-breaking Scottish start-up businesses
The winners of Scottish EDGE Round 14 have been announced with designer sustainable wooden bag manufacturer, Roccio, taking the inaugural Circular Economy EDGE Award.
Top Higgs EDGE Award of £125,000 given to crop production refiner, Myconourish
Glasgow teenager who founded his business while battling cancer takes five-figure award in Young EDGE category
Sixth year pupil takes five figure sum in Wild Card EDGE for life-saving bagpipe device
Each of the winners took home an up to six-figure share of the £1million+ prize pot and will receive an all-encompassing package of support from Scottish EDGE's partner organisations to help them fast-track and grow their business.
The winning businesses came from 37 multisector finalists, shortlisted from 289 applicants, who pitched their business idea live at Glasgow's Technology and Innovation Centre and Edinburgh's RBS Conference Centre on 28th and 30th May respectively to two high-profile panels chaired by Margaret Gibson OBE of EY Foundation and Simon Hannah of Filshill.
Addressing the finalists prior to the awards announcement, Sir Tom Hunter, renowned Scottish entrepreneur and supporter of Scottish EDGE said:
"It's fantastic to support Scottish EDGE; the businesses that come through EDGE grow faster with less risk because EDGE is not just about money, but the embedded support on offer.
"EDGE businesses are the lifeblood of the Scottish economy and we are delighted to support you as you grow and prosper – Scotland needs many more like you!"
The newly introduced Circular Economy EDGE Award, which is supported by Zero Waste Scotland to encourage and back entrepreneurs who are exploring circular ways of doing business, was won by Hamish Menzies of Rocio, a designer fashion brand which manufactures and sells premium wooden handbags worldwide using 100% sustainable wood and fair-trade manufacturing methods. Roccio has gained traction from celebrity influencers such as Kate Upton and Amelia Warner.
Commenting on Roccio's win, Jill Farrell, Chief Operating Officer of Zero Waste Scotland said:
"Congratulations to Rocio for their well-deserved Circular Economy EDGE Award win. Right now, we are consuming huge quantities of finite resources only for them to go to waste. Rocio's luxury wooden handbags are a fantastic example of the way products should be designed with the planet in mind. Their win should inspire fellow entrepreneurs with big ideas to change the way we live. The circular economy will be built by creative thinkers."
The Higgs EDGE Special Award of £125,000 was won Dr Peter Orrell, who set up MycoNourish as a means of harnessing the power of beneficial microbes to enhance crop production and add value for growers via customised fungi to suit the problem areas of specific crops.
The highest amount awarded in the Scottish EDGE category of £100,000 was given to former Heads of Missions and Spacecraft Design at Clyde Space, Kevin Quillien and Allan Cannon, who founded R3-IOT with the aim of addressing the challenges and significant opportunity presented by the provision of global Industrial Internet of Things connectivity.
The Postcode Innovation Trust supported Social Enterprise EDGE prize was awarded to Colin Loveday of social enterprise, Good Call, which aims to remove the mobile communications barriers facing charities, social enterprises and community groups, saving them hundreds of thousands of pounds in the process.
Additional awards of £10,000 were given to 6 winners in the Young EDGE category, for entrepreneurs under the age of 30, with the Harper Macleod Young EDGE award of £15,000 going to Alireza Abbassi Monjezi of WaterWhelm, who has developed a self-powered technology for the production of freshwater from wastewater, which simultaneously produces biodiesel/biogasoline or electricity.

The Young EDGE category also produced Scottish EDGE's youngest ever winner, 18-year-old sixth year student, Suhit Amin, who founded his now six-figure turnover influencer marketing agency, Saulderson Media whilst undergoing aggressive chemotherapy for Stage 2A Hodgkin's Lymphoma, from which he has been in remission since September 2018.
A further seven awards were given in the Wild Card EDGE category for businesses who have yet to commence trading, with another sixth year student, Robbie MacIsaac of Maclsaac Ltd, a business that helps to prevent 'piper's lung' via a new moisture control technology for bagpipes, taking the top £15,000 prize and the remainder receiving £10,000.
As the UK's largest business funding competition, Scottish EDGE has now awarded over £14 million and is given as a 40% grant and a 60% loan, with a maximum award of up to £150,000. The loan is paid back to help fellow entrepreneurs on their pathway to success. Both the Young EDGE and Wild Card EDGE awards are grants of up to £15,000.
"Tonight's ceremony offers great encouragement as a snapshot of the current state of entrepreneurship in Scotland. The vast array of exciting businesses that our panels have chosen to support, from celebrity endorsed sustainable handbags and ground-breaking cancer treatments to teenager founded marketing agencies and bagpiper illness preventers, Scotland really does offer the kind of outside-the-box entrepreneurial thinking needed to achieve recognition in a global market.

Congratulations to the inspirational winners and also to our runners up who worked exceptionally hard to get this far. We welcome the entrepreneurs awarded tonight to our high achieving alumni of 350 previous winners who thus far have generated an additional £151 million in turnover, secured £124 million in additional investment and created 1,858 jobs." Scottish Edge CEO, Evelyn McDonald
Gordon Merrylees, Head of Entrepreneurship for Royal Bank of Scotland said:
"We are both delighted and extremely proud as a bank to have been a founding supporter of Scottish EDGE since its inception in 2014 and a key funder for almost five years as part of our overall desire to help Scottish entrepreneurs start, scale and succeed. Congratulations to all of the finalists for making it through to the last and most crucial stage of the competition, which in itself is a tremendous achievement. These finalists showed that the calibre of Scottish entrepreneurs continues to flourish and the winners announced tonight are a wonderful endorsement of the exceptional entrepreneurial talent and spirit being cultivated within the Scottish ecosystem."
Scottish EDGE winners:
Carbogenics – Producer of the carbon-based additive CreChar for anaerobic digestion. Edinburgh | £50,00
CensorPic – Protects children by removing access to a device's camera upon real-time detection of nudity. Glasgow | £75,000
Fodilicious – Food business offering the UK's first allergen free, FODMAP friendly products. Livingston | £70,000
Love Rose Lingerie – Designs and creates appealing lingerie for women who have had breast surgery. Edinburgh | £45,000
Molke – Manufacture body positive and breastfeeding friendly underwear in bright and eye-catching designs. Perth | £45,000
Phox Water – Innovative water filter to offer a more environmentally friendly option for drinking water. Glasgow | £40,000
R3-IOT – Collects sensor data wirelessly to enable organisations to gain insight into their operations. Glasgow | £100,000
ScreenIn3D – Screening services that help drug developers to validate effectiveness of their compounds. Glasgow | £50,000
Sentinel Biosensor – State-of-the-art, medical grade, wearable, vital-signs monitor that works in hospitals and in patients' homes. Lanark | £50,000
Sentinel Subsea – Environmentally friendly monitoring of suspended and decommissioned subsea oil and gas assets. Aberdeen | £75,000
SiMologics – Conjugate gold nanoparticles to antibodies for treatment of head and neck cancer. Glasgow | £45,000
Soar – Build technological platforms to help credit unions grow and operate more efficiently. Glasgow | £75,000
SoundBops – Musical education instruments designed for children. Glasgow | £50,000
Circular Economy EDGE winner:
Rocio – Seller of ethically sourced, celebrity endorsed premium wooden handbags and clutches internationally. Glasgow | £50,000
Higgs EDGE winner:
MycoNourish – Harnesses the power of beneficial microbes to enhance crop production. Dundee | Amount: £125,000
Social Enterprise EDGE winner:
Good Call Mobile – Good Call CIC provides mobile telecommunications solutions exclusively for non-profit organisations. Dundee | Amount: £80,000

Young EDGE Winners:
#hashtag – Utilises AI to provide brands with a flexible, scalable, cost-effective way to manage their social conversations. Edinburgh | £10,000 
Atypical Cosmetics – Cosmetic customisation company for people with allergies which will offer an innovative customisation service so people can avoid ingredients they are allergic to. Glasgow |£10,000
Fresh Car Group – Building a car valeting platform connecting customers with a network of 100s of valeting operators across the UK. Edinburgh |£10,000
Opinew – Product reviews app for online shops running on Shopify ecommerce platform that collects reviews via email and from Amazon, AliExpress and EBAY. Glasgow |£10,000
 Saulderson Media – Premium talent management and influencer marketing agency exclusively managing a roster of high-profile social influencers (specifically in gaming and esports). Glasgow |£10,000
 Seawater Solutions – Social impact enterprise seeking to disrupt conventional agriculture by introducing sustainable farming practices which use seawater to grow salt-tolerant crops. Glasgow |£10,000
Waterwhelm – Developed a self-powered technology for the production of freshwater from wastewater whilst simultaneously producing biodiesel/biogasoline or electricity. Edinburgh |£15,000
WildCard EDGE winners were:
AJL Marketing – Manufacture of a new and unique range of contemporary, durable, premium picnic blankets, inspired by nature in Scotland, responsibly sourced & manufactured. Edinburgh | £10,000
Bplasticfree – Manufacture a biodegradable, reusable, food-grade waxed cotton alternative to cling film on a commercial scale and also developing a new Vegan food wrap. Anstruther | £10,000
 Human – Unique artificial intelligence psychotherapist, which enables its users to reduce psychological stress and increase levels of well-being. Glenrothes | £10,000
 Martial Arts Heroes – Children's physical and mental health, well-being development programme delivered through Martial Arts. Glasgow | £10,000
Kingdom Technologies – Our company is developing a robotic lawn mower for large terrains. Glasgow | £10,000
 MacIsaac – Developing a new moisture control technology for bagpipes. Falkirk | £15,000
 Turnbull Design Engineering – Product design & prototyping agent who have created a device which revolutionises the way gymnast rings can be used for fitness benefits. Glasgow | £10,000 
Voxsio – Alli-Chat engages people in conversations that help them become aware of their mental health and delivers personalised support information. Edinburgh | £10,000
About Scottish EDGE
Scottish EDGE consists of three competition categories: Scottish EDGE, Young EDGE and Wild Card EDGE and three special awards within the Scottish EDGE category: Higgs EDGE for Science, Technology and Engineering focused businesses, Social Enterprise EDGE, for Social Enterprise Businesses and Circular Economy EDGE, a special award category introduced this round with support from Zero Waste Scotland to encourage and back entrepreneurs who are exploring circular ways of doing business.
All companies that apply and meet the eligibility criteria will be entered in to and assessed for the main Scottish EDGE competition. Companies that subsequently meet the criteria for Young EDGE and Wild Card EDGE will also go forward and be assessed in these categories.
If eligibility standards are met a company can be considered for all three Scottish EDGE categories and could potentially win an award for Young EDGE and Wild Card EDGE and Scottish EDGE up to a maximum of £100,000 (£150,000 for Higgs EDGE Award).
Rounds 1-13 resulted in:
Over 2990 applications being submitted
350 winners
Over £13.2m awarded to Scotland's up-and-coming entrepreneurial talent
Since the first Scottish EDGE awards were made in February 2013 a total of:
1858 new Scottish jobs have been created
£151m of additional turnover has been generated
£124m of external funding received (This is reflective of the R1-R13 winners as at 31st March 2019)
Average Applications per round – 230
The current Round (Round 14) had the highest ever number of entrants at 289. This is despite the competition winnings being 60:40 loan: grant.
55% of Scottish EDGE category winners won on a 2nd, 3rd or 4th application attempt
On average, just over 11% of EDGE applicants receive funding.