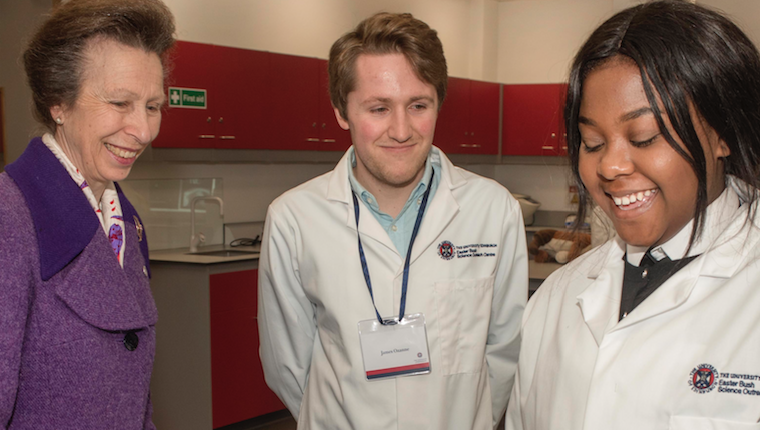 Royal Visit to Easter Bush Science Outreach Centre
Photo Copyright © Douglas Robertson
Her Royal Highness The Princess Royal visited the new Science Outreach Centre on the University of Edinburgh's Easter Bush campus, meeting staff, students and visiting school pupils.
The Easter Bush Science Outreach Centre (EBSOC) is a purpose-built teaching laboratory which delivers interactive, curriculum-linked learning experiences for school pupils from age ten to 18 alongside workshops for community groups of all ages.
Her Royal Highness met pupils from Liberton High School in Edinburgh who were taking part in hands-on science and veterinary activities and spoke to staff and researchers involved in delivering activities for schools.
Dr Nicola Stock – Public Engagement Officer at The Roslin Institute and Project Lead for EBSOC – and Jayne Quoiani – EBSOC Officer – have developed a programme of workshops in consultation with primary and secondary teachers from across the region, showcasing the research of The Roslin Institute and clinical work at the Royal (Dick) School of Veterinary Studies to a global audience.
It was important for us to make sure that we deliver workshops that are relevant to schools. We conducted consultation sessions with teachers to ask them what they want the pupils to experience and what topics they are interested in, so that we could define priorities. It's great to see the enthusiasm of the pupils when they conduct real experiments at EBSOC.
Jayne Quoiani EBSOC Officer
EBSOC workshops are in high demand from both local and international schools and community groups, with a total of 19 schools and 820 participants involved since January. In addition to hands-on activities, EBSOC gives pupils the chance to meet researchers and vets working at the University. It also offers professional development opportunities for teachers.
The Princess Royal, who is Chancellor of the University, toured EBSOC as part of a visit to officially open the Charnock Bradley Building and new facilities at the Equine Hospital and to unveil a new sculpture on the Easter Bush Campus.
For more information please contact: Easter Bush Science Outreach Centre (EBSOC)
T: 0131 651 9679    E:  EBSOC@ed.ac.uk  Twitter:  @EBSOClab  W: www.ebsoc.ed.ac.uk