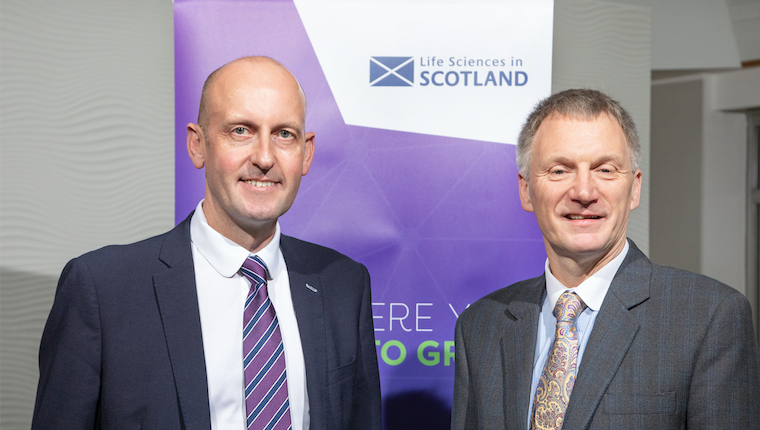 Life Sciences Scotland Industry Leadership Group welcomes new co-chair
Life Sciences Scotland is pleased to welcome new co-chair, Ivan McKee the Minister for Trade, Investment and Innovation and Joe Fitzpatrick, Minister for Public Health, Sport and Wellbeing to the Industry Leadership Group.
The LSS ILG consists of senior representatives from stakeholders across the spectrum of the life sciences community; individuals who are committed to developing the life sciences sector in Scotland. The group sits quarterly and meetings are rotated around different cities in Scotland.
The aim of the life sciences sector is to reach a turnover of £8 billion by 2025 as outlined in the Life Sciences Strategy for Scotland. Currently, the life sciences industry in Scotland employs more than 37,000 people across some 700 organisations.  Company turnover is in excess of £4.2 billion and gross value added (GVA) around £2 billion each year.
Dave Tudor, Co-Chair of Life Sciences Scotland said: "We are delighted to welcome Ivan McKee and Joe Fitzpatrick to the group and look forward to working together to grow the sector. We would also like to thank Paul Wheelhouse and Aileen Campbell for their enthusiasm and contribution to the Group and wish them all the best with their new portfolios.
"The life sciences sector in Scotland has the opportunity to grow, capitalising on its success so far. There is so much potential to accelerate and drive forward the industry with positive outcomes for the Scottish economy as a whole. As a group, we are working together to connect the industry, align our efforts and promote Scotland as a hub for life science businesses in order to achieve our aim of an £8 billion turnover by 2025."
Ivan McKee, Minister for Trade, Investment and Innovation:  "I am delighted to be co-chairing the Life Sciences Scotland Industry Leadership Group. The contribution that the sector makes to the economy of Scotland is significant. I look forward to working with the group's members to drive forward the Life Sciences strategy and its ambitious target of doubling the sector's contribution to the Scottish economy to £8 billion by 2025. The Life Sciences Sector across Scotland is diverse, ranging from Pharmaceutical to Animal Health, and it's great to see all of these voices working together through the ILG to grow the sector across Scotland and beyond."
Life Sciences Scotland works closely with the life sciences community in Scotland. A recent survey from the group revealed that achieving ambitious research and revenue targets are top priorities for organisations in Scotland's growing life sciences sector.
This was closely followed by the need to increase research and development and the ability to attract and retain a skilled workforce. Over 40 per cent of organisations forecast increased growth, resulting in increased employment opportunities.
Collaborating with the NHS in Scotland, having access to world leading research and the skilled and dynamic workforce of Scottish academia are also positive factors of working in Scotland.
The Life Sciences Scotland Industry Leadership Group (LSS ILG) is a collaboration between industry, enterprise agencies and government strategy teams. Their remit is to develop, drive and deliver the life sciences strategy in Scotland. By developing an environment where ingenuity and innovation can create jobs and wealth for Scotland, they aim to benefit the global community.