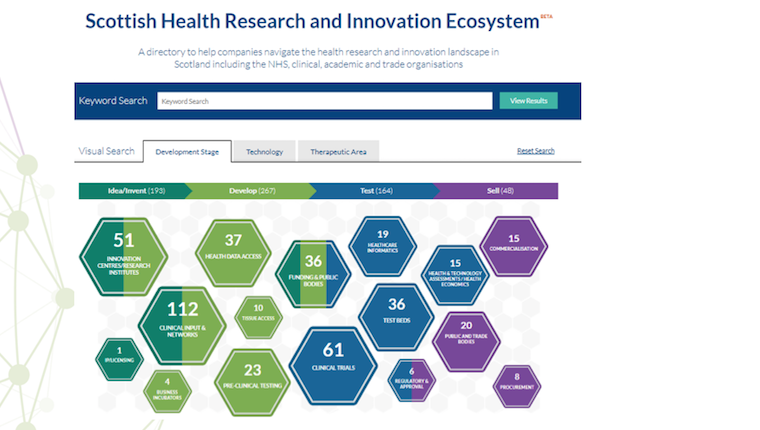 Launch of simple guide to Scotland's Health Research and Innovation Ecosystem
The new directory called Scottish Health Research and Innovation Ecosystem launched today at the annual Life Science Scotland conference in Glasgow by Dave Tudor, Co-Chair of the Life Sciences Scotland Industry Leadership Group (LSS) as he discusses the importance of Momentum and Collaboration within the industry.
This tool will facilitate essential collaboration between the NHS and other life sciences organisations in Scotland.
A greatly simplified search process allows companies to find the correct contacts quickly and easily, promoting collaboration, accelerating projects and helping advance new approaches to patient care.
Scotland's Health Research and Innovation Ecosystem is an easily searchable database of NHS, clinical, academic and trade organisations, with short descriptions of what they do and contact details.
It will also allow companies to search under the headings: invent, develop, test and sell, connecting start-ups with the correct contacts. A second tier search of clinical and technical areas identifies organisations and facilities needed to progress new products and plans.
Julia Brown, Senior Director, High Value Manufacturing and Health, Scottish Enterprise said: "Collaboration between industry and NHS Scotland is key to the life sciences sector and Scotland achieving its potential. Scottish Enterprise is proud to have supported the creation of this new resource to help companies identify and access NHS and health research organisations to develop collaborative working projects and processes, from concept development through to commercialisation."
Find out more, here. 
Read about why collaboration is so important within the industry here. 
Access the new directory here to find out more.