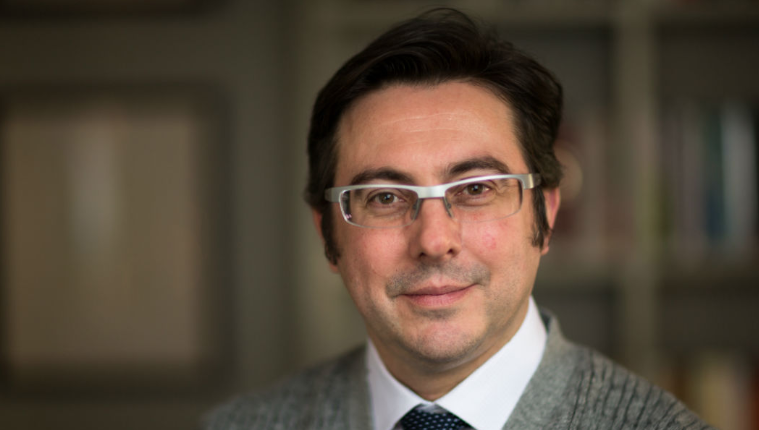 University spinout announces major investment, collaboration
Exscientia, a world leader in artificial intelligence ("AI") driven drug discovery and a spinout company of the University of Dundee, has made two announcements today regarding major investments and collaboration.
The Company has raised US$26 million in a Series B financing round to scale up its pipeline and advance selected programmes towards clinical development. The round included participation from new investors Celgene Corporation and specialist healthcare investor GT Healthcare Capital Partners, as well as existing investor Evotec AG.
An AI drug discovery collaboration with Roche worth up to CHF (Swiss francs) 67 million in upfront and research funding, development and commercial milestone payments. In addition, Exscientia will also receive tiered royalties on annual net sales of any products resulting from the collaboration. This represents Exscientia's sixth AI drug discovery collaboration.
Professor Andrew Hopkins, CEO and founder of Exscientia, said, "This Series B marks a milestone in our development and enables us to drive the next phase of strong business growth. Over the past 12 months we have substantially expanded our operations and capabilities to become a full stack AI drug discovery company. Furthermore, our unique Centaur Chemist™ platform allows us to move rapidly from idea generation to new drug molecules ready for IND and clinical development. With this new funding Exscientia is positioned to become the dominant player in AI drug discovery, driving radical change in R&D productivity. We are excited Celgene and GT Healthcare have joined with existing investor Evotec on this exciting journey."
The company has made considerable progress during 2018 and anticipates its first programmes driven by AI to be IND-ready within the next 12 months. The speed and capital efficiency demonstrated by Exscientia is already revolutionising the economics of small molecule discovery and in the future, this improved throughput will deliver benefits to patients.
Exscientia will apply its cutting-edge, Centaur Chemist™, AI drug discovery platform to design pre-clinical drug candidates for Roche. Roche has the exclusive rights to develop and market the drug candidates resulting from the collaboration.
Exscientia receives upfront and research funding as well as pre-clinical, development and commercial milestone payments. Together, the combined financial reward is worth up to CHF 67 million to Exscientia, plus tiered royalties on the annual net sales of any products resulting from the collaboration. No further financial details are disclosed.
Professor Hopkins, who holds a Chair of Medicinal Informatics in the School of Life Sciences at Dundee, said, "The application of AI into early stage drug discovery has the potential to offer transformational benefits in terms of productivity and quality to the generation of new medicines. Increasingly, we are seeing in our own pipeline projects and with our ongoing collaborations, the success of our AI platform in drug discovery. This new partnership with Roche demonstrates the value of our AI-driven platform and its potential to deliver high value assets. We are very pleased to begin this exciting project with such a respected partner."
Find out about organisations you could collaborate with, here.