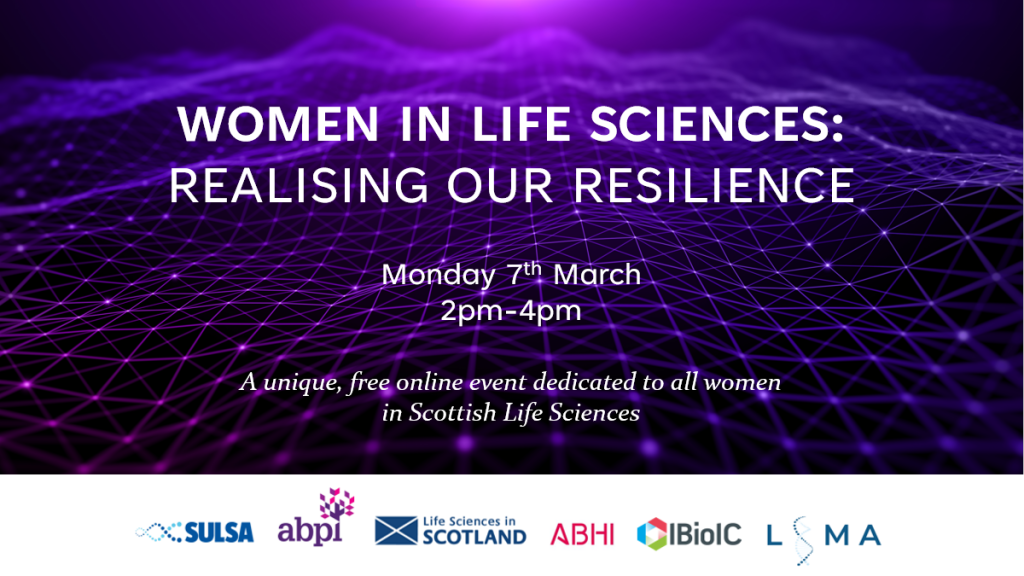 Women in Life Sciences: Realising Our Resilience
Date and Time
7th Mar 2022 | 14:00 - 16:00
A unique, one-off Female-led event open to all Women in Life Sciences in Scotland – an event dedicated to Realising our Resilience in a sector that is set to change significantly over the next 10 years.  In the build up to International Women's Day, join likeminded women in the sector for an afternoon of innovative self-development techniques for the benefit of our careers and female representation throughout the sector.
Resilient behaviours and characteristics can be game-changing to culture, efficiency and the pace of progress in dynamic industries like ours.  And for us as individuals, developing these characteristics can be one of the most valuable things we do for our future.
This event is in support of one of Life Sciences Scotland's women, Alix Mackay, who is part of The Forces Wives Challenge team that is set to become The World's First Female Team to retrace one of the most daring special forces missions in history – The Heroes of Telemark.  Forces Wives Challenge (FWC) believes passionately in the power of building resilience through physical challenge and translating this into high performing teams.  And they are here to share their insight and experience with you….
You'll get insight on:
How the sector is changing and what this means for women in life sciences
What Resilience actually looks like in reality
The power of resilient characteristics in our careers 
How to proactively develop resilient characteristics 
The truth about self-development: how it feels, why we are programmed to reject it and how to overcome the resistance
AGENDA
Welcome by Alix Mackay
Changing Paces: The Future of the Life Sciences Sector
Panel discussion with female leaders in the sector about the changes to expect in the sector and the need to change the pace of female leadership
Alison Dun, SULSA
Fiona Hamill, Janssen Cilag
Eleanor Charsley, ABHI
Liz Fletcher, IBioIC
Keynote: Building Female Resilience and High Performing Teams
– Major Heather Sharp, founder of FWC 
Get Yourself Uncomfortable: The Practice of Resilience
– Alix Mackay MRSC, Scotland's Industry Leadership Group for Life Sciences and Director of The Life Sciences Marketing Academy
This event is open to all and is generously supported by SULSA, ABHI, ABPI, IBioIC and The Life Sciences Marketing Academy.