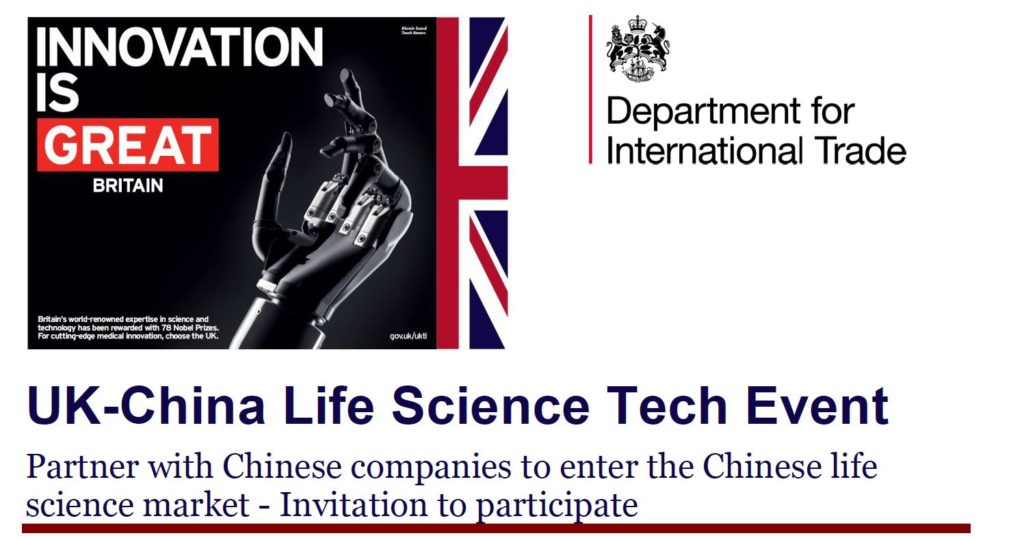 UK-China Life Science Tech Event
Date and Time
31st Oct 2017 | 09:00 - 14:30
Location
BioCity Scotland
Lanarkshire
In response to a growing interest from Chinese and UK companies, the UK Department for International Trade (UKDIT) is organising a series of Chinese investment and tech partnering seminars. The first event will be taking place at BioCity Scotland on the morning of Wednesday 31st October.
The UK DIT are looking for UK Medical Technology companies to present a short pitch to delegates from China. This presents an opportunity to develop some leads for potential partners, investment and networking for Life Science companies interested in the Chinese market.
There will be translators available on the day, so the pitch will be simultaneously translated as it is delivered, and there will be other translators to assist during the networking sessions.
If you are interested in participating, either register via the CBBC (China-Britain Business Council) link below or email Joshua Lawrence, China Market Manager, DIT directly – Joshua.Lawrence@trade.gsi.gov.uk  as soon as possible.