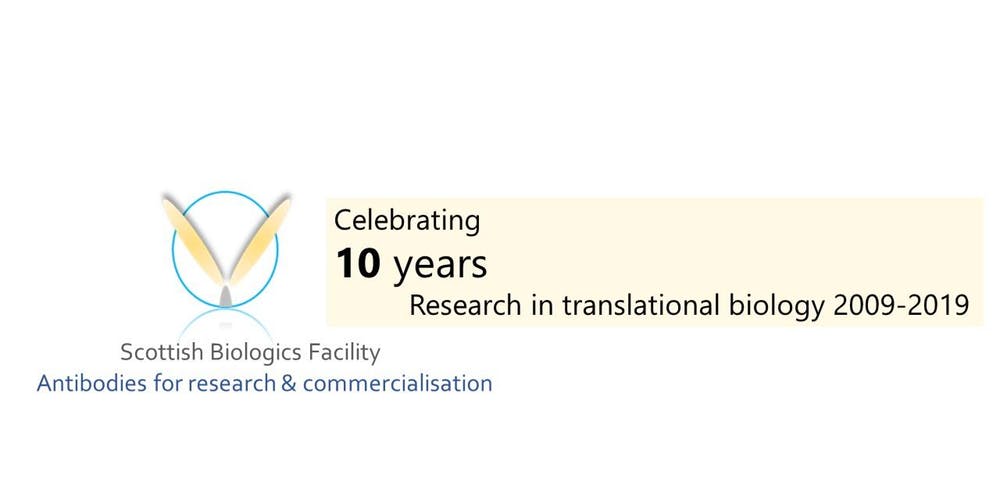 The Scottish Biologics Facility 10th Anniversary Symposium
Date and Time
9th Sep 2019 | 09:00 - 17:00
Location
University of Aberdeen
Aberdeen
The Scottish Biologics Society are celebrating 10 years of research in translational biology with a one day symposium and a fantastic line-up of speakers.  The programme will deliver insight from pioneers in biologics and drug discovery including founders and CEOs from the UK's most successful biotech companies such as TauRx Therapeutics Ltd., Iontas Ltd. and Novabiotics Ltd along with programme leads from GSK, TC Biopharm, Elasmogen Ltd., Iontas Ltd.
The Scottish Biologics Society, with its academic and industrial partners, specialises in the isolation of biologics for diagnostic and therapeutic development and also provides a training environment for scientists from across the globe.  This event is supported by the University of Aberdeen School of Medicine, Medical Sciences & Nutrition, British Society of Immunology and TauRx Therapeutics Ltd.
Programme Agenda
9.30 am Arrival and Registration
9.50 am Welcome and Introductions
10.00am Welcoming remarks, Prof Siladitya Bhattacharya, Head of School Medicine, Medical Sciences & Nutrition
Prof Siladitya Bhattacharya MBBS, MD, FRCOG is Professor of Obstetrics and Gynaecology and Head of School of Medicine, Medical Sciences and Nutrition, University of Aberdeen. A Subspecialist in Reproductive Medicine, he was the recipient of a Wellcome Trust Research Leave Award for Clinicians which allowed him to develop his research portfolio in reproductive epidemiology and randomised trials in women's health. He leads a number of multicentre clinical trials and is currently involved in a number of projects on the use of clinical datasets to generate prediction models for reproductive outcomes. He is Chair of the International Reproductive Medicine Research Network and Editor in Chief of Human Reproduction Open. 
10.15 30 years of phage display: to Humira and beyond
Dr John McCafferty – Phage display pioneer and developer of Humira® the world's most commercially successful drug – Currently Founder and CEO, Iontas Ltd
 John McCafferty was one of the founders of Cambridge Antibody Technology (CAT) and published the first paper/patent describing antibody phage display. The technology he invented has proved to be robust and has gone on to widespread use in commercial/academic groups world-wide. CAT developed the anti-TNF antibody that became HUMIRA, currently the world's biggest selling drug. After returning to academia (Sanger Institute and the University of Cambridge) John formed IONTAS, an innovative biotechnology company using phage display to develop novel antibody therapeutics. In this period John has also developed a technology allowing the construction of very large mammalian display libraries permitting the direct discovery of high affinity antibodies with optimal biophysical properties. He has also led the development of a novel molecular fusion format (KnotBodyTM) wherein naturally occurring, venom-derived cysteine-rich peptides (knottins) are inserted into peripheral CDR loops of an antibody. The technology has already been used to generated Knotbody blockers to 3 different ion channel targets. 
11.00 Sharks & Phage display: The Quad-X™ factor in chronic inflammatory diseases, Dr Obinna Ubah Senior Scientist, Elasmogen Ltd
Obinna Ubah is a lead senior scientist at Elasmogen Limited, a University of Aberdeen spin-out biologics drug discovery company focused on chronic autoimmune inflammation and oncology. He obtained a Bachelor of Pharmacy degree from the University of Benin, Nigeria, an MSc in Clinical Pharmacology (distinction) and PhD in Biomedical Sciences (SULSA Scholar) from the University of Aberdeen. His research is focused on developing novel next-generation biologic drug modalities for the treatment of chronic autoimmune inflammatory diseases. Obinna has an interest in higher education teaching and the commercialisation of bioscience research. He is an associate fellow of the UK Higher Education Academy and holds a PGCert in Intellectual Property Law from the University of South Africa. Obinna has contributed to several scientific publications.  
11.45 Treatment and diagnosis of the Tau aggregation pathology of Alzheimer's disease, Prof Claude Wischik Co-Founder & CEO, TauRx Pharmaceuticals
Claude Wischik is Professor of Psychiatric Geratology at University of Aberdeen and is Chairman/CEO of TauRx Pharmaceuticals and Genting TauRx Diagnostics (GTD). He was born in France, grew up in Australia and studied Medicine in Adelaide, Australia. He did his PhD at the MRC Laboratory of Molecular Biology in Cambridge and completed specialist training in Psychiatry in Cambridge. He was appointed to his current position in 1995. In 2002, he co-founded TauRx Pharmaceuticals as a Singapore-incorporated company with the aim of discovering novel approaches to the treatment and diagnosis of Alzheimer's disease and related disorders based on his discovery of the Tau pathology of AD. GTD was founded as joint venture with TauRx. He has authored 145 scientific papers in the field of AD and has 678 granted patents and 145 pending applications covering the work of the team supporting the first taubased treatment for AD and related neurodegenerative disorders.
12.30 Targeting the fungal cell wall, Prof Carol Munro, Aberdeen Fungal Lab, University of Aberdeen
Professor Carol Munro is a principal investigator in the Aberdeen Fungal Group and has over 20 years' experience studying human fungal pathogens that can cause life-threatening infections. Carol's research interests focus on the cell wall of fungal pathogens and how changes in the cell wall impact on drug susceptibility and pathogenesis. She is also developing novel biologics-based antimicrobial therapies and biomarkers of drug resistance. She is deputy Editor in Chief of FEMS Yeast Research, has over 80 scientific publications and mentored over 25 students to complete their PhD and Masters research degrees.
1.00 pm  Lunch & Videos from ex-SBF members from around the globe
1.45 Gamma Delta T Cells – The Future of Non-Toxic Cancer Therapy, Dr Marta Barisa, Product Development Manager (Vδ1) TC Biopharm
Translational T cell oncoimmunotherapy specialist, currently working as a Product Development Manager at TC BioPharm in charge of developing several platforms of chimeric antigen receptor (CAR)modified and unmodified Gamma Delta T cells for various indications. Trained at University College London and St. George' Hospital Medical School in the UK and Massachusetts Institute of Technology in the USA
2.15 Therapeutic Antibody Discovery at GSK, Dr Steven Grant, Manager Biopharm Discovery Group, GSK
Dr Grant currently leads both therapeutic and non-therapeutic 'tool' antibody discovery teams within the Biopharm Discovery group at GSK's Stevenage research hub.  He has led the discovery phase of multiple antibody projects, including GSK3359609 / ICOS and GSK3511294 / IL-5 which are both currently in clinical development.  Prior to working at GSK, Steven joined the start-up biotech company Domantis in 2001 until its acquisition by GSK in 2007.  Steven completed a PhD and post-doc at the University of Aberdeen in the lab of Prof Bill Harris.  Following completion of his post-doc, Steven worked at Unilever's Biorecognition group from 1999 – 2001.
2.45 Generation of antibody modulators of ion channels by fusing venom derived miniproteins into to peripheral CDR loops, Dr Aneesh Karat Vellat, Group Leader, Iontas Ltd.   
Dr Aneesh Karatt-Vellatt is a Group leader at Iontas Ltd. Aneesh joined Iontas after completing a PhD in Biochemistry from the University of Cambridge. At Iontas, a team led by Dr Karatt-Vellatt developed a novel platform technology that facilitates antibody generation against traditionally difficult therapeutic targets such as ion channels and GPCRS. He is also a key member of an international scientific consortium that aims to develop recombinant antivenoms to treat snake bites.
3.15 pm  Coffee break
3.30 Combatting Anti-microbial resistance (AMR) with peptides, Dr Deborah O'Neil, Founder, CEO & CSO Novabiotics Ltd
A biotechnology entrepreneur and immunologist by training with over two decades of experience in anti-infectives research and development. Deborah studied at University College London and then worked in postdoctoral positions in internationally acclaimed laboratories in San Diego and Ghent before moving to Aberdeen where she founded NovaBiotics in 2004. The business has since become a leading global biotechnology business developing a portfolio of first-in-class anti-infective therapies addressing the urgent, unmet need for safe and effective antibacterial and antifungal therapies. Recently named as one of 20 female biotech leaders in Europe, Deborah is Editor of the European Biopharmaceutical Review and Innovations in Pharmaceutical Technology, a member of the Board of the Scottish Life Sciences Association and Opportunity North East (Life Sciences). Deborah was a founding member of the BEAM alliance, is Chair of the Medicines Discovery CatapultCystic Fibrosis Trust antimicrobial working group and sits on the BIA's Working Group on antimicrobial resistance. 
4.00 At the Interface of Business and Science, Sven Zimmer, Business Development Manager, Lead Discovery Center GmbH
Sven is a Business Development Manager at the Lead Discovery Center (LDC) in Germany. The LDC is a professional drug discovery company, with experienced drug discovery experts, set up to advance ideas from the academic sector into the development of novel medicines. The projects are built upon the excellent science conducted at the Max Planck Society and other renowned research institutes in Europe.
In his role at LDC, Sven manages the commercialisation of the drug discovery projects. This includes strategic alliances, licensing deals, as well as attracting VCs for NewCo creations. Sven received a Double Degree in Biomedical Sciences and holds a M.Sc. in Bio-Business with Medical Sciences from the University of Aberdeen. 
4.30 Ambitions for Life Sciences in North East Scotland – The Bio Hub, Professor Stephen Logan, Chairman, Opportunity North East Life Sciences Board
Professor Stephen Logan (BSc, PhD, LLD) is a Board Member of Opportunity North East (ONE) where he chairs the Life Sciences Board and is a member of the Aberdeen City Region Deal Joint Committee. He was appointed to be the first Professor of Neuroscience at the University of Aberdeen in 1994, subsequently becoming Dean of the Medical School, Vice-Principal and, from August 2004, Senior Vice-Principal of the University. He had, and continues to have, key interests in strategic issues around creating and maintaining a world-class research base and the requirements for exploitation of intellectual property for wealth creation. Professor Logan is a Board Member of TauRx Pharmaceuticals Limited.
Stephen Logan has been a Board member of the Scottish Higher Education Funding Council (SHEFC), of Aberdeen City and Shire Economic Future (ACSEF), Scottish Enterprise Grampian, and served previously as Chairman of NHS Grampian.
5 pm   Finish 
7 pm   Symposium dinner