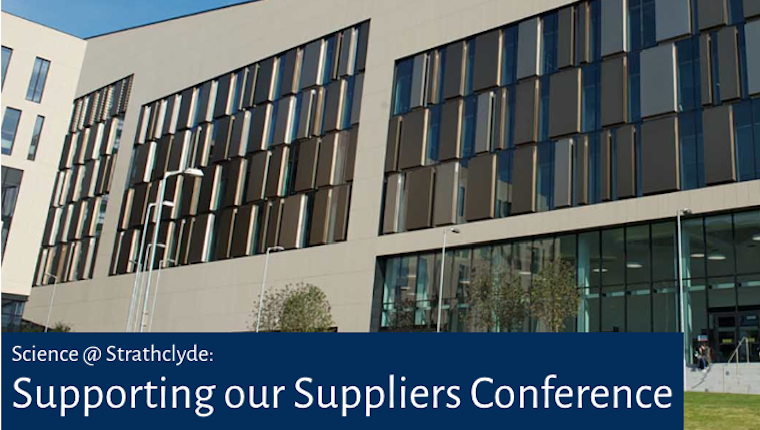 Science @ Strathclyde: Supporting our Suppliers Conference
Date and Time
14th Aug 2018 | 00:00 - 23:00
The Faculty of Science at The University of Strathclyde invites you to the first Science @ Strathclyde: Supporting our Suppliers Conference on the 14th of August 2018.
Are you a Business supplying goods and services to the Faculty of Science? Or a you a Business interested in becoming one of our suppliers?
Are you interested in learning more about us and how we want to work together with our suppliers?
Come to Glasgow and meet the Science Research and Business Engagement Teams.
This conference is designed to build closer relationships and support innovation between your company and the Faculty of Science at the University of Strathclyde.
The conference will include:
Networking opportunities with Faculty of Science staff
Workshops
Exhibiton featuring a variety of University groups
Drinks reception
Key Conference Topics
Hot Research Topics
University of Strathclyde Strategic Themes
University Procurement
Innovation & Knowledge Exchange
Major Developments at the University of Strathclyde
Conference Speakers
Professor Tim Bedford (Associate Principal for Research & Innovation, University of Strathclyde)
David McLay (Scottish Enterprise)
Dr Matt Baker (KE Director for Chemistry, University of Strathclyde)
Dr Beverly Wagner (Marketing, University of Strathclyde)
Fiona Hughes (Head of Procurement, University of Strathclyde)
Dr Rothwelle Tate (SIPBS, University of Strathclyde)
Professor Yvonne Perrie (Associate Dean for Research, SIPBS, University of Strathclyde)
Clare Urquhart (Deputy Director of Finance, Operations, University of Strathclyde)
Registration
Please visit the University online shop for registration
Fees for the conference are the following:
Early Bird Registration – £125 (until 10th July)
Regular Registration – £150 (after 10th July)