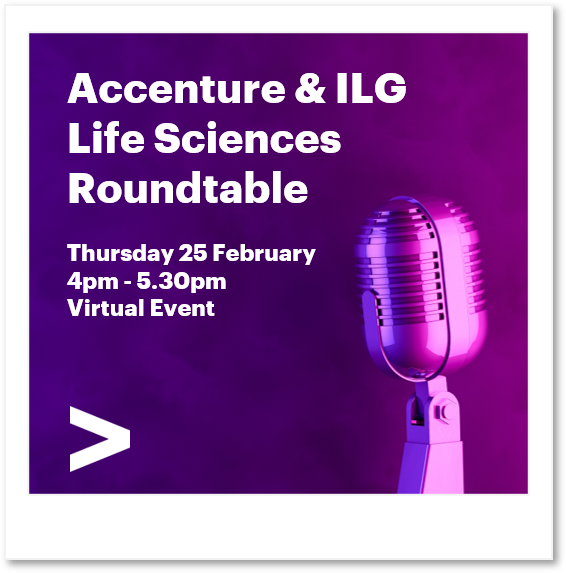 Pharmaceutical Process Development & Manufacturing: Accelerate Through Digital Transformation
Date and Time
25th Feb 2021 | 16:00 - 17:30
Accenture & ILG Life Sciences Virtual Roundtable
You are invited to join us on Thursday 25th February from 4pm for a virtual roundtable hosted by Accenture and ILG where we will present the latest thinking and case studies on how the biopharmaceutical industry can adapt to the increasing pace of new product approvals and growing complexity in products and portfolios.
The session will open with Barry Heavey, Accenture Ireland Life Sciences Lead discussing how digitalization in manufacturing and process development can help with challenges of pace and complexity, followed by keynote speaker Dave Tudor, ILG Chair to provide an overview of the pharmaceutical manufacturing sector and the pressing need to collaborate for success.
Guest speaker, Eric Keller, is Director Business Systems at Astra Zeneca Frederic Biotech facility Maryland, USA where many of AZ's most exciting and complex new drugs are launched and produced.  Eric will share with us some of his experience and lessons learned where he has delivered innovative, next generation solutions for demand forecasting, supply planning, production planning, order commitment, and strategic planning.
This will be followed by second guest speaker, Clive Badman, Chairman of Digital Technologies Group (DTG), an exciting new start focusing on transforming manufacturing & supply through digitalisation.
The session will then close out with a Q&A session with all 4 speakers
Registration is free and allocated on a first come, first served basis, so please register today to secure your place.