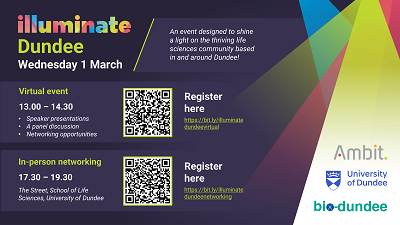 Illuminate Dundee
Date and Time
1st Mar 2023 | 13:00 - 14:30
Location
The Street, School of Life Sciences, University of Dundee
Dundee
Illuminate Dundee is an event designed to shine a light on the thriving life sciences community based in and around Dundee. This event will focus on bringing together local life sciences organisations, creating a platform for attendees to meet industry peers, exchange ideas and collaborate.
Taking place on Wednesday 1 March, the event will begin with an online 'Lunch and Learn' session including:
Speaker presentations
A panel discussion with local life sciences professionals
Networking opportunities
This will be followed by an in-person networking event at The Street in the School of Life Sciences, the University of Dundee.
Click here for more information and to register for the event.
We can't wait to see you there!
This event is hosted by Ambit, in collaboration with BioDundee and the University of Dundee.
Ambit is an AMICULUM agency. Click here to view the AMICULUM virtual event privacy policy for more information about how your data is handled.