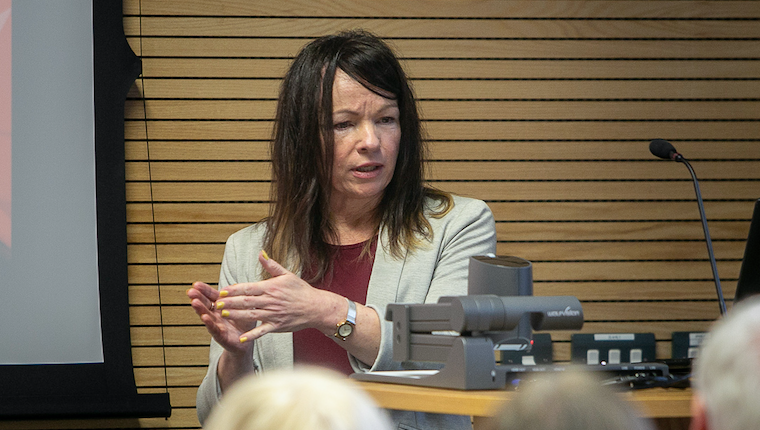 £40m hub to drive health innovation and life sciences company growth in Aberdeen
A £40m investment project is set to deliver an innovation hub to double the number of life sciences companies in North East Scotland and support the national ambitions for the sector to collaborate, innovate and commercialise the next generation of therapies and healthcare solutions.
The Bio-therapeutics Hub for Innovation in Aberdeen will be a focal point for sector ambition and growth and has secured £20m of capital funding from the UK and Scottish Governments through the Aberdeen City Region Deal (CRD), a partnership between Aberdeen City and Aberdeenshire Councils and private sector led economic development body Opportunity North East (ONE).
ONE, which has led the development of the project with partners, has committed an additional £3.6m of its own funding over seven years to operate the hub and deliver the bespoke support activity that will make Aberdeen one of the most dynamic environments to create and grow life sciences businesses. The project supports the goals of regional economic diversification, growing the Scottish sector to £8bn turnover by 2025, and creating a globally-unique and internationally competitive life sciences ecosystem in the UK with collaboration across industry, the NHS, academia and research funders delivering health and wealth.
The project has been developed by the ONE Life Sciences sector board, University of Aberdeen, Robert Gordon University, NHS Grampian and Scottish Enterprise and the ONE team is leading its delivery.
The innovation hub will be located on the Foresterhill Health Campus in Aberdeen – one of Europe's largest integrated clinical, research, teaching and commercial health sites. The 69,000 sqft new-build facility will include accommodation for spin-outs, start-ups and established companies; collaboration space; and shared facilities for events, small conferences and networking. Sector-specific support programmes in the hub will include incubation, acceleration, mentoring, commercialisation and growth planning. The hub will also be a catalyst for international collaborations and investment into research and companies.
A design team has been appointed to support the delivery of the project with a target of opening in December 2020. A planning application for the hub will be submitted in spring 2019 and construction is scheduled to start later that year.
The project was formally launched to an audience of partners, life sciences companies and industry stakeholders today (21 November 2018).
Prof Stephen Logan, Chair of the ONE Life Sciences sector board, said: "Creating the innovation hub for new, early-stage and established life sciences and healthcare businesses is at the heart of our ambition to build a dynamic company cluster. It draws on the significant assets in and around the Foresterhill Health Campus in Aberdeen. The hub will realise the opportunity to collaborate and innovate to bring forward the next generation of medical therapies and products and our target is to double the size of the company base by 2027. The hub will accelerate company creation and growth, anchor growing businesses and high-value jobs here long term and be a focal point for innovation and collaboration. This is a transformational project of national significance that supports the regional economic goal of diversification and will contribute to the national ambitions for life sciences as a driver for health and wealth."
The significance of the project for the sector and its role in economic diversification was highlighted by the project partners and life sciences industry.
Sir Ian Wood KT GBE, Chair of Opportunity North East, said: "The innovation hub is a transformational project for our life sciences sector. It builds on our strengths and opportunities, including in biologics and digital healthcare, where we have the specialisms to be at the forefront of health innovation. The Scottish and UK Governments are backing our vision through the Aberdeen City Region Deal. In co-creating, developing and now delivering this project, ONE is accelerating transformational change for the sector and region. ONE's commitment to its success is supported by the £3.6m that we will provide over seven years to run the hub and deliver support programmes. We have the talented people in the sector and now they will have the right environment and support to translate ideas and research into new diagnostics and treatments. Great credit is due to Prof Stephen Logan and the ONE Life Sciences board members, who have developed this concept into a project in delivery."
Dr Deborah O'Neil, Chief Executive of leading clinical stage biotechnology company NovaBiotics, said: "The bio-therapeutics hub will be a beacon of life sciences excellence for the North East. This state-of-the-art facility will be transformational in providing new space for established local companies who are already making an impact globally and for the region's exciting pipeline of new spin-outs. It will also provide a key destination for companies anywhere in the world attracted by, and looking to join, Aberdeen's world-leading life sciences community. For the first time, all of these companies will be together on one site; a focal point for the commercial life sciences sector in the North East that sits alongside, and will integrate with, the region's clinical and academic research excellence at Foresterhill. This is a major milestone for the sector in the North East and I'm very much looking forward to the impact it will have."
Dr Caroline Barelle, Chief Executive of biopharmaceutical company Elasmogen said: "There is a wealth of excellence in the North East biotech sector with multiple successes across biologics and small molecule drug development, medtech and digital health. The creation of the innovation hub will provide a central focal point, a cluster, a heart for this innovation to foster growth and prosperity, benefitting not only the local economy but also the UK and ultimately patients. I am delighted that Elasmogen will be part of this transformational investment in to life sciences in Aberdeen and I look forward to working with ONE and the other great companies on this exciting initiative."
Dr Fiona Rudkin, Chief Executive of mycoBiologics, a biologics developer tackling life-threatening fungal infections, said: "The Bio-therapeutics Hub for Innovation marks a huge step towards cementing the North East of Scotland as a leader in therapeutics development. Both new and established companies will benefit from this state-of-the-art facility, which will be key for securing investment and accelerating company growth. It's an exciting time to be a life sciences company in the North East."
Dr James McIlroy, Founder and Chief Business Officer at EnteroBiotix, said: "The announcement of the Bio-Therapeutics Hub for innovation is a major step forward for the life sciences sector in Scotland and the mission that ONE is pursuing. I'm looking forward to seeing the building take shape and I am very excited at the prospect of sharing space with the other fast-growing life sciences companies in the North East."
Prof George Boyne, Principal and Vice-Chancellor of the University of Aberdeen, said: "The University of Aberdeen has an excellent track record of producing pioneering spinouts tackling serious health concerns that include Alzheimer's disease, antibiotic resistance, autoimmune disease and gut health. Bringing academics, clinicians and industry together onto one site on the Foresterhill Health Campus is good news for patients as it will speed up the translation of research from bench to bedside and improve the diagnosis, management and treatment of disease. It's also a huge boost for the region's life sciences sector as collaboration of this kind should lead to greater investment."
Professor John Harper, Principal and Vice Chancellor of Robert Gordon University, said: "Each of the partners involved in the hub shares an ambitious vision to make the North East a thriving and dynamic environment for innovative life sciences businesses. RGU plays a key role in the scientific and economic development of the region and this is an important step in continuing our contribution. I personally look forward to our close collaboration with partners across the city."
Dave Tudor, Co-Chair of The Life Sciences Scotland Industry Leadership Group, said: "The growth plans for Aberdeen's Bio-therapeutics Hub for Innovation are exciting and aim to unlock the full potential of the region's clinical, research and commercial strengths. Scotland and Aberdeen are well placed to grow a strong market presence with high growth companies in bio-therapeutics because business conditions are supportive. North East Scotland has both a particularly strong academic offering in the life sciences sector, with significant expertise in commercialising first in class bio-therapeutics, and an innovative company base. The triple helix of industry, researchers and clinicians working together brings together the strengths of the region to create an ambitious and connected life sciences sector that is ideally positioned to maximise commercialisation opportunities, whether in bio-therapeutics or other healthcare fields."
Cllr Jenny Laing, Chair of the Aberdeen City Region Joint Committee and Co-Leader of Aberdeen City Council, said: "Our Regional Economic Strategy has internationalisation and diversification at its core. Life sciences is a sector that we view as one with enormous potential and the innovation hub is being created to build on the foundations we have in the region and embrace new opportunities. Aberdeen has a proud tradition of innovation and we're determined to see that continue, using investment from the City Region Deal to underpin a collaborative approach that will bring long term social and economic benefits for generations to come. There has been great progress in the past 12 months and some very notable milestones in the City Region Deal – today is the latest in a growing list. As we move into the third year of the deal the pace continues to build and the economic benefits we are already beginning to see will become far more significant."
Leader of Aberdeenshire Council and Vice-Chair of the Aberdeen City Region Deal Joint Committee, Cllr Jim Gifford, said: "In recent years we have taken a collaborative approach as a region to recognise our long-term economic vision through diversification. The innovation hub for life sciences, healthcare and medtech businesses is one of the six key projects of our £826million City Region Deal and is designed to support growth in this valuable sector and our entrepreneurial environment. With a reputation for innovation, this region is known for being world-leading in health research and this project will enable us to anchor and grow our life sciences sector and in turn attract inward investment. This hub, like the other key projects which make up our Deal, will provide significant opportunities for our graduates too, building on our rich talent pool whose impact is felt globally. This announcement is a fitting way to mark the second anniversary of the Aberdeen City Region Deal, which has already made tangible and significant progress. We are certain this project will echo the positive impacts made across the region and beyond by other projects supported by the Deal. We look forward to building on these successes in the months and years ahead."
UK Government Scotland Office Minister Lord Duncan said: "It's been two years since the Aberdeen City Region Deal started to make a huge difference to the region's economy. The Deal is helping to boost jobs and prosperity and is driving growth in the of north-east Scotland. This Bio-therapeutics Hub is a 10-year £40 million investment project, partly funded by the UK Government, and will stimulate innovation for both existing companies and new starts. This project is one of six important areas receiving Aberdeen City Deal funding, another being the Oil and Gas Technology Centre which is supporting innovation and diversification in the oil and gas industry."
Scottish Government Infrastructure Secretary Michael Matheson said: "I am delighted to see the launch of the Bio-Therapeutics Hub for Innovation. The region has significant expertise in commercialising therapeutics and this Hub will provide a central focus for a thriving life sciences cluster that will act as an incubator and accelerator for new and existing life science companies. Scotland is already a global leader in life sciences and the sector provides more than 37,000 jobs across more than 700 life sciences organisations. The Scottish Government is delighted to support this exciting project through the Deal and I welcome the commitment shown by regional partners Opportunity North East, the University of Aberdeen, Robert Gordon University, NHS Grampian and Scottish Enterprise to drive this project forward."
It was announced last week that the life sciences industry in Scotland is on its way to reaching the £8bn target by 2025, read more about the industry numbers here and find out how investments such as this are an invaluable contribution to reaching this target.