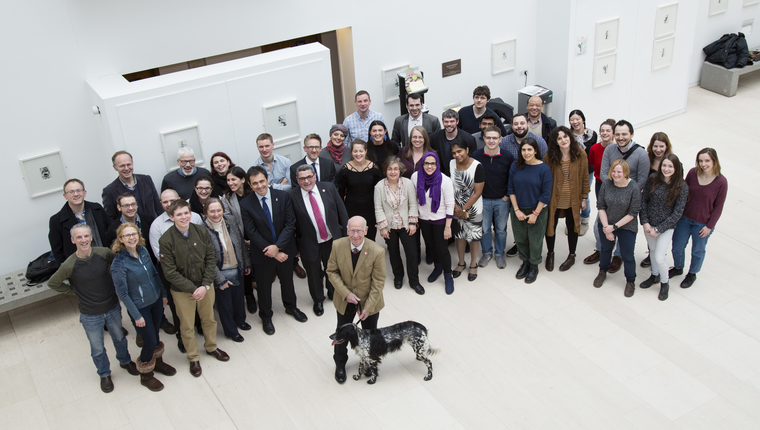 The University of Glasgow to lead the new UK Centre for Doctoral Training in Engineered Tissues
On Monday, The University of Glasgow held their first cohort event since the announcement that they would be leading the new Centre for Doctoral Training (CDT) in Engineered Tissues for Discovery, Industry and Medicine in collaboration with The Universities of Birmingham, Aston and Galway.
The University of Glasgow CDT is one of 75 announced by the Engineering and Physical Sciences Research Council (EPSRC), part of UK Research and Innovation (UKRI), last month from an initial phase of over 800 applications.  Led by Profs Matt Dalby and Manuel Salmeron-Sanchez, The University of Glasgow has secured £14m of funding to train 84 PhD students across the UK and Ireland in the emerging sector of bioengineering for developing non-animal models.  The CDT will produce the next generation of leaders in developing in vitro tissues, sensing and diagnostics to develop humanised in vitro systems to drive better drug screening.
Importantly, the vital difference in these CDT PhDs is they are being co-created between industry and academia to ensure the research projects address the most urgent and relevant challenges in the drug discovery and medical markets.  The industry partners will help supervise the PhD, help with training and will offer training placements to students.  They include Scotland-based enterprises such as Reprocell, Biogelx and Cytochroma and as the CDT continues to develop, Prof Dalby and his team welcome more industry partners to help identify and shape the PhD projects. To find out more, you can contact the team via their lifetime CDT website.
Furthermore, the CDT recognises that not every PhD student continues a career in the lab – in fact 53% go on to careers such as market research, business development, market consultancy and roles within the charity sector.  To that end, industry training including entrepreneurial skills, business planning and "Dragons Den" style pitching are embedded in the learning from Year 1.  As a result, previous CDTs have demonstrated that they invest around twice as much resource into their students than traditional, pure academic PhDs.
The projects will have a strong Engineering and Physical Sciences core but, because they will focus on solving a tissue-based problem, the PhD projects are open to students with academic backgrounds in life sciences as well as EPS subjects.
The deadline for first applications is this Friday March 8th and you can apply online via the lifETIME CDT website.
Over 800 CDT applications were originally considered for university triage with 400 being selected and submitted by Universities across the UK.  From this 200 went forward for interview after which 75 were selected.  In addition to Profs Dalby and Salmeron-Sanchezs' team's success, a further six CDTs across Scotland have been funded by the EPSRC from Heriot-Watt University, The University of Strathclyde, The University of Edinburgh and an additional CDT at The University of Glasgow.
The centres will be funded by the EPSRC which has allocated a total of £444 million and a further £2.2 million from The Natural Environment Research Council (NERC). Science Foundation Ireland (SFI) will unilaterally be supporting a Republic of Ireland cohort on seven EPSRC-badged Centres with approximately 39 million euros.
Keep up to date with news like this by following Life Sciences Scotland on Twitter or LinkedIn or by requesting our monthly newsletter.