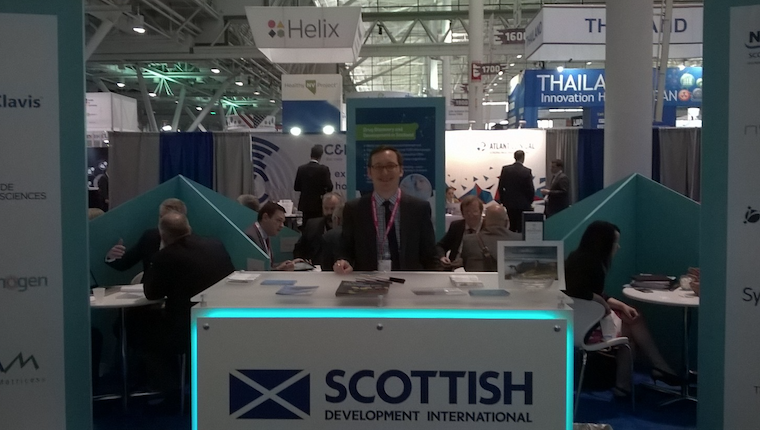 Scottish Development International at BIO 2018
In June, the 25th BIO International Convention (BIO) was held in Boston, Massachusetts.  The event attracted almost 18,300 delegates from 67 countries and 1,800 exhibitors.  Over 46,900 business partnering meetings took place, the largest ever at any business event, and made BIO a Guinness World Record holder for 'Largest Business Partnering Event'. There were over 180 seminar sessions where delegates gained unique perspectives on the immense opportunities within the industry, as well as an insight into the complex challenges which lie ahead.
SDI's Life Sciences team hosted Scottish companies and institutions as part of a 'Scotland' Pavilion at BIO.  These delegates took part in more than 200 individual partnering meetings on the Scotland stand – a very impressive achievement and at times a logistical challenge to ensure we had sufficient chairs to accommodate all of the discussions!  The entire Scottish delegation comprised 24 organisations across academia, NHS and industry – truly showcasing the innovation and breadth of Scotland's drug discovery and development ecosystem.
SDI also worked closely with colleagues in the Department of International Trade to make the most of the opportunity that BIO presented.  Baroness Rona Fairhead, Minister of State at the Department of International Trade, visited the Pavilion and met with members of the Scottish delegation and NHS Research Scotland was closely involved in activities to mark the 70th anniversary of the NHS
Networking is a major part of the BIO experience and the valuable connections that are made can lead to the foundation of innovative industry collaborations and scientific breakthroughs.  SDI hosted a Scottish Networking Reception at the Oak + Rowan which attracted a targeted audience of over 120 life science representatives including several GlobalScots.  The Scottish delegation really valued the opportunity to invite target customers and make new and interesting connections in a more informal setting.
A first-time Scottish company attendee to BIO commented: 'BIO was a great success and a pleasure to attend'.  Feedback from other Scottish companies that attended included: 'there was a higher level of senior executive engagement than expected, which led to the generation of quality business development leads'; 'We were able to identify innovation within our area of interest' and 'BIO is a huge platform which allows us to introduce our new technology to potential new customers.'
BIO moves to Philadelphia in 2019 (3 – 6 June 2019) with registration opening in January 2019.  Save the date!