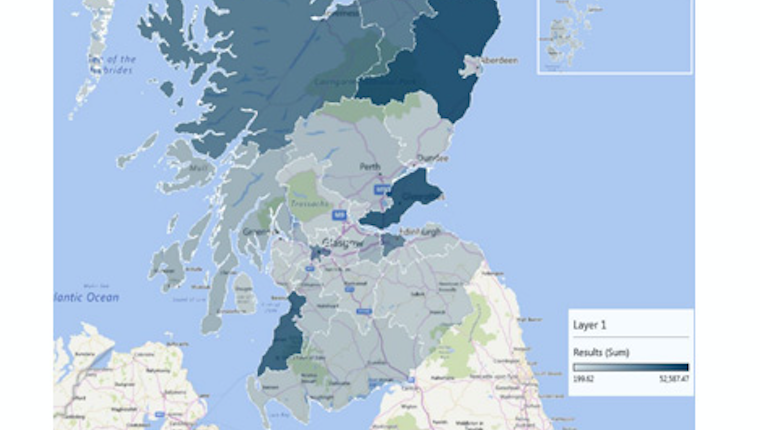 Scottish Bioresource Mapping Tool launched
The Scottish Bioresource Mapping Tool is a pioneering approach to mapping bioresource arisings which allows us to provide potential investors in the bioeconomy and circular economy uniquely detailed information on the 27 million tonnes of bioresources arising every year in Scotland which have been analysed so far.
In 2015 the Scottish Industrial Biotechnology Development Group publish the 'Biorefining Roadmap for Scotland' which sets out the key actions required to establish more biorefinery technologies in Scotland. The Roadmap is a complimentary document to the National Plan for Industrial Biotechnology (IB) which aims to increase IB related turnover in Scotland to £900m by 2025.
Scotland is ideally placed to build a globally competitive bio-based economy, based on the significant existing industry with the logistics, utilities, services, land and skilled workforce necessary to develop IB.  It has significant research expertise (both academic and industrial) necessary to develop IB, an existing community of over 50 companies that are actively developing IB and has the bio-based feeds that are essential as raw materials.
A truly circular economy will eliminate waste as far as possible. In the context of the bioeconomy, it's about using biological resources or bioprocesses to make new products such as food, chemicals and energy and reducing dependency on fossil fuel based manufacturing as well as adding value to waste materials.
A key action of the Roadmap was to map the wastes, by-products and agricultural residues which could potentially be used as bio-based feeds for biorefining. Following on from this Zero Waste Scotland published a report on the 'Biorefining Potential for Scotland' which highlighted there are at least 27 million tonnes of biomass available which could potentially be used as feedstocks in biorefining.
The Scottish Bioresource Mapping Tool was developed alongside the report by IBioIC and Scottish Enterprise. It provides industry with a clear visualisation of the geographical bioresource arisings across Scotland and enables a rapid assessment and quantification of the bioresource arsing helping to inform circular economy decision making and investment decisions.
The tool compiles data from the following four key material groups:
Waste – including municipal solid waste, commercial and industrial waste
Food & Drink by-products
Agricultural residues
Waste water sludges
Enquiries on streams out with the above are also welcomed as additional datasets will be made available over the coming months. To find out more and see if you can benefit from using bio-based feedstock alternatives visit the website below and submit an enquiry to speak to one of our Sustainability specialists:
http://www.ibioic.com/what_we_do/scottish_bioresource_mapping_tool/d1142/
Find out more about Scotland's industrial biotechnology industry here and how it is working towards a target turnover of £900m by 2025.