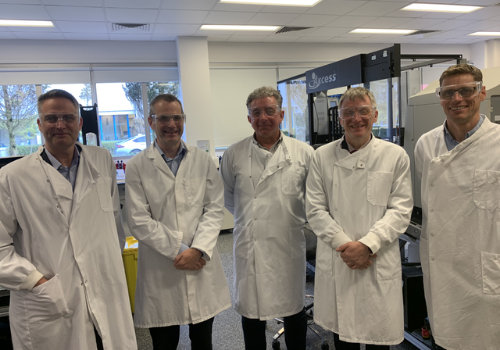 Ivan McKee MSP visits BioAscent
Ivan McKee MSP, Minister of Trade, Investment and Innovation was welcomed on site at BioAscent this week to tour its chemistry, biology and compound management/library facilities.
The Minister was interested in finding out more about BioCity Scotland-based BioAscent's success and the role funding has played in those achievements. He was also keen to find out more about the growing team and the work that is carried out at the facility.
Ivan was given a tour of the state-of-the-art facilities as well as the opportunity to meet with CEO, Paul Smith and CSO, Dr Phil Jones to find out about the role of SFC strategic funding, Scottish Enterprise and SDI support, ESCulab, the European Lead Factory and the growth and future outlook for BioAscent.
Commenting on the visit, Dr Phil Jones said: "We were thrilled to invite Ivan to BioAscent. After the investment in the company last year when we became a fully integrated drug discovery CRO, this was a great opportunity to meet with a member of the Scottish Parliament to discuss the types of investment we have received which have allowed us to grow at such a fast pace.
We have a team of respected and highly skilled scientists and are expecting to finish 2019 with a team of around 40. Meeting with Ivan allowed us to highlight how the investment received last year has helped the business to flourish and enabled the creation of new job opportunities for more scientists to keep up with our growing workload."
Minister Ivan McKee said: "I was delighted to visit BioAscent Discovery to see their state of the art facilities and learn more about the fantastic work of the ESCulab project.
This collaboration including the University of Dundee and BioAscent, is helping us deliver a key priority of our Innovation Action Plan, using university research, knowledge and talent to drive growth and provide people with the tools and skills needed to innovate and achieve positive economic impacts.
The Scottish Government's vision is for a Scotland where innovation is an intrinsic part of our culture, our society and our economy. It is hugely promising to see BioAscent growing and bringing highly skilled jobs to the area. I wish them every success in participating in the project."