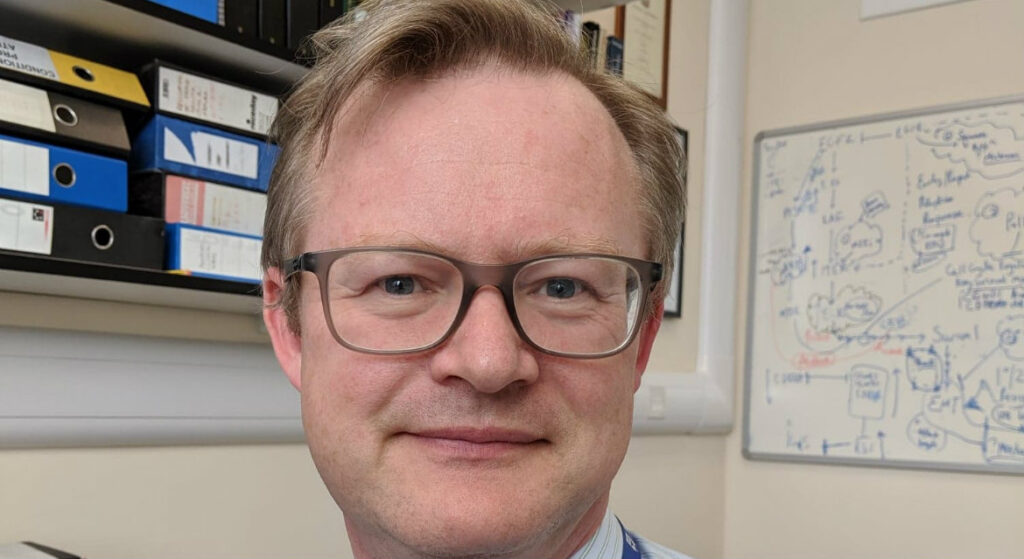 'Forgotten cancer' to be tackled by Dundee scientists
The University of Dundee is to lead new research into a 'forgotten cancer' related to lifestyle and deprivation which Scots are more likely to be diagnosed with than almost any other group in the world.
Russell Petty, Professor of Medical Oncology at the University's School of Medicine, has received £300,000 from the Chief Scientist Office to try and overcome resistance to treatment experienced by oesophageal squamous cell carcinoma (OSCC) patients. The problem of resistance is so serious that 60% of people die within a year of being diagnosed and only around 15% of patients are cured.
While oesophageal cancer is recognised as a hard-to-treat cancer and an area of unmet clinical need, almost all UK research funding and clinical trials in this area has been focussed on oesophageal adenocarcinoma, the more common subtype of the disease, and not OSCC.
Instances of oesophageal adenocarcinoma have been increasing over the past 20-30 years, but OSCC – which is related to smoking, alcohol consumption and social deprivation – has become less prevalent throughout most of the developed world during the same time.
Scotland is an exception to this trend, however, and a recent international report showed that instances of OSCC were higher among Scots than any other group of women studied, with rates also among the highest for Scottish men.
"The fact that the incidence of OSCC in Scottish women is the highest in the world is an important national health statistic and yet one which has attracted little or no attention," said Professor Petty. "It really is Scotland's forgotten cancer.
"When I came to work in Tayside a few years ago I was surprised to be seeing more oesophageal squamous cell carcinoma patients than I would expect. This was especially true in women and when I checked the database I was astounded to see that the number of squamous cell cancers diagnosed in Tayside over the last 30 years had doubled. This was in stark contrast to the picture for the UK as a whole, where OSCC cases have been gradually falling over recent decades.
"Previously my research had primarily been concentrated on oesophageal adenocarcinoma but having seen how much of a growing problem this was here, I decided to apply for funding to work on OSCC to provide a focus that was aligned with the needs of Scotland in general and Tayside in particular."
In Scotland, about 10 people every week are diagnosed with oesophageal squamous cell carcinoma, with OSCC being approximately 1.5 times more common in Scottish women than their English counterparts.
Professor Petty's research is aimed at overcoming the problems that lead to the noted poor outcomes for patients.
His lab will look at mechanisms of resistance to cancer medicines, which mean that either OSCC patients fail to respond to treatment at all or that their cancers rapidly become resistant and enable the disease to progress.
Preliminary research carried out by professor Petty and his colleagues has suggested a new molecular mechanism of drug resistance in OSCC which they have demonstrated can be overcome by specific new targeted cancer medicine that is already in clinical trials for other types of cancer.
Over the next two and a half years the Dundee team will establish whether this can pave the way for clinical trials in OSCC using new combinations of cancer medicines to overcome drug resistance in OSCC and so increase the chances of patients responding to treatment.
"This approach is about developing precision medicine that makes the treatment more personalised so that it is more effective for individual patients and prevents them developing resistance," continued Professor Petty.
"We looked in a lot of detail about why this resistance might be occurring and we found what we believe is a key mechanism explaining why current treatments either don't work in the first place in some cases and why patients quickly become resistant in others.
"The next stage is for us to solidify this work by proving whether these new drugs can indeed work together to reverse resistance. If the lab work backs this up then we will be in a position to begin trials in patients."