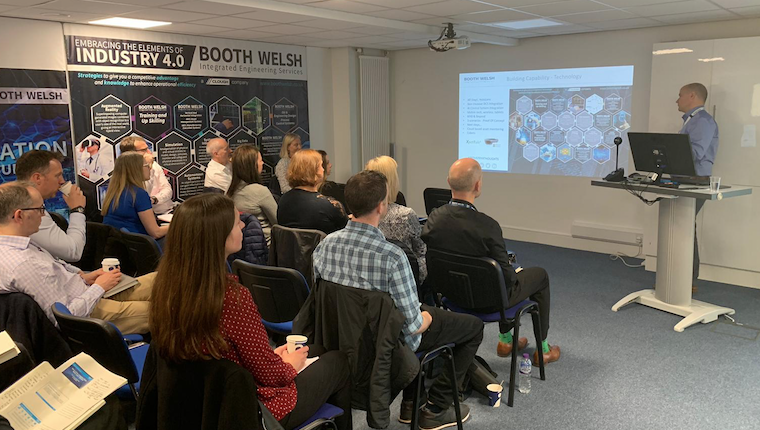 Demystifying Digital for Business Leaders
Scotland has ambitions to increase turnover in Life Sciences to £8bn by 2025. To achieve this, a key enabler for this ambition will be the extent to which the sectors embrace the digital revolution and the Industry 4.0 philosophy.
The Sustainable Production Group, part of the wider Life Sciences Scotland Strategy, developed a digital workshop, which saw the coming together of members of the life and chemical sciences leadership master class programme to learn about digital and the impact that it could have on their business.
The day commenced with an introductory session demystifying digital and Industry 4.0, from GSK and PWC with examples of the technology that could be brought into a manufacturing environment, as well as an essential session on culture change from Booth Welsh.
Also included were live demonstrations of digitalisation technology in action, by Wyoming Interactive, and Booth Welsh. The demonstrations highlighted approaches which enable businesses to become more effective, to take the best actions, and ensure a right first-time approach. Whether it is to increase quality, safety, productivity, save costs or time, there are major benefits that can be achieved through the integrated use of digital technology without a high hardware cost.  The day concluded with SMAS sharing their work on the Manufacturing 4.0 service which they deliver, as part of the Manufacturing Action Plan, to companies by providing them with a detailed map of the digitalisation journey, through a series of workshops.
Going forward the group would like to bring together the key decision makers within life and chemical science companies to share with them their knowledge in digitalisation on Thursday 26th September. The aim of this workshop is to highlight the important advances in digitalisation available to their business and how developing the right culture to integrate it are key to the future success of their business. If you are a senior stakeholder within a life or chemical science company, Alison Engles (alison.engles@scotent.co.uk or 01414685022) to register your interest and obtain further information.