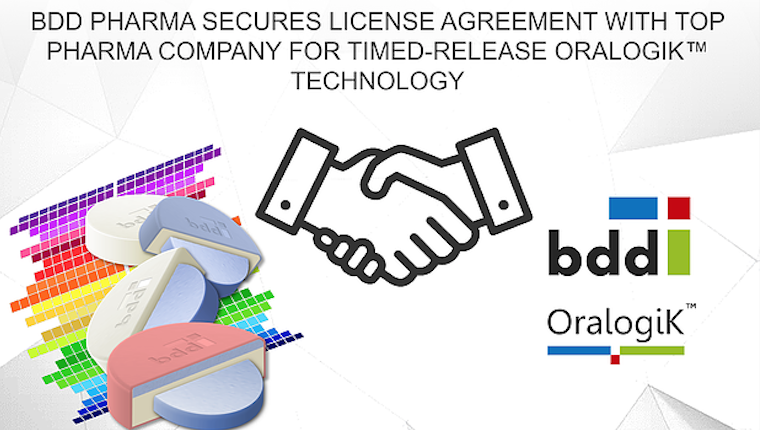 BDD Pharma secures license agreement with top pharma company for timed-release OralogiK™ technology
BDD Pharma today announced that it has signed an agreement to license OralogiK™, its timed drug delivery technology, to Novartis Pharma AG for the development of a new product containing an undisclosed compound. The agreement includes an upfront payment, milestones and future royalties.
BDD's proprietary OralogiK™ technology enables the oral delivery of single, multi-dose or combination drugs at pre-determined times between one and 12 hours after administration to the patient.
This is the first license secured by Glasgow based BDD Pharma, which already has several license options with pharmaceutical companies to develop and apply the OralogiK™ technology to new and existing drugs that would benefit from either delayed or phased delivery.
BDD is uniquely placed to rapidly provide clinical data to pharma companies that have licensed OralogiK™, using its gamma scintigraphic imaging and pharmacokinetic capabilities.
Professor Howard Stevens, Executive Chairman of BDD, said:
"This is a significant step for BDD; our OralogiK™ technology offers wide ranging possibilities for partners to develop new products with complex delivery patterns and to extend product ranges. We look forward to continuing our collaboration with Novartis, aiming to bring the first OralogiK™ product to the market."
The intellectual property surrounding the OralogiK™ proprietary technology is protected by key patents in the major markets worldwide.
Further enquiries:
Carol Thomson
BDD Pharma Ltd