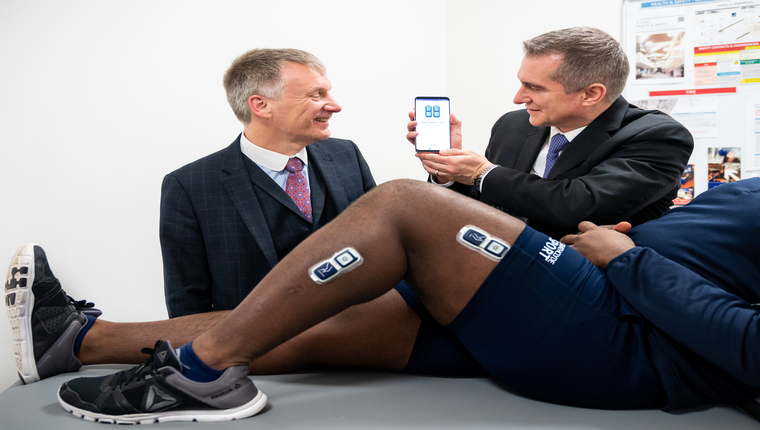 EnMovi receives £2.5m grant to further develop orthopaedic sensors
Med-tech firm EnMovi has selected Glasgow as the location to advance its development of cutting-edge orthopaedic sensors and data analytics after receiving a £2.5m research and development (R&D) grant from Scottish Enterprise.
The newly-established company is the latest venture from US-based parent company OrthoSensor Inc. and will focus on developing data analytics, machine learning and mobile applications to support its wearable orthopaedic sensor devices as it establishes an £8m R&D base in Glasgow, creating 19 new high-value jobs.
The University of Strathclyde, which has a long-standing relationship with OrthoSensor, worked in partnership with Scottish Enterprise to bring the new company to Scotland. EnMovi is based in the University's Inovo building – a state-of-the-art business location next door to its Technology and Innovation Centre (TIC) in Glasgow City Innovation District – ensuring the company is ideally-placed for further collaboration with academics.
Minister for Trade, Investment and Innovation Ivan McKee said: "This funding will support EnMovi to capture data and develop wearable technology. This will allow for less invasive surgery and faster recovery times for patients. This project, which will see a new research and development centre established at the University of Strathclyde's Inovo building, also brings exciting employment opportunities and will help establish Scotland at the forefront of research into this cutting-edge new technology."
Roman Bensen, Chief Executive Officer of EnMovi Ltd. said: "The support provided by Scottish Enterprise and our long-standing collaboration with the prestigious University of Strathclyde will enable us to continue the development of our innovative data analytics and wearable platform to improve patient outcomes globally."
Mark Hallan, Director of Global Investment at Scottish Enterprise, said: "OrthoSensor is already a leader in its field and its new Glasgow operation EnMovi looks set to continue that success. Through its development of a data analytics platform and further medical sensor devices, it will not only benefit the Scottish economy by creating high-value jobs but will also improve patient outcomes by allowing for less invasive surgery and faster recovery times."
Professor Sir Jim McDonald, Principal and Vice-Chancellor of the University of Strathclyde, said: "We have had a close strategic alliance with Orthosensor for some time. I am delighted that they have chosen the Glasgow City Innovation District to establish their Scottish subsidiary EnMovi.
"Connected Healthcare is one of the key research areas within the University of Strathclyde and Glasgow City Innovation District and EnMovi will benefit greatly not only through co-location with similar businesses, but also through close collaboration with our academics and access to the world-leading research and highly-skilled talent we produce within our HealthTech Cluster."
Scotland is home to a large and vibrant medtech industry encompassing more than 250 companies, and with over 9,000 people employed within this sector. For more news, see here.