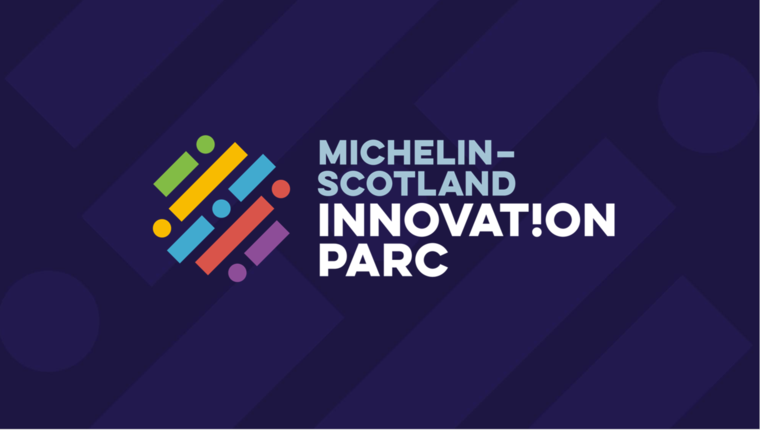 Michelin-Scotland Innovation Parc (MSIP)
Creating breakthroughs in sustainable mobility and low carbon energy with world class skills, science and space.
Over a year since Michelin announced the end of tyre production at its Dundee site, the ambition to turn the factory into a world class innovation Parc is now becoming clear.
John Reid, Manager of the existing factory and CEO of MSIP, took time out recently to join the Life Sciences Scotland Sustainable Production Group and share the incredible story what is being achieved in Dundee through a positive and innovative mindset coupled with a focus on people.
From the devastating news of November 2018, by working together Michelin, Team Scotland and the workforce have delivered something powerful and exciting not only for Dundee but the whole of Scotland.
A £60 million funding commitment, supported by Michelin, Scottish Enterprise and Dundee City Council, was announced in November 2019, an investment that will transform the current Michelin site into the Michelin Scotland Innovation Parc (MSIP) over the next ten years, creating new economic and employment opportunities across Dundee, the Tay Cities Region and Scotland.
MSIP, a joint venture between Dundee City Council, Michelin, and Scottish Enterprise, will drive growth and diversity in the Scottish economy creating 850 sustainable jobs. It will lead the way in developing and manufacturing the technologies of the future. And it will be a key part of Scotland's response to the global climate emergency.
The Parc will be an ambitious centre for innovation and skills, where industry and academia come together with a focus on sustainable mobility, clean transport and low carbon energy.
MSIP is a 32 hectare Parc that will be divided into 3 areas
Advanced Manufacturing with vast space for manufacturing businesses to locate;
an Innovation campus that will offer office space and business and innovation support service, a Skills Academy, creating a skilled workforce for future demands, and an Accelerator Programme;
and space for new developments.
Other key components including a creche, gym and coffee shop, are also all in progress.
The Parc will be powered by sustainable and green energy supplies. The Tyre Factory was to be the first carbon neutral tyre plant in the world following a near £90m investment, so the modern infrastructure and buildings are in great condition.
Current interest is significant with over 30 companies already interested. Six Priority Projects at the detailed planning phase include companies in Electric Vehicle and battery manufacture, Hydrogen production and other low carbon solutions.
With the Scottish Government declaring a Climate Emergency, MSIP features in the recently published Programme for Government as one of Scotland's key projects.
Commenting on John's presentation, SPG Chairman, Clive Badman said, "This was an inspirational presentation from John showing how a burning platform can create a fantastic can do approach. My challenge to the broader Life Science sector is how can we do this without the burning platform to produce more high performing teams?"
Learn more about the Sustainable Production Group here.