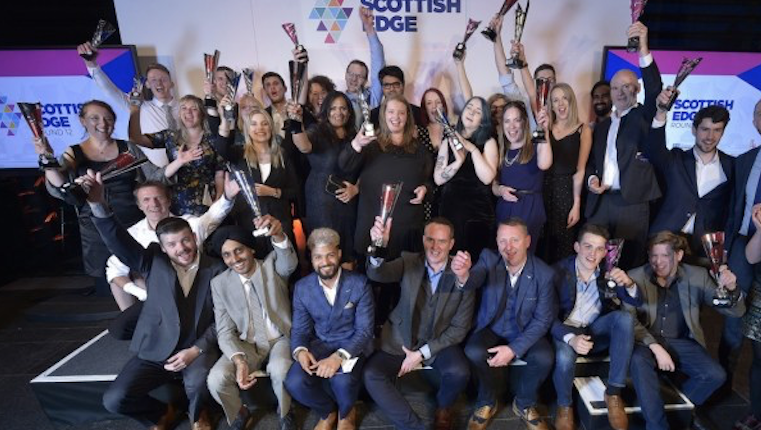 Giving Scottish Life Sciences Entrepreneurs the Edge with up to £150k in funding
With the 14th round of Scottish EDGE currently open (closing next Monday March 4th at 2pm) and a whole list of previous winners in life sciences, we asked their Chief Exec, Evelyn McDonald, why Life Sciences enterprises have the edge in this competition.
EDGE have a strong focus on Innovation
The first reason is the quality of the innovation the organisation sees from life sciences enterprises.  In EDGE's mission to identify and support Scotland's most up and coming high-growth potential entrepreneurs, there is a strong focus on innovation. Our sector has this in abundance and Evelyn recalls how previous winners from our sector have impressed the panel when they described their product and the impact it could have on the world.
But we all know it's not as simple as a great scientific breakthrough; there is a huge amount of work, time and budget that is associated with commercialising such an innovation.  The great news is Scottish EDGE know this too. Over the years they have become familiar with what the commercialisation process looks like for life sciences and they recognise that entrepreneurs in our sector are further away from launch than other start-ups. As EDGE themselves have grown, so has their appetite for supporting longer term projects.
£150k prize for Science and Technology
The second reason is the Higgs EDGE Prize.  Higgs EDGE is a special award within the main Scottish EDGE category of up to £150,000 specifically for entrepreneurs from the science, technology and engineering sectors.  Life sciences enterprises have a pretty strong track record of success with ClinSpec, who are developing the world's first cost-effective blood test for early brain cancer detection, winning the last round and predictive toxicology and liver cell based screening business, Cytochroma, winning in the round before.  The round before that was won by IBioIC members, UFraction8, for their vision is to become a global provider of liquid-particle processing equipment.
Kate Cameron, founder and CEO of Cytochroma and winner of Higgs EDGE in 2018 says to anyone thinking of applying:
"Apply now! A short application form and a few pitches are all that stands between you and huge cash prizes.  The support and money from Scottish EDGE have been integral to building Cytochroma – it has been life changing!"
Opening the door to higher rounds of Investment
Over the years, Evelyn has observed the role winning Scottish EDGE can have in larger investment strategies that are critical to commercialising an innovation in life sciences and healthcare.  Time and again, previous winners tell them it helped to open new doors to investment.
"In general, what we've found is winning EDGE helps you push that door to higher rounds of investment open a bit more"
The EDGE prize money is there to drive the business forward and putting the company in the best position for a future, large round of investment is one of the ways in which this competition can give life sciences entrepreneurs the edge.
A New Circular Economy Award
Just two weeks ago Scottish EDGE announced a brand-new Circular Economy award of £100k giving life sciences companies operating in the bioeconomy an additional opportunity to win funding. Thanks to funding from Zero Waste Scotland, the prize was created to back entrepreneurs who are exploring circular ways to do business that are sustainable and eliminate waste.
We know from the UK Strategy for the Bioeconomy, Scotland's National Plan for Industrial Biotechnology and the success to date from IBioIC that Scotland is ahead of the game in spinning out and commercialising innovations that contribute to the circular economy.  This new award from Scottish EDGE will enable winners to accelerate their commercialisation process even more.
How it works
Scottish EDGE is a social enterprise and their prizes in the main and special award categories are made up of 40% grant and 60% loan.  The loan repayment terms are soft and flexible as the whole point of the organisation is help entrepreneurs be successful; Evelyn mentioned that some of their loan repayment terms are as little as £25 per month.  The number of years Scottish EDGE has been running and the amount of prizes they have distributed means the repayments from historical winners are starting to fund prizes for new entrepreneurs in a real "pay it forward" nature.  
Advice for applicants
The challenge is to articulate complex business ideas and the impact they will have in a succinct and compelling way. This is something that requires a great deal of thought and testing and, due to the pitch nature of the competition, will be the difference between being interesting and winning funding.
Evelyn also told us it's crucial to be honest about the challenges as well as the time and the contacts required to successfully commercialise a life sciences innovation. Scottish EDGE have really got to know the nature of the sector over the years and they are not afraid of the journey nor the risks associated with it.
The Scottish EDGE team are extremely approachable and are always open to having a chat with entrepreneurs who aren't yet sure whether this is the right move for them. They also run workshops to help you with your 3 minute video and have an example application on their website before you enter the process
Finally, this round closes on March 4th – that's next Monday at 2pm. Make sure you give yourself a day or two to familiarise yourself with and complete the online application form and include all the information they are looking for.
Evelyn McDonald is the Chief Executive Officer of Scottish EDGE and has been helping Scottish start-up businesses grow for over 15 years.  Under her leadership, Scottish EDGE has awarded over £13m to over 350 businesses and has recently become a member of the Industrial Biotechnology Innovation Centre.