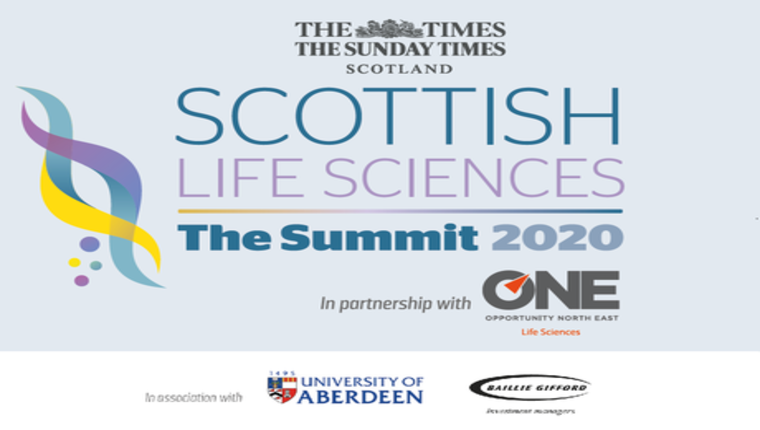 Scottish Life Sciences: The Summit 2020
Date and Time
27th Feb 2020 | 09:30 - 17:00
Location
University of Aberdeen, King's College, Regent Walk
Aberdeen
AB24 3FX
The Times and The Sunday Times Scotland have planned a one day summit, with Opportunity North East, which will bring together leading life sciences experts, academics and the business community to focus on the many opportunities that must now be harnessed to maximise the future potential for the north east and Scotland. More than 700 life sciences organisations employ almost 40,000 people in Scotland, making it one of the largest life sciences clusters in Europe. Globally recognised, the clusters broad reach includes all life and health sciences; human, animal and plant. Scotland operates as a single cluster, engaging with small, medium and large enterprises, entrepreneurs, investors, colleges and universities, researchers and clinicians as well as those out-with Scotland who want to do business here.  With around 20 per cent of Scotland's life sciences workforce based in the north east and plans underway for the new 40 million BioHub in Aberdeen, this is an exciting time for the sector.
Delegates will hear from Sir Greg Winter, joint winner of the 2018 Nobel Prize for Chemistry, and John McCafferty, founder of Cambridge-based antibody specialist IONTAS, and will have the chance to put their questions to the pair.
Scotland's Life Sciences sector does not just punch above its weight, it is a world leader.
Join life science experts, academics, industry leaders and The Times & Sunday Times Scotland to discuss where this thriving sector is heading.  The full programme, tickets and more details will be available soon. Find out more, here.