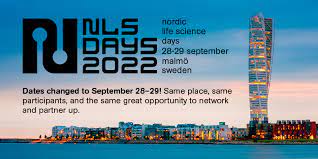 Nordic Life Science Days: 28 – 29 September (postponed from April 2022)
Date and Time
28th Sep 2022 | 09:00 - 29th Sep 2022 | 17:00
Nordic Life Science Days (NLSDs) is the largest Nordic partnering conference dedicated to the life science industry. In September 2022, the meeting in Malmo will be in-person and you can find a link to the event here: www.nlsdays.com.
The event attracts leading decision makers from biotech, pharma and med tech, as well as finance, research, policy and regulatory authorities.  NLSDs provides significant partnering opportunities, and insight into the most recent trends in science and business.
Features include:
Face-to-face meetings
Partnering at NLSDays is powered by the BIO One-On-One Partnering™ system, the leading web-based life sciences partnering system.
Two days of onsite partnering meetings on 28 – 29 September 2022
Search for partners, customers or clients
Request meetings with selected companies
Accept or decline meeting requests from others
Get your personal meetings scheduled before the conference starts
SDI has secured a 15% reduction in registration fees and company presentation fees for Scottish delegates (excluding investor rates). The regular registration rate is available until 31 May 2021; late rate applies from 1 June 2022.  Reduced rateds are available for small companies (<5 employees).
If you are interested in this event, or the Nordic markets in general, please get in touch.
Registration fees include access to all super sessions, workshops, company presentations, submission of up to 150 requests per company for virtual face-to-face meetings. 
Scottish companies wishing to take advantage of the discounted registration should contact their SDI trade advisor or: Connie Ness (connie.ness@scotent.co.uk ) and Deborah McGregor (deborah.mcgregor@scotent.co.uk) directly.