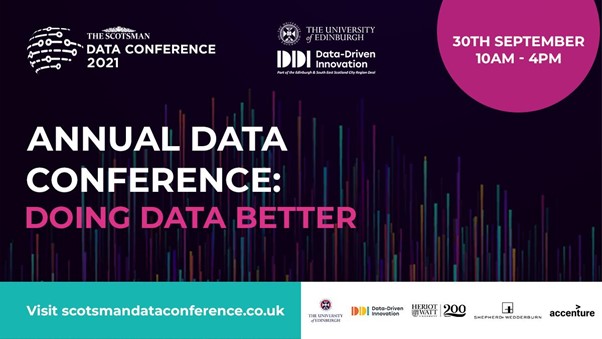 Doing Data Better
Date and Time
30th Sep 2021 | 10:00 - 16:00
This year's data conference – a joint venture between The Scotsman and DDI – brings together experts from a range of fields. It builds on the two previous events, which focused on ethics (DOING DATA RIGHT) and collaboration (DOING DATA TOGETHER) and examines how we are harnessing that ethical, collaborative approach – and DOING DATA BETTER as a result.
The event is built around four big themes, Data and…
Climate change
Future pandemics
Tourism and economic recovery
Social/financial inclusion
Key speakers include:
Allison Schrager: Award-winning journalist and author of An Economist Walks into a Brothel.
Jamie Bartlett: Author of The People Vs Tech, Radicals and the best-selling The Dark Net
To book your free place and view the full agenda, please click here