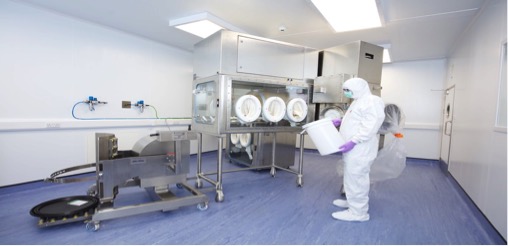 Containing the biopharmaceutical industry in Scotland
Providing specialised high containment biopharmaceutical facilities to enable high potency and cytotoxic drugs to be handled during drug product development and manufacture here in Scotland.
Capsugel's facility in Livingston, Scotland (formerly Encap Drug Delivery) was founded in 1989 by a Scottish Entrepreneur and later acquired by Capsugel in 2013 due to a combination of its specialised expertise in high containment, its highly skilled and well educated workforce, unique liquid filled hard gelatin capsule technology and its locality, near Edinburgh. Lonza has since acquired Capsugel in 2017 for its broad spectrum of similarly niche drug delivery platform technologies, including this site. An unmet need is servicing the biopharmaceutical sector, specialising in the development, registration and manufacture of high potency and cytotoxic solid oral dose drug products for its global clients.
Overcoming significant barriers to entry
Over the past few years, Capsugel has invested significantly in its Livingston location to expand the facility and broaden its capabilities. This has been complemented by support from Scottish Enterprise to access and target R&D grant funding and to assist in training its leadership to realise the full potential coming from growth at the site.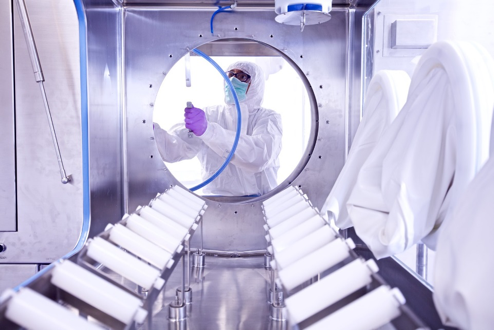 Once a company has developed their drug compound in a specific licensed high containment facility, they are highly unlikely to change to another facility. This remains the case as long as a company is able to consistently meet the regulatory high containment requirements. Companies who provide high containment services make a significantly greater commitment, one which requires specialised expertise to both establish and maintain such a high standard. This expertise has come from a wide network across Scotland, from Universities to the Life Sciences Industry, helping the company grow from strength to strength through its skilled and educated workforce.
An extremely skilled and highly trained workforce is critical to being able to operate within a high containment environment; to ensure that clinical and commercial drug product batches are made to the highest standard of quality.
Investing in the future
Growth in our business is coming directly from a strategic investment in our state-of-the-art high containment facilities and technologies, located central to the US and the EU here in Scotland and around the world. This aligns our business directly with an increasing global trend in high potency and cytotoxic drug compounds. But for this expertise, such drug products may not ever make it on to the market. This trend is driven largely by the growth in oncology treatment and in drug development that requires high containment facilities to develop and manufacture drug products that enhance the quality of life of patients globally. Access to local talent is fundamental to the success of the business, securing and containing high containment biopharmaceutical expertise here in Scotland, in line with global trends.
CONTACT DETAILS 
Gary McAuslan B.Sc. MBA
Director of Operations
Capsugel Edinburgh
gary.mcauslan@capsugel.com
www.capsugel.com
www.lonza.com