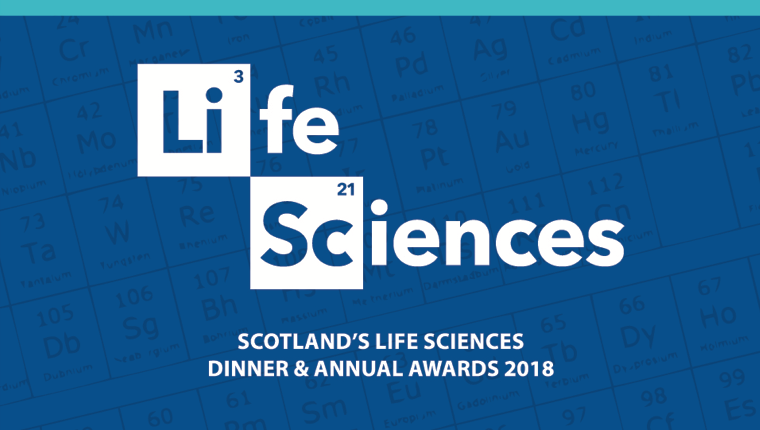 Scotland's Life Sciences Dinner & Annual Awards Shortlist Announced
Some of Scotland's most dynamic life sciences companies and business leaders have been shortlisted for the prestigious Scottish Life Sciences Awards 2018.
Taking place on 28 February 2018 at the Glasgow Hilton, the Awards recognise and celebrate the outstanding achievements of individuals, companies and research organisations within the Scottish life sciences sector over the last 12 months.
Once again, competition was incredibly strong and it was a huge challenge for the judging panel to make their selection, so massive congratulations to all the finalists.
AND THE FINALISTS ARE…
Business Leadership (2017) – Sponsored by Opportunity North East
Dr Helen Erwood, CEO, ESPL Regulatory Consulting
Campbell Grant, Founder & CEO, Sitekit Ltd
Hugh Griffith, Founder & CEO, NuCana plc
Rising Stars: Extraordinary Talent (2017)
Dr Caroline Barelle, CEO, Elasmogen Ltd
Dr Julio Guerrero, MD, Metix Ltd
Dr Neil Wilkie, Director & COO, Mironid Ltd
Innovation – Sponsored by Haseltine Lake LLP
Orbital Diagnostics Ltd
Omega Diagnostics Group plc
TC BioPharm
Investment of the Year (2017) – Sponsored by Concept Life Sciences
Exscientia Ltd
NuCana plc
Quotient Ltd
Rising Stars: High-Growth Company (2017)
Aquila BioMedical Ltd
Synpromics Ltd
TC BioPharm
Innovative Collaboration – Sponsored by Booth Welsh
Albyn Housing Society in collaboration with NHS Highland and Carbon Dynamic
Clyde Biosciences Ltd
CorporateHealth International and OpenBrolly in collaboration with NHS Highland and the Digital Health & Care Institute
Sponsored by Waters UK, we will also be presenting an Outstanding Contribution Award to an exceptional life sciences leader in recognition of their contribution to Scotland's life sciences industry.  All will be revealed on the night!
Visit the website for more information or to buy tickets.