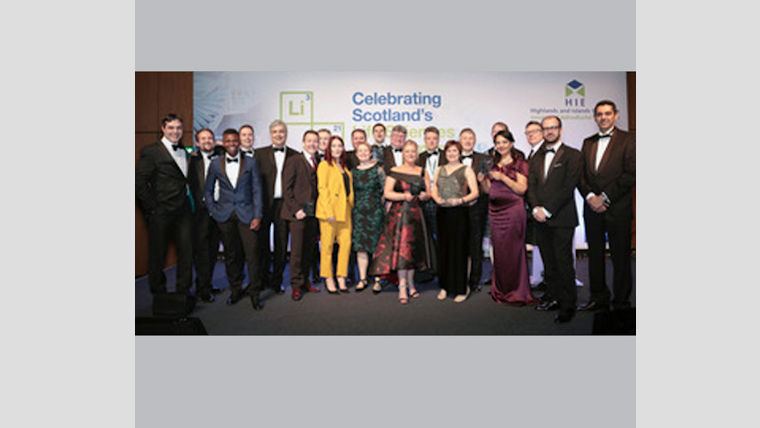 Scotland's Life Sciences Awards Winners Revealed
The winners of this year's prestigious Scottish Life Sciences Awards have been announced.
Held at the Edinburgh International Conference Centre on Thursday 28th February 2019 the Awards were attended by 700 of the leading players in Scotland's dynamic life sciences sector.
The Awards were supported by a raft of leading organisations including Ernst & Young, GSK, Highlands and Islands Enterprise, Merck, Piramal Pharma Solutions and the University of Glasgow.
2018 has been another outstanding year for the industry with increased investment, international expansion, innovation, manufacturing, and improvements to the business environment and infrastructure. A highlight was Scottish businesses securing a record £85 million of equity investment during the past year.
The awards recognise the success and achievements of Scotland's internationally-renowned life sciences sector over the last 12 months in areas including innovation, investment, business leadership and collaboration.
Minister for Trade, Investment and Innovation, Ivan McKee presented this year's trophies with Dr Kath Mackay the Interim Director Ageing Society, Health & Nutrition from Innovate UK, taking to the stage to deliver the inspiring Keynote address for the evening.
This year's winners are:
Business Leadership Award (2018) – Sponsored by Opportunity North East
The Leadership team of Clintec
Clintec, an IQVIA company, managed by President & Founder, Dr Rabinder Buttar, is an innovative, global Contract Research Organization providing clinical research solutions to pharmaceutical, biotechnology and medical device industries. Clintec delivers global projects with speed, efficiency, and cost-effectiveness with personnel based at its Headquarters in Scotland and worldwide
Rising Stars: High Growth Company (2018) – Sponsored by Charles River Laboratories
FlexMedical Solutions
FlexMedical Solutions is a specialist contract design, development and manufacturing organisation with a focus on in-vitro diagnostics. The company helps its customers bring their point of care (POC) diagnostic idea to life, from concept to commercialisation. FlexMedical portfolio products include test cartridges and wearable sensors used to detect and monitor cardiovascular conditions, cancers and other disease states. Ultimately the business has ambitions to be supplying POC products globally.
Innovative Collaboration (2018) – Sponsored by Marks & Clerk
Scot Bio and the University of Edinburgh
Scot Bio, an innovative biotech company based at BioCity Scotland in Newhouse and academic researchers based at the University of Edinburgh have collaborated closely since 2016 on funded research projects and two ongoing CASE PhD Studentships,
Scot Bio designs, installs and operates microalgal photobioreactor systems to produce high value biochemicals.
Over the course of the past 24 months, Scot Bio and the University of Edinburgh have developed a close collaborative partnership developing novel molecular biology techniques and downstream extractions processes with aims of further enhancing the phycocyanin yield that Scot Bio can produce and increasing the purity of the product.
Investment of the Year (2018)
Canon Research Medical Europe
Canon Medical Research Europe Limited is a leading medical software R&D centre of excellence, generating breakthrough technologies and intellectual property for Canon Medical Systems. We develop next generation medical imaging software to integrate with Canon Medical scanners and diagnostic healthcare solutions and are installed in healthcare centres across the globe
Rising Stars: Extraordinary Talent (2018) – Sponsored by Hyper Recruitment
Roylance Stability Storage
Roylance Storage are Scotland's only outsourced controlled storage provider, co-founded in 2016 by Benedict Roylance and Marieanne Miller they provide controlled conditions to store pharmaceuticals, biologics and medical devices to name a few. With over 250,000 litres of controlled storage space available, they can accommodate any requirements"
Outstanding Contribution to skills development (2018) – Sponsored by Skills Development Scotland
Charles River Laboratories
With over 1,100 staff located at its Edinburgh sites, Charles River provides contract research services to help global pharmaceutical and biotechnology companies accelerate their research and drug development efforts. Charles River's dedicated employees provide the expertise required to expedite the discovery, development and safe manufacture of new therapies for patients.
Innovation (2018) – Sponsored by Haseltine Lake
Clinspec DX
ClinSpec Diagnostics Limited (ClinSpec Dx) aims to be a world leader in blood tests for early detection of cancers and other diseases. Our lead product is the ClinSpec Dx™ Triage ID test for brain cancer, the world's first cost-effective blood test for early detection of this deadly disease.