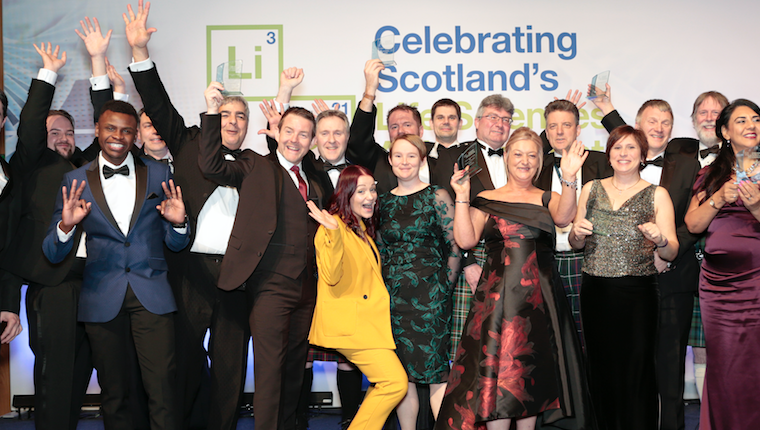 Scotland's Life Sciences Awards 2020 launched
Applications for Scotland's most prestigious Life Sciences awards are now open!  Businesses across Scotland in the growing life sciences sector are invited to apply for up to seven categories, the winners of which will be announced at a glittering ceremony at the Glasgow Hilton on Thursday 19 March 2020.
The seven categories available for nomination are:
Business Leadership Award
Rising Stars: Extraordinary Talent Award
Rising Stars: High Growth Company Award
Innovation Award
Innovative Collaboration Award
Investment of the Year Award
Outstanding Skills Development Award
The panel of judges will also award a special Award of Lifetime Achievement to an individual considered to have contributed significantly to the Life Sciences sector in Scotland.
Full details of the awards categories and their judging criteria are available on the Awards website at lifesciencesawards.scot, along with guidance notes on how to complete the application form.
The application process has moved online this year for a more streamlined process, with the closing date of 6 December 2019.    Shortlisted finalists will be notified in January.
Table bookings are also now open for the prestigious awards ceremony which is returning to Glasgow for 2020.   Taking place on Thursday 19 March at the Glasgow Hilton, the event is the premier networking event in the Scottish Life Sciences calendar and will be attended by 700 of the industry's leading players.   Book your places now at lifesciencesawards.scot
Scotland's Annual Life Sciences Awards and Dinner are presented by Speakeasy Productions Ltd in association with Life Sciences Scotland.
Further information about the Awards and Dinner can be obtained from Kathryn.slater@speak.co.uk
Find out about interesting events happening in the Life Sciences sector in Scotland, here.