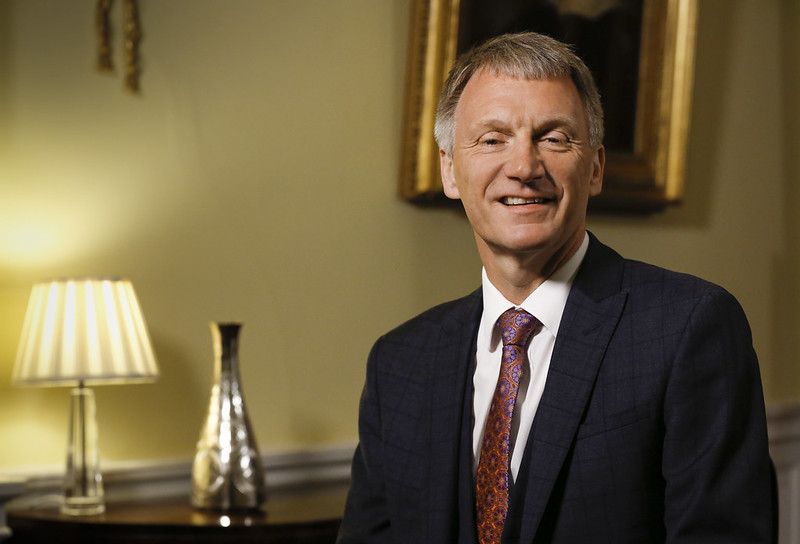 Parliamentary Statement by Ivan McKee MSP on Life Sciences Innovation in Response to Covid-19
In his second parliamentary statement on the response of Scotland's businesses to Covid-19, Ivan McKee MSP, the Minister for Trade, Investment and Innovation, explained how life sciences companies in Scotland specifically, are supporting the Covid-19 effort, giving Parliament a flavour of the ability and strengths of the sector.
The sector has achieved, on average, year-on-year growth of 10 per cent since 2010 and has contributed £2.4 billion gross value added. It contributes around a fifth of Scotland's business enterprise research and development spend and is a major contributor to our exports.
"I assure the Parliament that the sector remains ambitious and focused."
"My aims for the sector are to anchor high-quality companies in Scotland, build a world-class life sciences cluster and attract additional investment to Scotland."
Minister McKee began by acknowledging that much has been made possible by investment by the Scottish Government and its agencies. A recent example of support in that regard is the investment to anchor ODx Innovations and its medical testing business in Inverness. Highlands and Islands Enterprise made R&D investment of £1.75 million to support the company's fit-out at Solasta House—the Inverness city region deal health and life sciences building—creating up to 60 new jobs and growing the company's global reputation.
Whilst it was not possible to name in his statement all the individual organisations involved, Minister McKee made it clear that Scotland-based companies have been active throughout the critical parts of the Covid response, including testing supply, vaccine development, the vaccine supply chain and repurposing drugs.
Covid-19 Testing Supply
Only last week, LumiraDx, which is based in Stirling, received emergency use authorisation from the US Food and Drug Administration for its new antigen test, which is going through the final stages of validation for use in Scotland. This UK-based company has developed a Covid-19 test with results available in only 12 minutes, which could revolutionise the fight against the virus.
Minister McKee went on to announce a £6.76 million deal to purchase the test devices, which will be manufactured in Scotland, thereby creating local jobs and again highlighting the important R&D work that is being done here. The company has been recognised by the Bill and Melinda Gates Foundation for its innovative work. It will supply NHS Scotland with 300 instruments and a minimum of 500,000 tests, which will be of huge importance to our test and protect strategy.
One of the unique strengths of the Life Sciences sector is the ability and appetite to build strong collaborative working across Scotland. One such partnership is with the global firm Thermo Fisher Scientific, which has sites  in Inchinnan and Perth. The company is a key partner in the Lighthouse Lab at the University of Glasgow Queen Elizabeth university hospital campus and is partnered with two other Scotland-based businesses, BioAscent and BioClavis, and with the University of Dundee and the Beatson institute. The collaboration received dedicated support from Scottish Enterprise and the Scottish Manufacturing Advisory Service to optimise the throughput of test samples by the adoption of lean manufacturing principles in the Lighthouse Laboratory. Thermo Fisher Scientific expects increased demand for its products using the Covid-19 polymerase chain reaction testing workflow, and it is increasing manufacturing capacity in Scotland. It will shortly supply 20 million tests per week globally and is also supporting the United Kingdom response with 4.5 million sample collection and transport kits provided weekly as the result of its $25 million investment in its Perth facility.
Thermo Fisher Scientific is also making a substantial investment of $100 million in the Inchinnan site to support European, middle eastern and Asian bioprocessing customers and, importantly, the vaccine development work that is happening in the UK. The company previously received regional selective assistance funding of £1.9 million from Scottish Enterprise to grow its advanced granulation technology facility in Inchinnan, creating 30 jobs and safeguarding 47.
One of the companies that was able to offer an immediate response to the pandemic at a time of global shortages was Dundee-based Hutchison Technologies, which was supported with £250,000 of RSA funding from Scottish Enterprise in 2016 for new premises. This year, the company worked with NHS Scotland to source 3.4 million approved and quality-assessed swab-sample test kits to address our urgent need.
Extraction media for use with test swabs was also in short supply. E&O Laboratories, which is based in Bonnybridge, rose to that challenge. The company previously received support to expand its premises, including a £425,000 RSA grant from Scottish Enterprise in 2015 to build an additional lab facility in Cumbernauld. This year, the company expanded from making filled petri dishes to producing viral transport medium. To do that, it has re-engineered machines for automation and retrained staff, leading to a £7 million contract with NHS Scotland.
"Looking ahead, we expect to see continued developments in our testing capability by making sample collection simpler and turnaround times quicker. We continue our work on supply chain resilience and on future needs, and progress is being made to develop rapid or near point-of-care testing, especially in remote areas."
Vaccine Development
The development of a reliable and clinically approved vaccine is of fundamental importance in the fight against Covid. Scotland has historically been strong in pharmaceutical services and has a major role to play in the response, including in two major UK collaborations at Imperial College London and the University of Oxford, as well as supporting the wider supply chain.
Valneva Scotland Ltd, in Livingston, which is part of the international Valneva group, is expected to create 75 additional jobs in developing a new coronavirus vaccine. If proven to be safe and effective in clinical trials, the expanded Livingston facility could supply up to 100 million vaccine doses worldwide. The site has had continued Scottish Enterprise support, including £250,000 to support the creation of a research and development hub in 2015. The company recently received a £925,000 research and development grant related to the development of a separate viral vaccine.
ReproCell Europe is also supporting vaccine development following recent expansion, supported by £150,000 from Scottish Enterprise in 2017, to move into the West of Scotland Science Park. The company joined a European consortium to develop a messenger RNA vaccine for high-risk populations.
Vaccine Supply Chain
Vaccine development has a complex global supply chain. Stirling-based Symbiosis Pharmaceutical Services is a contract manufacturing business that specialises in the asceptic filling of sterile drugs known as sterile filling/finish and recently announced an agreement with AstraZeneca to provide access to sterile manufacturing capabilities for clinical trials for their Covid-19 vaccine in collaboration with The University of Oxford. The Scottish National Investment Bank has a 25 per cent equity stake in the company.
SGS UK Ltd, in Clydebank, also has an agreement with AstraZeneca. Part of a Swiss group, the company provides analytical testing services to support the Oxford collaboration. The company received Scottish Enterprise support for its expansion project in 2017. That support was worth £9.6 million, supported 19 new scientific jobs and safeguarded 50 other jobs. The company also received a research and development grant award of £1.79 million.
Merck BioReliance in Irvine supplies chemicals that control vaccine pH levels. It has been working primarily with the Jenner Institute in Oxford on a project that reduced the vaccine development time from one year to two months. During the past five years, the company has received Scottish Enterprise support of £125,000, primarily in capital investment to support laboratory expansion and training.
Repurposing Drugs
The Covid-19 response has also resulted in diversification of products as companies respond to the longer-term impact on patients. Novabiotics in Aberdeen has been testing one of its drugs on Covid-19 patients with secondary lung infections—an antibiotic that helps them tackle drug-resistant bacteria. Since 2005, the company has been provided with £3 million in equity and loans by the Scottish Investment Bank, representing an 18.2 per cent stake in the company.
Pneumagen in St Andrews has run successful trials to prevent coronavirus-related respiratory tract infections. In May, it received £4 million of investment from Thairm Bio and the Scottish National Investment Bank for work on the development of Neumifil for prevention and treatment, which is due to start next year.
As Minister for Trade, Investment and Innovation, the Minister explained his commitment to ensuring that opportunities in Scotland are communicated to trading partners and companies that wish to collaborate to support economic growth and the achievement of our health and wellbeing priorities.
"I have set out some examples of the great work that is taking place right here in Scotland, which demonstrate the capability and skills in our life sciences sector and the key roles that such businesses play in the global response to Covid-19. I am very proud of all that has been achieved, and I look forward to seeing the sector continue to grow and thrive in the future."
To watch the full statement to Parliament, along with the questions posed to the Minister, please visit the Scottish Parliament website.