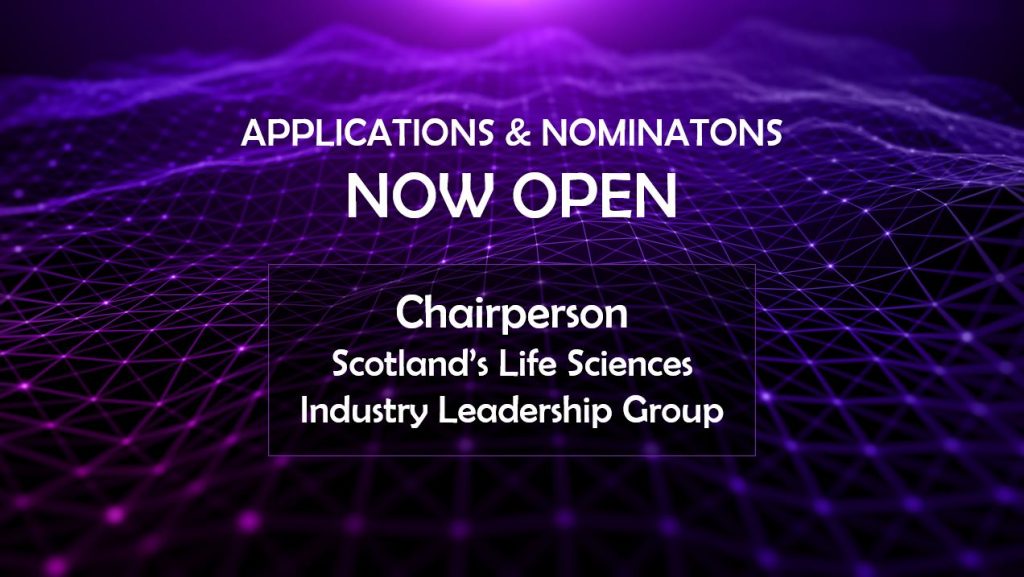 Applications NOW OPEN – Chair of Scotland's Industry Leadership Group for Life Sciences
Nominations and applications are invited for the role of Chairperson, Life Sciences Scotland Industry Leadership Group.
This prestigious and influential role is open to all suitably qualified candidates and will be for an initial 3-year period.
The Life Science Scotland Industry Leadership Group is looking to appoint a new Industry Chair to drive the ambition of the Scottish life science strategy and to help put Scotland on the world stage as a centre of excellence in life sciences.  This position offers a fantastic opportunity for a natural, charismatic leader who has an in-depth knowledge of the sector and is passionate about leading and developing opportunities for life sciences business in Scotland, to work with Scotland's key industry leaders to create a globally competitive and thriving innovative life science sector in Scotland.
The successful applicant must be widely recognised as a leader and advocate, actively advancing life science within public, private or civil sectors at national, regional or global level, and demonstrating engagement with multiple high profile stakeholders using life science knowledge, research or innovation in support of development purposes. S/he must have an ability to recognise and value the perspectives of others and build operational consensus for collaborative actions.
The ILG believes in diversity and gender equality and welcomes all candidates to apply for the role.
This position is voluntary and not remunerated.
About the Life Science Scotland Industry Leadership Group
The Life Science Scotland Industry Leadership Group (LSS ILG) is a joint industry, enterprise and government strategy team that plays a crucial role in ensuring Scotland has the best possible environment for fledgling technologies and established players alike. It fosters support and discussion between key players within the life science sector and those responsible for government policy-making at the very highest level. The LSS ILG consists of representatives from across the spectrum of the life science community including CEOs and senior managers from pharmaceutical, biotech, medical devices and diagnostics, and agribiotech companies, as well as trade bodies active in the sector such as the Association of British Pharmaceutical Industries (ABPI) and the Association of British Healthcare Industries (ABHI), and also the NHS and Scottish Government. All LSS ILG members must have a company presence in Scotland.
The LSS ILG is currently co-chaired by Mr Ivan McKee MSP, Minister for Business, Trade, Tourism and Enterprise, and supported by Ms Maree Todd MSP, Minister for Public Health, Women's Health and Sport. 
Roles and Responsibility
As the face of the LSS ILG, the Chair person must be able to devote sufficient time to the LSS ILG to support the delivery of all aspects of the life sciences strategy. The duties of the Chair may include but are not limited to, the following;
Manage and Deliver ILG meeting:
Attend and actively chair all LSSILG meetings, and if appropriate any sub-meetings;
Set the ILG's agenda – primarily focused on strategy, performance, value creation and accountability – and ensure that adequate time is available for discussion of all agenda items, in particular strategic issues;
Ensure that ILG committees are properly structured with appropriate terms of reference;
Ensure that the ILG receives accurate, timely and clear information;
Ensure that the performance of the ILG and key members is evaluated at least once a year and act on the results of such evaluation.
Lead on the Strategy
Set clear expectations concerning the LSS ILG culture, values and behaviours and the style and tone of ILG discussions;
Ensure that the ILG has effective decision-making processes and applies sufficient challenge to major proposals;
Encourage all members to engage in ILG and committee meetings by drawing on their skills, experience, knowledge and, where appropriate, independence;
Demonstrate ethical leadership and promote the highest standards of integrity, probity and corporate governance throughout LSS;
Promote a culture of mutual respect, openness and debate by facilitating the effective contribution of members in particular and ensuring constructive relations;
Ensure effective communication with all stakeholders;
Play a leading role in ensuring the Scottish life sciences strategy is connected to the wider UK life sciences strategy.
Global Ambassador for Life Sciences in Scotland:
To communicate effectively the vision and purpose of the organisation;
To advocate for and represent the organisation at external meetings and events;
Proactively engage with the Ministers and the Ministers' offices to support the growth of the Scottish economy.
In addition, the Chair is expected to proactively support the annual life sciences awards event and conference.
Time Commitment:  
The chair must be able to commit sufficient time and resource to drive the delivery of the life sciences strategy. This will include attending main ILG meetings, currently every 2 months; governance group meetings and any subgroup meeting, usually held monthly; and interim catch up sessions with the Ministers and other key players in the sector.
Attributes, Skills & Knowledge
The Life Sciences Scotland Chair will be appointed in a personal capacity and not as a company or organisational representative.  The chair  will exhibit the ability to:
Lead and think in strategic and analytical terms;
Communicate effectively with a range of audiences in both writing and in speech;
Challenge constructively within a Board environment;
Build and manage relationships with stakeholders to deliver effective partnership working;
Work effectively as part of a team; and
Provide effective leadership within the sector
 A working knowledge of the industry and the connections within it is essential and the chair must therefore have;
A senior executive role with strong industry background and international experience;
An understanding of the key drivers for growth within the sector and how to accelerate these, e.g. innovation, internationalisation;
Current working knowledge of the sector, as well as cross sectoral opportunities such as Industrial Biotechnology or digital health;
Knowledge and understanding of Scotland's economy and competitive position both nationally and internationally; and
Strong knowledge and understanding of governance in public sector bodies and be politically aware.
Further information
For further information, Avril Gold (avril@canopus-scotland.com) and the current chair, Dave Tudor (dave.tudor@uk-cpi.com)  are available for any informal discussions about the role. 
Selection Process
Applicants are invited to submit their application consisting of a CV and a covering letter outlining their motivation for taking on this role to Avril Gold (avril@canopus-scotland.com) by the closing date of 16 December 2021.
The selection panel is being chaired by Peter Ellingworth, CEO, ABHI and shortlisted candidates will be notified by 21 December 2021, with interviews taking place on 14 January 2022. The successful candidate will be announced in February 2022.