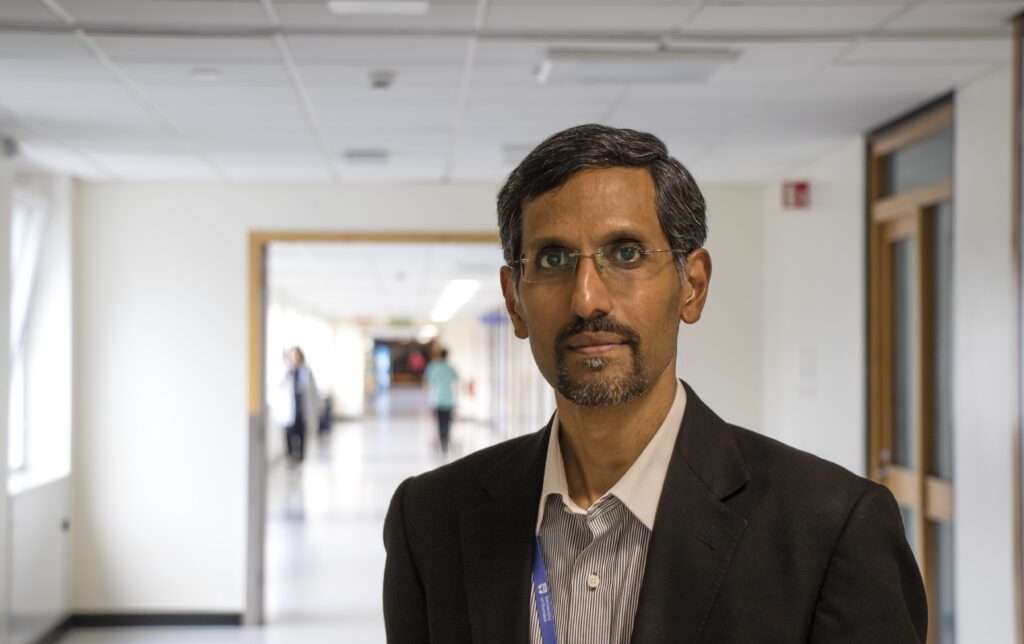 University of Dundee and NHS Tayside to lead major Covid-19 vaccine trial
Hundreds of people from across Tayside and Fife are being sought to participate in a Covid-19 vaccine trial to be led by the University of Dundee and NHS Tayside.
From Monday, the University and health authority will initiate the second Phase 3 clinical trial of a vaccine candidate developed by Janssen Pharmaceuticals, a subsidiary of Johnson & Johnson.
Researchers are seeking 400 members of the public to volunteer for the study, which will see participants receive two injections of the trial vaccine within a two-month period. If successful, the vaccine could play a pivotal role in reducing Covid-19 rates around the world.
Professor Jacob George from the University of Dundee's School of Medicine and R&D Director for NHS Tayside, said, "It is a real testament to the R&D capability of the University and NHS Tayside to be selected to lead this trial in Scotland on behalf of Janssen Pharmaceuticals.
"Here we have the expertise and dedication to determine the efficacy of a vaccine that has the potential to help return the world to some semblance of normality again, but we cannot do this without the help of the public.
"While there has been some encouraging news this week about the development of a vaccine, it is widely acknowledged that we will need multiple vaccines if we are to bring this virus under control. This trial, therefore, is critically important and we are calling on people across Tayside and Fife to help us to potentially bring an end to this pandemic."
Participants will receive two injections of the trial vaccine, separated by a gap of 57 days. The vaccinations will take place at the Clinical Research Centre (CRC), located at Dundee's Ninewells Hospital. Follow-up visits will either be at the Ninewells CRC or the Victoria Hospital in Kirkcaldy, whichever is closer to where the volunteer resides. Following their initial injection, participants will be asked to complete a daily diary via a mobile phone app, monitoring their response to the trial vaccine.
Researchers wish to recruit a representative sample from the entire population, however, women who are pregnant or aiming to become pregnant in the next ten months, as well as anybody on long-term steroids, are ineligible. Anybody at increased risk of contracting Covid-19 for any reason, including age, social situation or ethnicity, are particularly welcome to volunteer. People interested in volunteering can contact the research team via email at TAY.ensemble2@nhs.scot
Dr Philip Short, Consultant Respiratory Physician at Ninewells Hospital, said, "Our study gives the people of Tayside and Fife the opportunity to get involved in Covid-19 vaccine research.
"This is the first study using this potential vaccine to be trialled in the UK and focuses on the safety and effectiveness of the vaccine in tackling Covid-19. We would encourage anyone to get in touch with us about our vaccine study. Together we can help to eliminate Covid-19."
Dr Gregor Smith, interim Chief Medical Officer for Scotland, said, "This is the third vaccine trial to open in Scotland and is part of a portfolio of research studies to better understand the virus and drive progress in finding effective treatments, diagnostics and vaccines.
"Whilst recent developments on a potential vaccine are encouraging; we must make sure other clinical trials into Covid-19 vaccines and treatments continue.
"NHS Tayside, along with other sites across the UK, will be participating in the Janssen Covid-19 vaccine study using volunteers recruited through the NHS Covid-19 vaccine research registry. The ongoing commitment of research teams and participants, and the coordinated response to these studies via NHS Research Scotland is vital to drive further progress."
There are a number of vaccines being identified and safety-tested at the moment, but only large scale trials can give scientists the information needed about how effective they are. Researchers are looking for people from all backgrounds, ages and parts of the UK, including both people with or without existing health conditions, to take part in vaccine studies, to make sure that any vaccines developed will work for everyone. You can sign up to give permission for researchers to contact you about taking part in Covid-19 vaccine studies. The registry is open to all UK residents aged 18 and over. To find out more, visit: www.nhs.uk/researchcontact.
More information about taking part in Covid-19 vaccine research can be found at www.bepartofresearch.uk.