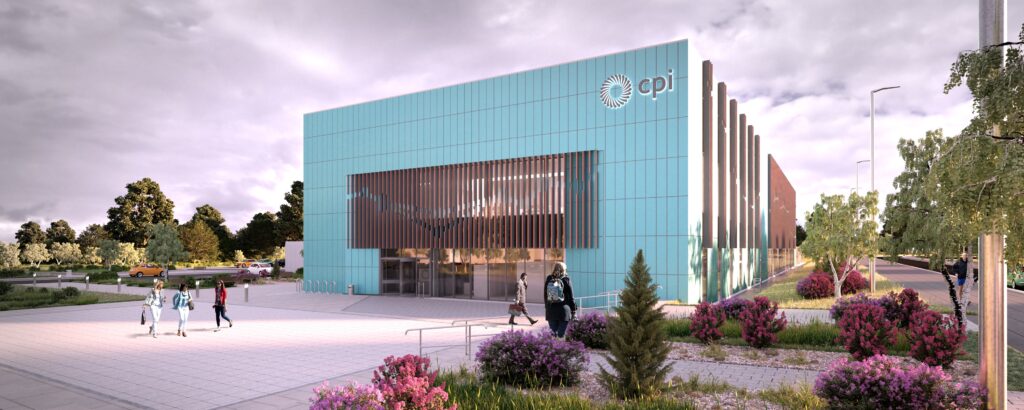 UK collaboration leads the way on revolutionising oligonucleotide medicines manufacturing
The Medicines Manufacturing Innovation Centre today launches a collaboration that will look to develop a scalable, sustainable and more cost-effective medicines manufacturing process for oligonucleotides: short strands of synthetic DNA or RNA.  This collaboration with AstraZeneca, Exactmer, Novartis and UK Research & Innovation aims to make the UK the first country in the world to deliver this pioneering production process at a large scale
CPI has today announced the launch of the project in the Medicines Manufacturing Innovation Centre that aims to revolutionise the manufacture of oligonucleotides, through collaboration with AstraZeneca, Exactmer, Novartis and UK Research & Innovation. The development of a scalable, sustainable and more cost-effective oligonucleotide manufacturing process will enhance the production capacity and viability of this exciting new class of medicines. With production facilities based in Dagenham, London and later in Renfrewshire, Scotland, this global leading collaboration demonstrates the capability and power of UK innovation in the life sciences.
Oligonucleotide medicines work by interfering with how genes are expressed and have shown success in the treatment of rare diseases. This next-generation therapeutic class is now being explored to treat chronic diseases that affect much larger patient populations. Their utility, however, is currently limited by inefficiencies inherent in the existing manufacturing process. With many prospective oligonucleotide-based medicines already in development and clinical trials, a cost-effective, sustainable and scalable manufacturing method is required to meet current and future manufacturing needs. Inclisiran, an innovative small interfering RNA medicine from Novartis, approved for the treatment of atherosclerotic cardiovascular disease, would be the first medicine to be produced at scale as a result of the collaboration. AstraZeneca has a rich pipeline of oligonucleotide-based drug candidates that have the potential to benefit from overcoming the challenges of large-scale oligonucleotide manufacturing that this collaboration seeks to address.
The collaboration will enable the partners to utilise their combined expertise across scale-up, analytics and process development with the goal of transforming the oligonucleotide supply chain. Known as Grand Challenge 3, the project is one of a series of 'Grand Challenges', designed to tackle industrial hurdles currently limiting pharmaceutical manufacturing, being explored in the Medicines Manufacturing Innovation Centre.
The initial phase of the project will focus on the development of scale-up strategies for liquid phase processes exploiting Exactmer's Nanostar Sieving technology, which is based on membrane separation. In the first year, the collaboration will concentrate on a proof-of-concept programme run by Exactmer with support and expertise provided by the other partners. The collaboration will also aim to enhance the efficiency and yield of the manufacturing process and reduce the consumption of a critical raw material (acetonitrile) of which global supply challenges the feasibility of large-scale manufacturing of oligonucleotides.
Initial activities will take place at Exactmer's facilities in Dagenham, London, with the large scale later phases taking place at the Medicines Manufacturing Innovation Centre in Renfrewshire, Scotland. The project is expected to span three years, with the final output being the demonstration of the commercial feasibility of manufacturing large-scale oligonucleotide batches using these improved methods. In addition to the founding partners, the Medicines Manufacturing Innovation Centre is seeking additional partners for its Grand Challenge 3 programme, particularly those with pharmaceutical or technology expertise, to support the development of this large-scale oligonucleotide technology.
Nadhim Zahawi, Minister for Life Sciences said: "The UK's life sciences sector is thriving and we've seen this first hand over the past year as we've tackled coronavirus – from identifying crucial medicines and treatments to developing potentially lifesaving vaccines.
"As we build back better, this pioneering collaboration between industry and government will help to scale up the UK manufacture of this new class of medicines so that we can roll out crucial therapeutics to treat people with chronic diseases and help save lives."
Life Science's Champion Professor Sir John Bell said: "The technical challenges which this collaboration are setting out to address will, if met, be transformative. The ability to produce next-generation oligonucleotide based-medicines at scale creates enormous potential to treat a wide range of common diseases, as well as cardiovascular disease where Inclisiran clearly has a role. I am delighted to see this historic collaboration of industry and government launch here in the UK."
Dave Tudor, Managing Director of the Medicines Manufacturing Innovation Centre, said: "This project is aptly named a 'Grand Challenge'; not only is it a big project in terms of the challenges associated with developing it, but also as a result of its enormous potential impact on the healthcare sector. We are excited to be leading this project. The establishment of an improved large-scale oligonucleotide manufacturing method will help people for years to come."
John Arthur, Director of the Medicines Manufacturing Innovation Centre, CPI, said: "I am excited for us to begin tackling Grand Challenge 3 alongside our collaborative team of experts, all aligned around a common goal. By improving these manufacturing methods now, we can help get these therapeutics to patients around the world in the future."
Sarah Goulding, Joint Medicines Manufacturing Challenge Director at UK Research and Innovation, said: "Oligonucleotides, are short strands of modified RNA or DNA that have wide ranging applications in advanced medicines, from genetic testing to life-saving treatments. To date, their therapeutic use has been limited to diseases impacting small numbers of patients.  Recent developments however, have now shown them to be effective in treating chronic illnesses that impact large numbers of people. Currently they're expensive and time-consuming to produce, so we're funding this project because it will develop technologies that enable oligonucleotides to be developed at an industrial scale, at speed and at lower cost, allowing this important development to help tackle today's health challenges and those of the future."
Andrew Livingston, CEO at Exactmer, said: "The team at Exactmer are hugely excited to be in this collaboration, tasked with creating new ways to manufacture oligo drugs. Developing new approaches, led by CPI and working alongside Novartis and AstraZeneca, we are driven to make these novel medicines available to large patient populations through deploying advanced technologies."
The Medicines Manufacturing Innovation Centre was established by a collaboration between CPI, the University of Strathclyde, UK Research and Innovation, Scottish Enterprise and founding industry partners, AstraZeneca and GSK. The consortium aims to develop the medicines manufacturing processes of the future, enabling a more agile, responsive medicines supply chain through improved manufacturing processes. It will enable new and disruptive technologies to be proven at scale in a GMP environment. This will allow the rapid adoption of next-generation processes that reduce risk, cut costs and save time, enabling a healthier society and a robust UK economy.