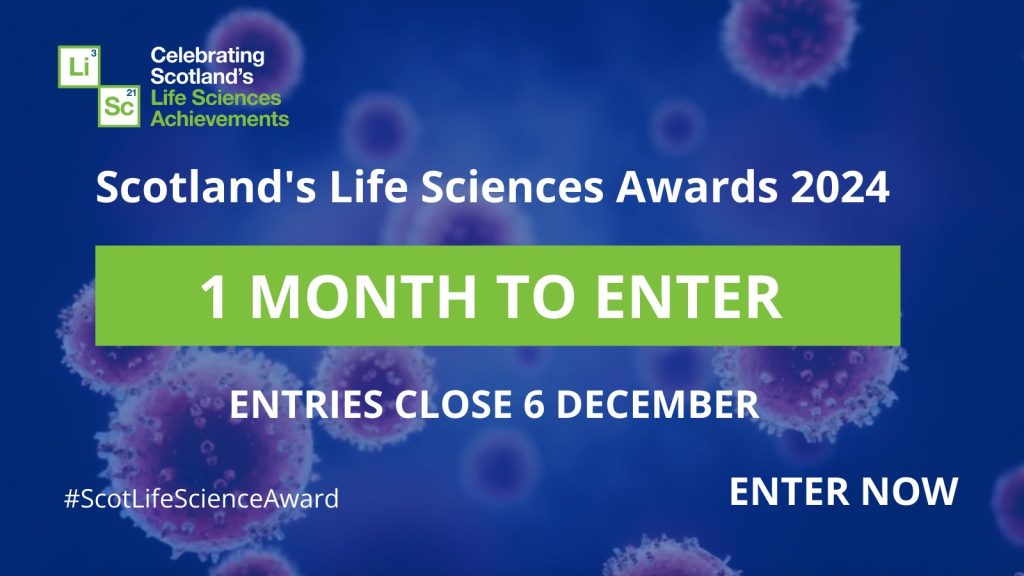 There is only one month left to enter Scotland's Life Sciences Awards 2024
To help entrants write an award winning and well-structured submission, we have split the entry form into four sections: Background, Development, Innovation and Executions & Results. Entrants are encouraged to download the entry form and review all the available categories.
With the support of the ILG these Awards will recognise and celebrate excellence across eight categories.
Business Leadership
Rising Stars: Extraordinary Talent
Outstanding Skills Development
Sustainability *NEW*
Innovation – Pharma services and Drug Discovery
Innovation – Health Technology
Innovation – Animal Health, Agritech and Aquaculture
Innovative Collaboration
The Awards exist to celebrate and recognise excellence within the life sciences industry in Scotland. Entries are open now until December 6th, enter now to be part of the celebration of Scotland's vibrant life sciences industry.
"Scotland's Life Sciences Awards continue to highlight and celebrate the significant contribution of life sciences to society and economic growth, as well as providing a platform for individuals, teams and organisations to share their work and be recognised". Mark Cook, Chair at Life Sciences Scotland ILG
We look forward to receiving your entries and celebrating the industry on Thursday 14th March at the Hilton Glasgow – save the date!
 
Connect with us on LinkedIn to stay up to date with the latest announcements.
If you have any questions or would like to enquire about sponsoring, please contact events@speak.co.uk