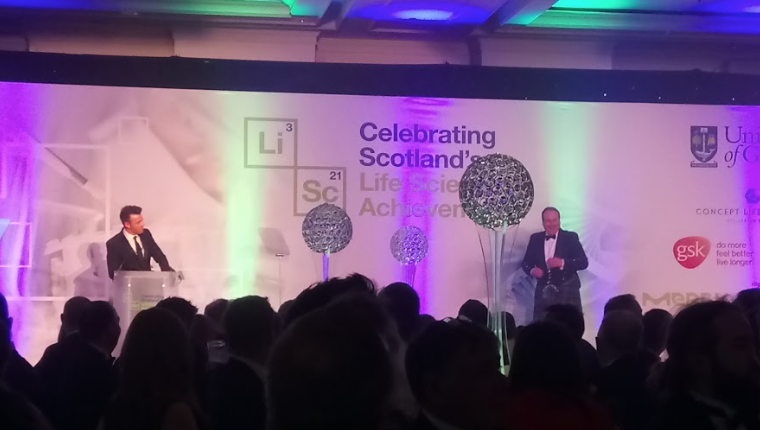 Scotland's Life Sciences Awards Winners Revealed
The winners of this year's prestigious Scottish Life Sciences Awards have been announced.
Held at the Glasgow Hilton Hotel on Wednesday 16 May 2018 – the first time the event has been held in Glasgow for over a decade – the Awards were attended by 750 of the leading players in Scotland's dynamic life sciences sector.
Sponsored by the University of Glasgow and a raft of other leading organisations including GSK, Concept Life Sciences and Merck BioReliance, the awards recognise the success and achievements of Scotland's internationally-renowned life sciences sector over the last 12 months in areas including innovation, investment, business leadership and collaboration.
The life sciences sector in Scotland currently adds over £4billion a year to the Scottish economy with 700 organisations employing nearly 40,000 people.  Ambitious targets, set by the refreshed Life Sciences Strategy for Scotland in 2017, aim to double the size of the sector to £8billion by 2025.
Minister for Energy, Business and Innovation Paul Wheelhouse presented this year's trophies which included two new categories designed to shine a light on the sector's rising stars. Mr Wheelhouse said:
"Scotland's Life Sciences Awards Dinner is a great opportunity to see the range and diversity of Scotland's life sciences industry and to recognise the hugely positive impact that the sector has on Scotland's economy.
"Record investment in the life science sector sends out a clear message that Scotland is an attractive and dynamic place in which to do business.  It is the therefore always a pleasure to attend these awards and to meet the companies who are helping to shape Scotland's economic future"
Professor Dame Anna Dominiczak, Vice Principal and Head of College of Medical, Veterinary and Life Sciences at the University of Glasgow provided the keynote address for the sold-out event.
"This is an exciting time in the Life Sciences sector, said Professor Dominiczak, with Scotland's SMEs, health service and research-intensive universities well placed to collaborate and take Scotland to the next level in the sector. By working together, we can achieve immense health benefits for patients and deliver strong economic returns for Scotland."
This year's judging panel included Dave Tudor, co-Chair of the Life Sciences Scotland Industry Leadership Group.  Commenting on the selection process, Dave Tudor said "This year's awards were particularly hard to judge as we were inundated with nominations across all categories. The quality of the winners and finalists was truly outstanding and really demonstrates the calibre of individuals and companies working across the life sciences sector in Scotland".
This year's winners are:
Business Leadership Award (2017) – Sponsored by Opportunity North East
Campbell Grant, Founder & CEO, Sitekit Ltd
Campbell Grant founded Sitekit in 1989 on his native Isle of Skye and the company has grown steadily ever since with offices in Edinburgh and Oxfordshire and over 50 staff now employed.
Sitekit develops innovative software that is helping to transform the delivery of health and social care services in the UK.  Campbell led Sitekit towards digital health after experiencing first-hand the difficulty of caring for elderly relatives without adequate insight into their formal medical care.
Sitekit co-designed a digital health platform aimed at enabling frail elderly people to live independently and comfortably in their own homes for longer by forming a circle of care. The same technology platform, in the form of eRedbook, a digital version of the personal child health record, enables parents to effectively manage their child's health and development.
Rising Stars: Extraordinary Talent (2017)
Dr Caroline Barelle, CEO, Elasmogen Ltd
Dr Caroline Barelle is CEO and co-founder of the next generation therapeutic biologics company, Elasmogen. The company discovers and develops soloMERs which are novel drugs for site-specific treatment of auto-immune inflammatory diseases and cancer.
Before establishing Elasmogen, Caroline successfully led teams at Wyeth Inc and subsequently Pfizer Inc in Global Bio-therapeutic Technologies progressing early platform technologies to late stage clinical development.
 Caroline has been awarded a prestigious Royal Society of Edinburgh Enterprise Fellowship, named in the top 20 female biotech CEOs in Europe in 2017, is a doctoral graduate from the University of Aberdeen in Biochemistry and a master graduate in business (MBA) from Robert Gordon's University.
Innovation Award
Orbital Diagnostics Ltd
Orbital develops rapid antibiotic susceptibility tests (AST) to detect antimicrobial resistance. Doctors currently wait hours or days to get AST results. Orbital's technology aims to transform standards of care, by giving doctors the ability to prescribe the right drug for the right bug in minutes. 
Orbital's success to date has been marked by significant commercial interest from leading medical device companies and a Longitude Prize Discovery Award. This world-wide prize confirms their approach to anti-microbial resistance (AMR) diagnosis as amongst the best in the world. 
Investment of the Year (2017)
NuCana plc
NuCana®, headquartered in Edinburgh, and with offices in Boston Massachusetts, is a clinical-stage, biopharmaceutical company focused on significantly improving treatment outcomes for cancer patients by applying its ProTide™ technology to transform some of the most widely prescribed chemotherapy agents, nucleoside analogs, into more effective and safer medicines. 
The company, co-founded by Hugh Griffith in 2008, raised $114m from world-leading investors in their IPO in October 2017. NuCana's previous Series B financing in April 2014 was for $57m.
Rising Stars: High Growth Company (2017)
TC BioPharm
TC BioPharm (TCB) is a clinical-stage immunotherapy company developing novel, cell-based products for treatment of cancer and severe viral infections.TCB employs a team of over 60 staff and acts as a fully integrated pharmaceutical company encompassing GMP Manufacture, quality, product development, regulatory affairs and in-house clinical research.
TCB is currently developing next generation safe CAR-T products based on its patent protected, proprietary process using the clinically proven ImmuniCELL® backbone. 
During 2017, TCB raised over £25m to progress its cancer research projects. This included grants (including H2020), equity investment and partnerships (with Bluebird Bio – Boston and the NIPRO Corporation – Osaka).
Innovative Collaboration
CorporateHealth International with OpenBrolly in collaboration with NHS Highland and the Digital Health & Care Institute
CorporateHealth International and OpenBrolly are working hand-in-hand with NHS Highland to resolve the 'Diagnostic Bottleneck' of gastrointestinal examinations. By using a small video camera that the patient swallows instead of doing a bulky colonoscopy, examination capacity can be dramatically increased – and the patient doesn't even have to travel to the hospital for it.
In pilots at Raigmore Hospital, in Ullapool and the Isle of Skye, the collaborators were able to show how a full bowel exam for patients with symptoms, under surveillance after surgery or for bowel cancer screening can be delivered in their community. While CorporateHealth conducts the procedure and OpenBrolly ensures secure data exchange with the NHS, Raigmore oversees the medical process. As the procedure is minimally invasive and locally delivered, a roll-out across all of Scotland is very feasible.
Outstanding Contribution to the Growth of Life Sciences in Scotland
Hugh Griffith, Founder & CEO, NuCana plc
Hugh Griffith has over twenty-five years' experience in the biopharmaceutical industry, having held CEO, COO and Executive Director positions. Hugh is Founder and CEO of NuCana plc (Nasdaq: NCNA) a rapidly growing, clinical stage biopharmaceutical company with a broad development portfolio of novel anti-cancer medicines. In October 2017, NuCana  raised $114m from world-leading investors in their IPO. NuCana's previous Series B financing in April 2014 was for $57m.
Hugh is also CEO of Alida Capital International, a biopharmaceutical business angel syndicate, which he formed in 2009. He is also involved in several other biopharmaceutical and medical technology companies, including EdixoMed and MedAnnex, as co-founder, director and investor.