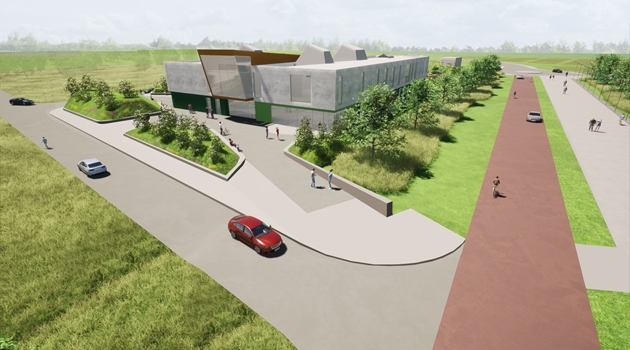 Planning application lodged for new innovation centre on Inverness Campus
A planning application has been lodged with Highland Council for a new life sciences innovation centre on Inverness Campus.
The proposed 2700m² facility is a joint project between Highlands and Islands Enterprise (HIE) and the University of the Highlands and Islands.
Designed by multi-disciplinary design firm Austin-Smith: Lord, it aims to build on the successes of the Centre for Health Science in the grounds of Raigmore Hospital.
The project is intended to create an innovative human health and life sciences multidisciplinary healthcare research and innovation hub serving the Highlands and Islands region.
It will align closely with a separate development on Inverness Campus being taken forward by NHS Highland.
The three organisations plan to integrate academic healthcare research, delivery of clinical care to patients, and the creation of new commercial opportunities, products and services in health science and technology.
Ruaraidh MacNeil, HIE's Inverness Campus project director, said:
"We are very pleased to see this project reach the planning stage. Our intention is to create a facility dedicated to the commercialisation of health and life sciences research, and one that supports the continued growth of the University of the Highlands and Islands.
"The partnership approach, and the alignment with the NHS Highland project, is very much in keeping with the collaborative ethos of Inverness Campus.
"The new commercial opportunities and high value career options likely to stem from all of this would help attract and retain new talent for the region."
The University of the Highlands and Islands element of the life sciences innovation centre secured £9m from the UK Government through the Inverness and Highland City-Region Deal. The Deal is a joint £315 million initiative supported by both the UK and Scottish governments.
The University was also successful in securing funding from the European Regional Development Fund Scotland Programme 2014-2020.
Fiona Larg, the University of the Highlands and Islands' Chief Operating Officer and Company Secretary, said:
"It is exciting to see this collaborative project progress to the planning stage. The development will increase our research in fields such as medical nanotechnology and digital health and will help us to provide greater support to the region's life sciences sector.
"We hope to create a facility of national significance which will bring economic benefits to our region through innovation, commercialisation, company and job creation and the attraction and retention of talent."