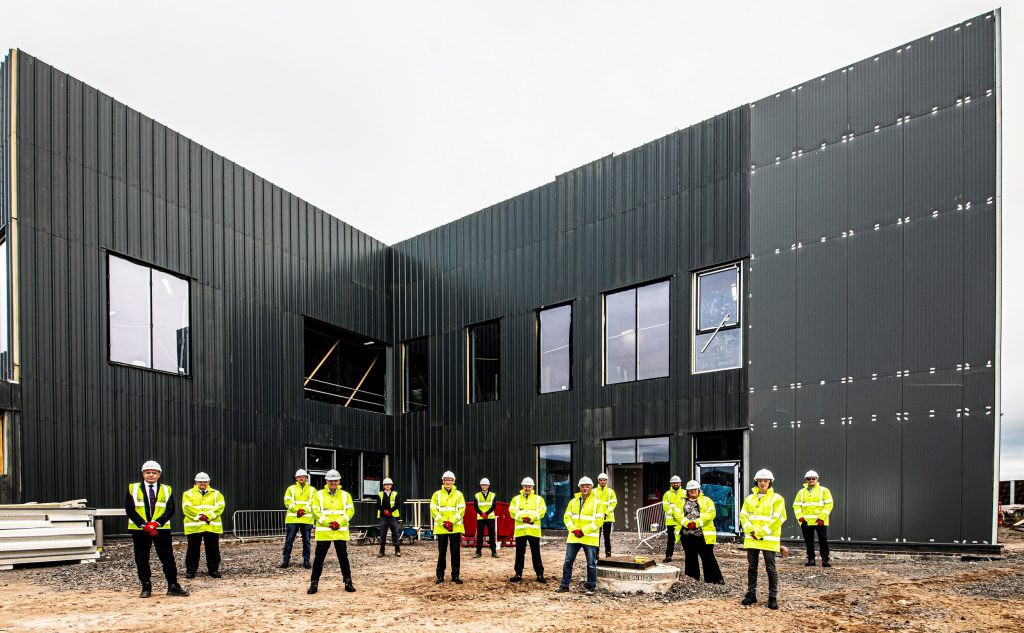 Medicines Manufacturing Innovation Centre set to Transform UK Pharma
Medicines Manufacturing Innovation Centre in Renfrewshire, Scotland, has topped out
The facility is set to develop next-generation pharmaceutical manufacturing processes from early 2022
A new medicines manufacturing innovation centre that will solve major pharmaceutical industry challenges and accelerate access to affordable medicines has today topped out.  
Located in Renfrewshire, at the heart of the emerging Advanced Manufacturing Innovation District Scotland (AMIDS), the £35 million facility is set to develop next-generation pharmaceutical manufacturing processes to drive forward innovation in the medicines supply chain.
The facility has been pioneered through a public-private collaboration between technology innovation organisation, CPI, the University of Strathclyde, UK Research and Innovation, Scottish Enterprise and founding industry partners, AstraZeneca and GSK.
Innovation in novel medicines and the pharmaceutical supply chain is critical for adapting to the changing needs of global populations and driving a healthier society. The environmental and financial implications of pharmaceutical manufacturing can hinder the ability to efficiently respond to global health challenges and streamline medicine supply to patients.
With collaboration at the heart of its mission, the new innovation facility will help to solve these pharma challenges by providing advanced technologies alongside sustainable business growth expertise. Industry, academia, healthcare providers, and regulators will work collaboratively within a GMP environment to drive new technologies and provide a clear pathway for their adoption into the pharmaceutical supply chain. A suite of clean rooms will support users to develop processes using industry 4.0 manufacturing technologies, including continuous, digital, and autonomous manufacturing.
Operating at a commercial scale, the facility will industrialise novel techniques for producing patient-centric medicines, including real-time release of drugs and integrated process analytics. The technologies will transform manufacturing processes, support the reduction of materials used in process development, and accelerate timelines for achieving right first time and real-time release manufacturing principles.  
Following the topping out, internal fitout of the facility will be completed in early 2022. In the first 5 years of its operation, the centre is expected to support over 100 jobs, both technical and non-technical, and generate £200M investment in advanced technologies. The facility aims to become an international beacon in medicines manufacturing, driving international engagement and attracting firms that do not currently have a presence in the UK.
From early 2022, companies of all sizes will be able to visit the facility and engage in discussions around accessing the transformative technology and participating in ambitious collaborative projects to develop new pharma innovations.
The Centre was constructed by Tilbury Douglas, with support from Baker Hicks architects.
Dave Tudor, Managing Director of the Medicines Manufacturing Innovation Centre, Quality and Biologics, at CPI, said: "The Medicines Manufacturing Innovation Centre will help the pharmaceutical industry to increase momentum in technology translation by creating partnerships, working with regulators and partnering with innovators. This will ultimately lead to a reduction in time to market, drive productivity, improve compliance and reduce the carbon footprint of medicines manufacturing.  Ahead of the full completion of the centre in early 2022, we continue to collaborate with industry and academic partners to develop next-generation digital manufacturing technologies, bringing us closer to medicines innovation that will ultimately benefit patients."
Jon-Paul Sherlock, Senior Director, Innovative Manufacturing Technology at AstraZeneca, said: "Patients and healthcare systems expect rapid, robust and cost effective development and supply of future medicines.  These medicines are becoming more complex to manufacture and therefore we need to innovate and push the boundaries of manufacturing science and technology.  The Medicines Manufacturing Innovation Centre will foster collaboration between industry, academia, equipment suppliers and regulators, to de-risk and accelerate the implementation of transformational new manufacturing technologies."
Andy Jones, ISCF Medicines Manufacturing Challenge Director at Innovate UK, said: "The Medicines Manufacturing Innovation Centre will help put the UK at heart of the global life sciences economy, particularly for non-biological therapies such as small molecules and oligonucleotides. It will focus on speed, flexibility and efficiency in medicines manufacture and help the UK not only to tackle the health challenges of a diverse and ageing population but make it a great place for life science investment and innovation"
Paul Foley, Senior Project Manager at Scottish Enterprise, said: "It's fantastic to see the building structure completed and moving a step closer to its full opening next year. We at Scottish Enterprise are proud to have contributed £15m funding, alongside our industry expertise, to help create an excellent asset for Scotland and the UK's pharmaceuticals industry, with the centre providing a platform for companies to collaborate, innovate and develop world-leading processes and technologies to benefit patients."
Dr Clive Badman, Professor of Practice at the University of Strathclyde, said: "It is hugely exciting to see the Medicines Manufacturing Innovation Centre taking shape and reaching this significant stage in its development. As a strategic partner, we are looking forward to applying our research, innovation and internationally-leading expertise in advanced medicines manufacturing to help address some of the biggest health challenges facing the world today.
"Working with our industry partners the Medicines Manufacturing Innovation Centre will help transform the way medicines are made, boost security of supply and create jobs and economic benefits for Glasgow, Scotland and beyond."
Cameron Stewart, Regional Director at Tilbury Douglas said: "Today marks a real construction milestone for the project and our team is looking forward to handing over the centre at full completion.  We are proud to work alongside the partners involved and, along with our supply chain, we are working hard to deliver a top quality, highly technical centre which will include laboratories, ISO 8 pharmaceutical cleanrooms and GMP compliant supporting activities.  We are delighted to be involved in a project that will make such a difference to the pharmaceutical industry."
Renfrewshire Council Leader Iain Nicolson said: "It is great to see the excellent progress being made in construction of the Medicines Manufacturing Innovation Centre here in Renfrewshire at the Advanced Manufacturing Innovation District Scotland (AMIDS). "I'm excited by its potential to transform medicine manufacturing, while creating clean, green ways of working and supporting a healthier society. I'm sure the completed centre will enjoy its home at AMIDS, Scotland's home for manufacturing innovation, offering a unique environment fostering collaboration and innovation that is attracting cutting-edge companies to locate here, bringing with them fantastic jobs and opportunities."