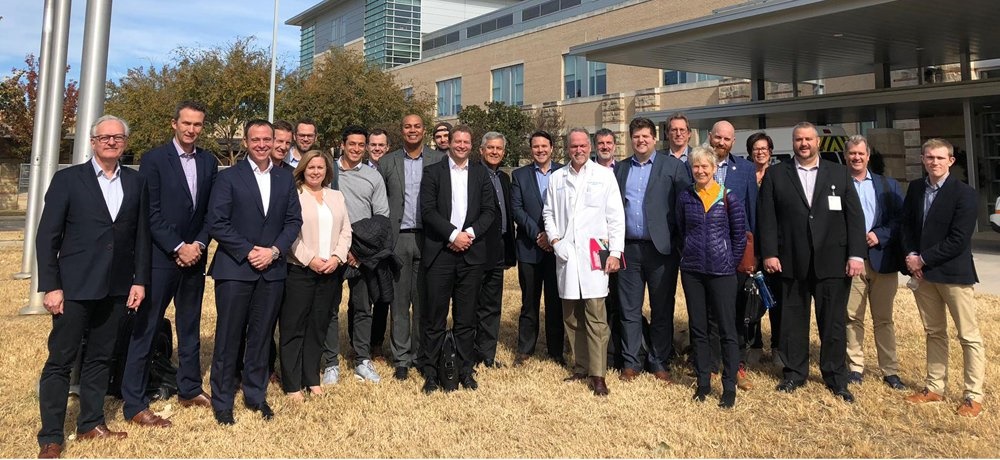 Final Places Now Available for ABHI US Accelerator 2022
UK HealthTech innovators looking to strengthen and grow their US activities are encouraged to apply now for the Association of British HealthTech Industries (ABHI) US Accelerator 2022 cohort as spaces fill up fast.
Now in its fourth year, the ABHI US Accelerator is aimed at UK medical device, diagnostic and digital health companies looking to enter and upscale in the US healthcare market. The 2022 programme will run from January 2022 – December 2022.
As lockdown restrictions continue to ease, face-to-face meetings return and with the recent announcement that travel restrictions to the US will be relaxed for vaccinated UK nationals from November, next year's programme promises to deliver a host of activities, enabling member companies to forge more personal and lasting ties with the network of leaders and hospital systems that ABHI has cultivated over the years.
Key amongst this is access to ABHI's full year-round programme of trade missions across the US – a series of week-long missions developed to provide access to senior leaders, clinicians and procurement teams from world-class hospital systems across multiple states.
Paul Benton, Managing Director, International, said: "Companies joining ABHI next year include a diverse mix of medical device, diagnostics and digital health businesses, several of which are long-standing members of the programme, who will be joined by a host of new entrants. With news last week that travel to the US is set to resume, and a busy programme of in-person activity planned for next year, companies are encouraged to apply as soon as possible to avoid missing out.
"This means they get exclusive access to our trade missions to the US, which allow companies to explore new markets, minimise risk, meet new customers and gain valuable market insight."
Working with ABHI's international team, each company who joins the ABHI US Accelerator programme will enjoy a bespoke 12-month plan to support their individual US market entry strategy and this tailored plan is boosted by access to an expansive network of in-market experts.
The week-long trade missions to the US, which are exclusive to members of the programme, present businesses with a prime opportunity to engage with the right stakeholders, that are key to their individual company objectives.
The first mission for the new class of ABHI US Accelerator companies next year will be a visit to Texas, 28 February – 1 March. The visit will provide high level connections with ABHI's extensive network across the state, including health systems, industry bodies, companies and professional services firms. The mission will set the scene for the coming year and will be followed by visits to key US states, including California, Tennessee, Minnesota – home to healthcare powerhouses including the Mayo Clinic, and the number one HealthTech Cluster in the world, Medical Alley. It will conclude in December with Florida and New York – home to some of the world's most prestigious academic institutes and research programmes.
One of the companies returning next year are Bristol-based virtual reality company Virti, and as their Founder & CEO, Dr Alexander Young says the programme is a great tool to help companies understand the US market: "It is a really great way to get some market research into the United States, and if you have got an established product to build a sales force, or operations team, you can really get a flavour for what the market can do for you, and how the health systems operate in the US. In terms of advice, I would say really going for it and understanding it will really get you ahead of the game in terms of your revenue and your growth."
With over eighty percent of available places now taken, companies are invited not to delay in sending their application for the ABHI US Accelerator 2022 cohort. To apply, or for an informal discussion on the opportunity, contact lottie.mcmahon@abhi.org.uk
About the ABHI US Accelerator
The ABHI US Accelerator has been expanded over the years, and is now supporting 30 companies drive their operations in the US. Conducted in partnership with the Dell Medical School in Austin, Texas, the programme provides companies with the opportunity to define and strengthen their US strategy, de-risk market entry and grow their US business by utilising ABHI's advice, expertise and connections within the country.
About ABHI
ABHI is the UK's leading industry association for health technology (HealthTech).
ABHI supports the HealthTech community to save and enhance lives. Members, including both multinationals and small and medium sized enterprises (SMEs), supply products from syringes and wound dressings to surgical robots and digitally enhanced technologies. We represent the industry to stakeholders, such as the government, NHS and regulators. HealthTech plays a key role in supporting delivery of healthcare and is a significant contributor to the UK's economic growth. HealthTech is now the largest employer in the broader Life Sciences sector, employing 131,800 people in 4,060 companies, with a combined turnover of £25.6bn. The industry has enjoyed growth of around 5% in recent years. ABHI's 320 members account for approximately 80% of the sector by value.