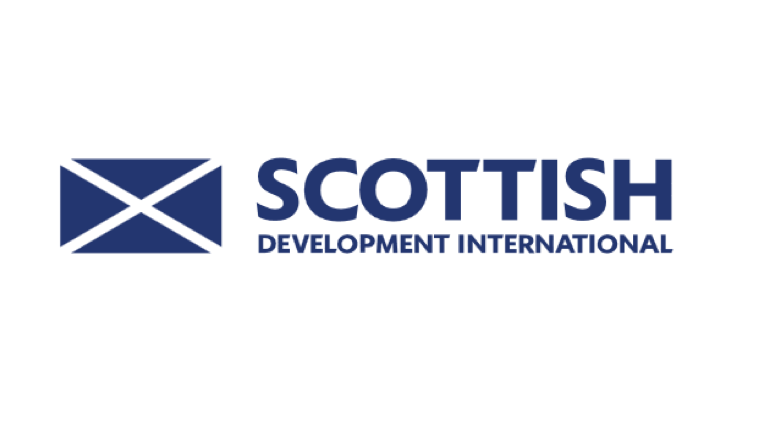 Building global networks in Pharma Services
Scottish Development International (SDI) is focussed on developing its network of pharma and biotech companies globally. Over the last few months, SDI has been at BIO-Europe in Munich, Genesis in London and JP Morgan/Biotech Showcase in the US. The team also hosted a table of pharma/biotech decision makers at a Burns Supper in Zurich at the end of January. The SDI team are currently planning for BIO in the US in June.
BIO-Europe (Berlin, 6 – 8 November, 2017)
BIO-Europe, the continent's largest partnering conference for the global biotech industry, was attended by 14 Scottish companies and organisations. The Scottish delegation, supported by BioPartner UK, joined 4,007 delegates from 2,199 companies across 61 countries. SDI's focus was on developing our pharma/biotech network and meeting with potential inward investors. The team also hosted a very popular whisky reception in partnership with BioPartner UK.
Feedback from the Scottish delegation suggested that companies interested in generating new customer contacts through the sophisticated partnering tool, or biotech companies seeking funding or licensing/partnership opportunities, should definitely consider the BIO-Europe events. Neil Wilkie (CEO, Mironid) said of BIO-Europe's alignment with Scotland's pharma service sector "I can't think of any stronger conferences in Europe that align with that market. BIO-Europe and BIO-Europe Spring are on our must attend list." Simon Plummer (CEO, Micromatrices) also commented "very interesting from a business perspective, partnered with many more European companies…some good pharma meetings and also met with several smaller companies that had service offerings complementary to our own, so there is some potential for future joint projects; also useful market research."
Genesis (London, 14 December, 2018)
Genesis is a one day conference with 800+ C-Suite executives from across the Life Science sector and offers a 1-2-1 partnering facility to facilitate B-2-B meetings. The theme of the December 2017 event was 'From Bio-Innovation to Health and Wealth Delivery in Tomorrow's World'. SDI had a booth next to the Stratified Medicine Scotland – Innovation Centre (SMS-IC) who were also taking part in a panel session entitled 'Genomics to Economics'. After a day of partnering meetings and discussion and debate across a range of key industry topics, SDI hosted a well attended whisky and gin reception on the SDI booth.
JP Morgan and Biotech Showcase (San Francisco, 8 – 11 January 2018)
The week of JP Morgan and Biotech Showcase in San Francisco is the largest investment conference within the industry, bringing together early stage companies, industry leaders, corporate and venture capital investors, as well as large biopharma. Between the two conferences there are approximately 10,000 attendees, over 2,000 companies, more than 800 presentations and 2,100 partnering meetings taking place.
SDI and the Department for International Trade (DIT) co-hosted a networking reception on the first evening of the conference week to showcase the UK's strength and commitment to the life sciences industry. Welcome remarks were given by Andrew Whittaker, the HM Consul General to San Francisco. The event attracted over 200 guests ranging from local investors, large pharma, small biotech, as well as a good number of GlobalScots.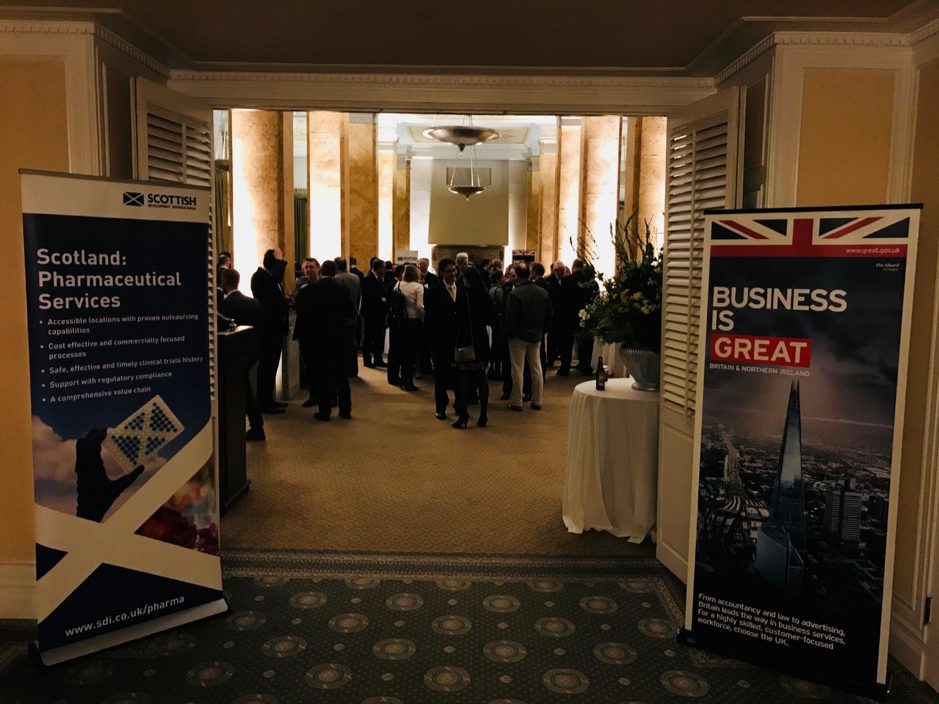 A warm welcome awaited at the joint SDI/DIT reception during JP Morgan/Biotech Showcase week
Haggis, ceilidh dancing and a wee dram in Zurich.
At the end of January, SDI hosted a table of Swiss pharma and biotech companies at a Burns Supper, organised by the British Swiss Chamber of Commerce, in the Grand Guild Hall of the Zunfthaus Zur Meisen. A stirring Immortal Memory was delivered by Jim Wallace, Baron Wallace of Tankerness, former MP and leader of the Liberal Democrats. SDI guests included Novartis, Elanco, Cellestia Biotech, SunRegen and Select Chemie. GlobalScot Alan Chalmers also joined the group.
Before the event, the SDI Life Sciences team, represented by Katharina Kraehahn (SDI Dusseldorf) and Connie Ness (SDI Glasgow), met with several of the companies and with the CEO of the Swiss Biotech Association and Programme Directors at the Technology Transfer office of the University in Zurich.
The aim of these activities is to forge relationships on behalf of the Scottish Life Science community. It is also a good way to leverage Scotland's alumni, with 5 of the 6 guests being former students of the University of Strathclyde. This type of networking event is something the team is looking to build upon. This will be assisted by recent additions to the SDI team in central Europe, including the appointment of Sonya Bachmann to the team in Switzerland. Sonya will be focussed on developing trade opportunities for Scottish pharma service companies.
BIO 2018, Boston, June 4 – 7, 2018 (http://convention.bio.org/2018/)

BIO International Convention; Boston Convention and Exhibition Center, US; June 4 – 7, 2018
BIO attracts more than 16,000 industry leaders from 74 countries who come to access global biotech and pharma leaders via BIO One-on-One Partnering, get exposure to industry thought-leaders via the >500 education sessions and to take advantage of the numerous networking opportunities.
SDI is hosting a Pavilion at the BIO 2018 event. Once again we will be positioned next to the Pavilion for the UK DIT and Northern Ireland. The Pavilion will include a reception desk and an informal networking space. A private meeting room will also be available.  In addition, a number of pods are available, on a first come first serve basis, at a cost of £1500. The pods provide companies with a small table-top to place promotional materials and a customised poster advertising their company.
BIO is now the largest one-to-one Partnering event in the world and companies securing a pod will also be entitled to a free pass for Exhibition Booth Partnering. This allows companies to access the same official BIO Partnering website and schedule meetings (within exhibition opening times) at a much-reduced cost compared with full partnering. There will be a limited number of Exhibition Booth Partnering passes available for Scottish companies who do not wish to take a pod. Passes are limited so please contact connie.ness@scotent.co.uk if you are interested.
SDI will host a Scottish Hospitality and Whisky Networking Reception (Tuesday June 5th, 7.00 – 9.00 pm) at the Oak and Rowan. This event is a great opportunity to network at BIO – whilst having fun at the same time!
Consistent with other SDI-led exhibitions, this year there will be a charge (£500) for companies to join the Scottish delegation. Further information can be found here. Companies are welcome to sign-up any time prior to the start of BIO. We'd be delighted to have you as part of the group. If you have any questions, please contact connie.ness@scotent.co.uk.
Please do help us promote 'Scotland at BIO' by following the SDI Twitter feed @ScotDevInt or the Life Sciences in Scotland LinkedIn page and retweeting and sharing content through social media. We thank you for your help!
How can SDI support your international ambitions?
A primary objective of the SDI team in Scotland is to deliver individual, tailored support to Scotland's ambitious companies to help expedite their international growth. Whether you are looking to export for the first time, enter a new market, launch a new product internationally or work with collaborators to increase market share, SDI Trade Advisors can help you access a wide range of financial and technical support. This includes in-market support through SDI's network of over 40 offices in 20 countries worldwide.
Please contact your SDI Trade Advisor, SE Account manager or stephanie.smith@scotent.co.uk for further information, to arrange a meeting or to get a list of all the events that SDI will be attending in 2018.