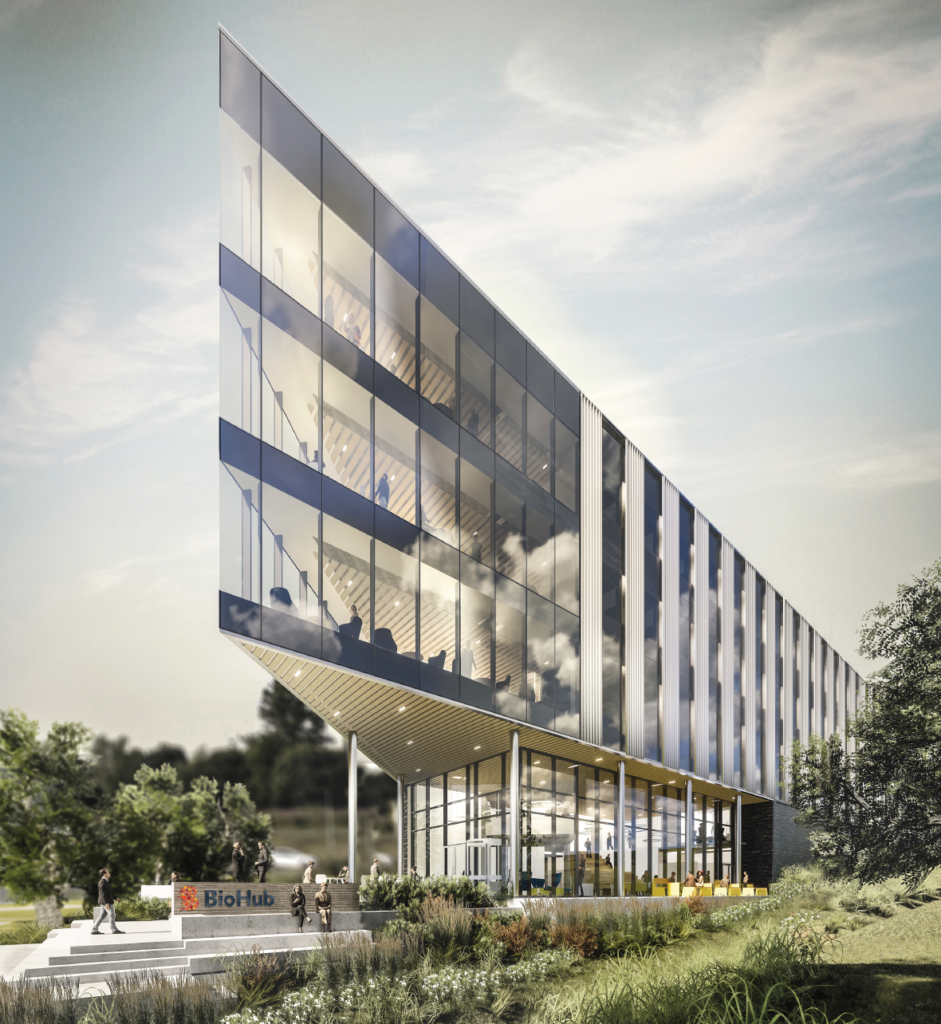 £40m BioHub project prepares for main construction phase
The transformational £40 million BioHub project to double the size of north east Scotland's high-growth life sciences company cluster will move into its main construction phase in the new year.
The new-build, 69,000 square foot BioHub on the Foresterhill Health Campus will provide specialist support programmes and dedicated laboratory, collaboration and office accommodation for established and growing life sciences businesses, start-ups and spinouts. It will also be a focal point for international partnerships and investor engagement.
Site enabling works for BioHub are ongoing and delivery of the main construction contract is programmed to run through 2021.
Companies, researchers, clinicians and academics in Aberdeen are at the forefront of high-value developments in biologics and new therapeutics, digital health and medtech, all built on a strong culture of collaborative innovation. BioHub will accelerate commercialisation in the sector to address modern health challenges, including COVID-19, improve patient outcomes and change how healthcare is delivered. BioHub will anchor innovative businesses and jobs in the region and support the growth of the national health economy.
BioHub is one of the industry innovation projects supported by the Aberdeen City Region Deal (ACRD), a partnership between the UK Government, Scottish Government, Aberdeen City Council, Aberdeenshire Council and Opportunity North East (ONE). The UK Government and Scottish Government are co-funding £20 million of capital funding for BioHub via ACRD. ONE is the lead partner for the project and has committed £3.6 million from its budget to operate the BioHub and deliver specialist support programmes. A new company, BioAberdeen Limited, has been formed to deliver BioHub.
In August, the ACRD Joint Committee agreed to provide £2 million of repayable funding to the project from within the existing ACRD programme budget. The Joint Committee asked ONE to act as guarantor. The provision of the guarantee has since been approved by the boards of ONE Life Sciences, BioAberdeen Ltd and ONE.
The ACRD partners and stakeholders will also continue to seek additional funding for the project to capitalise on the growth opportunities in the sector.
Prof Stephen Logan, chair of the ONE Life Sciences sector board and BioAberdeen said: "BioHub is moving forward at pace as we look ahead to main construction starting in 2021. This flagship hub in Aberdeen will deliver long-term economic, health and societal benefits. BioHub will provide a unique combination of facilities, networks and support programmes. These will help life sciences business leaders, academics, and clinicians to achieve their commercial ambitions, and deliver solutions for global health challenges. Innovative businesses will be supported to translate research into therapies, technology and applications faster – anchoring high-value life sciences activity and new jobs in north east Scotland."
Scotland's life sciences sector currently employs more than 41,000 people across 770 organisations with an annual turnover of £6.5 billion. The industry, which is at the forefront of the response to the COVID-19 pandemic, continues to record growth and significant investment. UK-wide, the life sciences industry employs 256,100 people in 6,300 businesses and generates a turnover of £80.7 billion per annum.
The ACRD partners welcomed the project's progress and noted its significance to regional economic diversification, green recovery and national sector growth.
Councillor Jenny Laing, chair of the ACRD Joint Committee and co-leader of Aberdeen City Council said: "The impact of COVID-19 has underlined the critical need to future-proof our economy through diversification. The life sciences sector and the opportunities this will bring was highlighted in the newly-published Aberdeen Economic Policy Panel Report, which emphasised the fast pace required.  Our objectives include doubling the number of companies in life sciences in the City Region by 2027 and providing digital solutions, which have the potential to transform the sector through rapid advances in research, diagnosis and treatment of health conditions, as well better outcomes for patients, clinicians and researchers."
Leader of Aberdeenshire Council, Cllr Jim Gifford, said: "In recent years we have taken a collaborative approach as a region to recognise our long-term economic vision through diversification, an approach which has never been more prudent. The BioHub for life sciences, healthcare and medtech businesses is one of the six key projects of our £826million City Region Deal designed to support growth in this valuable sector and our entrepreneurial environment. With a reputation for innovation, this region is known for being world-leading in health research and this project will enable us to anchor and grow our globally important life sciences sector and in turn attract inward investment. This hub, like the other key projects which make up our Deal, will provide significant opportunities for our graduates too, building on our rich talent pool whose impact is felt around the world."
Scottish Government Cabinet Secretary for Transport, Infrastructure and Connectivity Michael Matheson said: "I am pleased to see the progress of this transformative project, with the partnership between private and public sector working in a positive way to unlock a development that will result in sustainable and inclusive growth for the region. The Scottish Government is a full partner in the Aberdeen City Region City Deal, contributing £125 million over 10 years. The investment in this project through the Deal will contribute to the region's economic recovery by creating jobs and providing the commercial infrastructure to support and attract businesses to Aberdeen and the surrounding areas."
UK Government Minister David Duguid said: "I am pleased the BioHub is continuing to make good progress, especially during this challenging time. The UK Government is investing £10 million in this project, which is essential to the future prosperity of life science businesses in North East Scotland as well as our green economic recovery from coronavirus. Across Scotland we are investing more than £1.5 billion in regional growth deals to revitalise local economies and create tens of thousands of jobs."