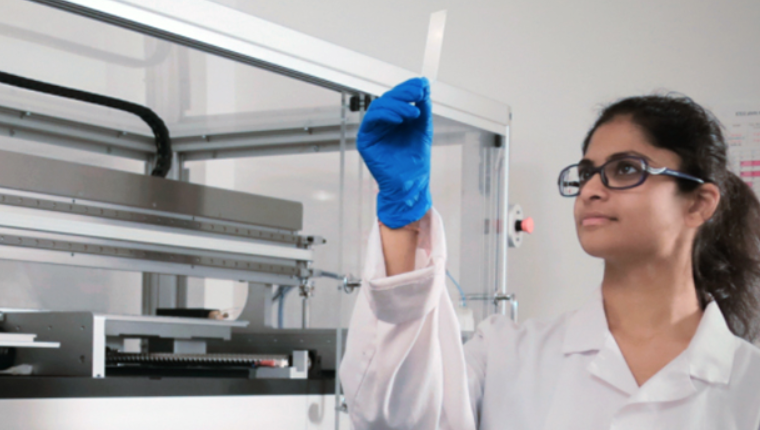 Arrayjet selling direct to Europe
Europe is a key market for Arrayjet, a specialist biological inkjet printing company based near Edinburgh. Get insights on the company's export tactics and why Arrayjet is keen to develop its European markets.
Arrayjet is a specialist biological inkjet printing company based at the Midlothian Innovation Centre in Roslin, near Edinburgh. The Scottish company is committed to developing its European markets, regardless of how Brexit plays out in the coming months.
Arrayjet's instruments are used by their customers to create screening tools and biological assays for the pharmaceutical, diagnostics and life science industries. Every aspect of the business is based in Scotland – design, production, manufacturing, customer service, application scientists – all happen at its base in Roslin.
Historically, Europe is Arrayjet's largest customer base and revenue generator. And it continues to be important, accounting for 25% to 30% of the company's overall revenue. As a capital equipment company, building close partnerships was the route for Arrayjet to establish their strong European base.
Global reach
Arrayjet's success stretches beyond Europe. The company is an international market leader in their field and has exported to 27 different countries. Its non-contact inkjet technology attracts global recognition because of its speed, accuracy and consistency.
"In Europe we've chosen to sell direct because we're close enough geographically to maintain strong relationships with the buying companies." Russell Brown, global commercial director at Arrayjet
Russell Brown is the global commercial director at Arrayjet. With significant business in Europe, USA and Asia, Russell is able to compare different approaches. His conclusion? Every region demands a different export strategy.
Russell explains: "Our reach is really to a global market, but the approach to selling varies, depending on location. We commercialised in 2006, so have now been selling our instrumentation for around 11 years. In Europe we've chosen to sell direct because we're close enough geographically to maintain strong relationships with the buying companies.
It's a major capital outlay for a company to invest in one of our instruments, with prices ranging from around £100,000 to £400,000. In this scenario, long-term relationships matter."
Growing in Europe
"We don't feel that Brexit will have a major impact on how we sell to Europe. To be honest, we think of the market in a country such as Spain, in much the same way as we consider the UK. How we create the strategy and set price structures is very similar in both countries.
"Whether we're in the European Union or not, we're still in Europe. Since the Brexit vote, we've felt passionate about ploughing ahead with developing Europe as one of our key markets, alongside the US and other important global markets."
At the moment the company has established markets in the UK, Scandinavian and Benelux countries, France, Spain, Italy, Germany, Austria and Switzerland.
With support from Scottish Development International (SDI), the international arm of Scotland's enterprise agencies, Arrayjet recruited an additional manager for the Europe, Middle East and Africa area through the International Manager for Hire programme, demonstrating Arrayjet's commitment to expand and explore these markets further.
Export tactics
So what's Russell's advice to capital equipment companies considering exporting to Europe?
Take time to understand the market and listen to the key opinion leaders in your sector.
Choose your strategic partnerships with care. For us, the first customers to beta test our sites worked with us to validate our product. Their willingness to take part in case studies helped us with marketing our products more widely.
Conferences and trade shows are excellent places to form the right connections and present our product. Careful research to attend the most valuable conference is time well spent and helps make the most of your marketing budget. SDI support has enabled us to attend a growing number of conferences, where we meet audiences from across the globe.
Case studies that show the difference our instrumentation actually makes are important in our marketing. We talk about the specific problems a company had to solve, how our technology addressed the problem and what the outcome was.
Investing time, effort and finance in the right customer relationship management (CRM) software is resource well spent.
Getting the right support
Summing it all up, Russell comments, "Support from Scottish Enteprise and Scottish Development International (SDI) has helped us with market research, getting to conferences and making the right connections.
We've recently been exploring India and Japan as new markets and they've helped us there too. In our more established regions, SDI has helped with introductions to key opinion leaders, helping us to develop our network.
We'll continue to focus on Europe, as our strong local market, along with developing our business in the rest of the world."
Explore more here.